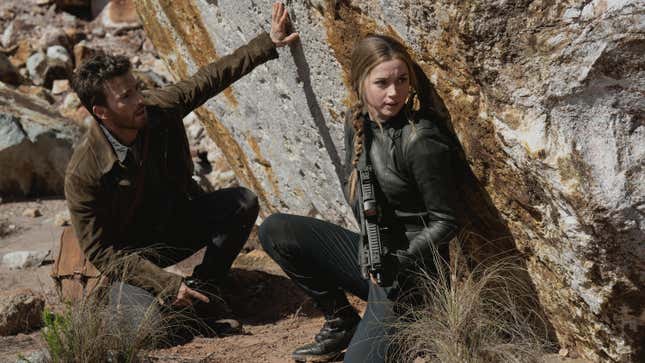 It's surely a measure of how far the star system has fallen that so many A-list actors agreed to be in Ghosted, either as leads or in cameos. This action rom-com arriving on Apple TV+ feels like barely a first draft in every regard, from the flimsy script to the awkward, unpolished CG to the lazy music choices (a car chase set to "My Sharona" here, a fight scored with "Are You Gonna Be My Girl" there). That it comes from Rocketman director Dexter Fletcher and Deadpool and Zombieland screenwriters Rhett Reese and Paul Wernick is flat-out dismaying; either they didn't care or they're losing their abilities. It's the sort of movie that makes a running gag out of minor characters constantly telling leads Chris Evans and Ana de Armas that they should "Get a room," despite the fact that, well, they already did in the movie's first act.
Why Christian Bale would love to be friends with Burt Berendsen
To the extent that Ghosted works at all, it's thanks to the cast. A centerpiece scene likely to be talked about features an array of bounty hunters popping up, each one killing the last, all played by familiar actors in surprise appearances, riffing on their previous roles. The material they have to work with is that same "Get a room" line; the laughs, if any, come from their pre-existing personas, not the clunky dialogue or the awkwardly staged kills.
Also, this action movie doesn't have any action for the first 30 minutes. We meet Sadie (de Armas) telling a counselor over her car phone that, "My cold, empty house has a cold, empty fridge." She encounters Cole (Evans) at a farmer's market where, looking to buy a houseplant on her therapist's advice, the two get into a debate about which vegetation she'd be best able to care for. Banter becomes a date, an all-day date ends up in the bedroom, and needy Cole spends the next day sending texts that get no response.
When he realizes his geo-tagged asthma inhaler was left in her purse for ... reasons ... Cole traces it to London, then decides he will be spontaneous for the first time in his life and fly there to surprise her. This despite the fact that he's never left the country before. When he shows up, he's kidnapped by evil spies who accuse him of being an assassin called the Taxman. Lo and behold, Sadie shows up to kick ass and save his bacon, then reveal they're actually in Pakistan now, where control of a biological WMD is at stake.

It's clear why de Armas got cast—she's here for all the critics who complained we didn't see enough of her as an associate or potential paramour of James Bond in No Time To Die. Evans, however, seems to be a case of the Wrong Chris. Guileless farm boy, good at outdoorsy stuff, shoots guns but never at people, never left the United States, a wrestling fan, drawn to women who kick ass and kill, and hopelessly naive about geopolitics despite a love of history? That should have been Pratt, all the way. Evans comes across as too smart for a role that requires a bit of lunkhead method acting.
Among the villains needing vanquishing are Tim Blake Nelson as a Russian-accented torturer fond of digitally animated murder hornets, and Adrien Brody as the world's second-most English Frenchman (No. 1 will always be Jean-Luc Picard of Star Trek) whose accent varies scene to scene. The finale, which imagines what we all fear might happen if a revolving restaurant picked up speed, is clever in theory, but none of the action here is great in execution. It's also not really believable that Cole would become a fighter equal to global terrorists after just a couple of days, but it's still more credible than the digital compositing in most of the movie.
Ghosted takes bits and pieces from Knight And Day, North By Northwest, and Romancing The Stone, among others, but does so as if forcibly compelled rather than inspired. Unlike every other recent film to have referenced Romancing The Stone, it does at least remember to include the sex. There's a funny notion in Chris Evans effectively playing a damsel in distress, but like everything else in Ghosted, the filmmakers have no idea how to play it.
---
Ghosted premieres April 21 on Apple TV+