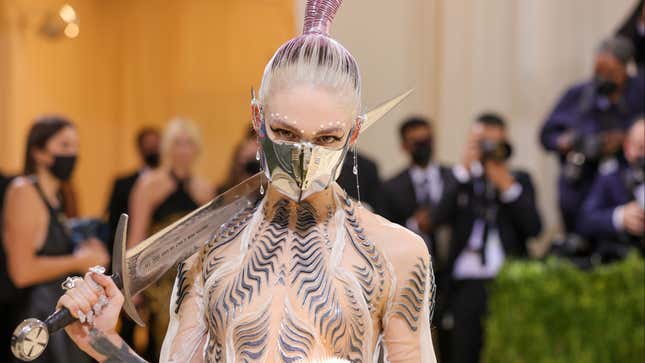 Forget cautiously tiptoeing into the uncanny valley; Grimes is more than ready to live there. As legal and ethical questions regarding the use of AI-generated music—and writing itself, for that matter—flood the industry, Grimes' approach has been diving headfirst into working with, not against, the technology, a stance she elucidated in a recent conversation at the annual International Music Summit (IMS) in Ibiza.
During the April 28 keynote, Grimes elaborated on those comments, highlighting that her stance on AI stems from a general disillusionment with copyright.

"I feel strongly that there's way too much gatekeeping in music. Copyright sucks," Grimes shared during the panel. "Art is a conversation with everyone that's come before us. Intertwining it with the ego is a modern concept. The music industry has been defined by lawyers, and that strangles creativity."
Last week, the artist shared on social media that she would happily approach AI-generated music using her vocals the same way she would any collaboration or feature.
"I'll split 50% royalties on any successful AI generated song that uses my voice. Same deal as I would with any artist i collab with," she tweeted alongside a screenshot of a New York Times article about "Heart On My Sleeve," a viral track featuring AI-generated vocals from Drake and The Weeknd that briefly made it to streaming services before being pulled. "Feel free to use my voice without penalty. I have no label and no legal bindings...I think it's cool to be fused w a machine and I like the idea of open sourcing all art and killing copyright."
Grimes touched on that offer during the keynote, stating: "Why shouldn't people be able to use my voice? Something cool and beautiful might come from it. I think this might be one of the coolest times to be an artist ever. We're just at the start of the internet."
She added: "I think everything about copyright is problematic. There's too much top down control. In the early days of TikTok there was a lot of weird music going viral, but now the gatekeeping stranglehold means less interesting stuff coming out." While major labels like UMG have urged DSPs to crack down on AI-generated content, Grimes said she hopes to lobby streaming services to create separate sections for AI-generated tracks to appear alongside a consenting artist's "own" recordings.
Since she spoke at the summit, Grimes has launched a new service called GrimesAI-1 Voiceprint, effectively offering up her raw vocals to any AI creators who want to make music with them. Through the program, users can upload pre-recorded vocals to be transformed into an AI-generated version of Grimes' voice, returned back to them in a WAV file. For $9.99/year, AI creators can also license their creations to DSPs, as long as they request approval through appropriate channels and credit GrimesAI as a main, secondary, or featured artist.
Although Grimes' stance is firmly anti-copyright (and for the most part, anti-rules), she has left the door open for potential takedowns and strikes "ONLY for rly rly toxic lyrics w grimes voice...as in, try not to exit the current Overton window of lyrical content w regards to sex/violence. Like no baby murder songs plz."
She concluded with a stipulation that also offers a slight loophole: "Rly don't like to do a rule but don't wanna be responsible for a Nazi anthem unless it's somehow in jest a la [The Producers] I guess." It seems only appropriate that, in dealing with emerging technology, Grimes is thinking through even the most outlandish scenarios.