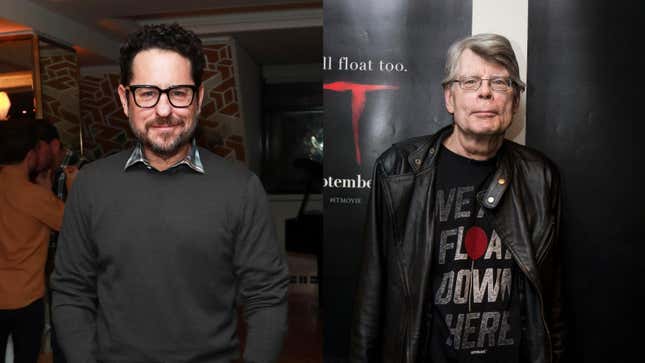 J.J. Abrams is getting back into one of his Stephen King phases again, with THR reporting this weekend that the Castle Rock executive producer—whose Hulu TV series loosely adapted, and took inspiration from, King's various Maine-set works—is taking the lead on a movie adaptation of King's recent hitman-turned-novelist novel Billy Summers.
Released back in 2021, Billy Summers is a pretty typical King book, in so far as it's a propulsive genre exercise that just happens to also be a long love letter to the craft of writing. The plot follows a professional killer doing "one last job" despite being well aware of how rarely "one last jobs" go in crime novels; after he's forced to go on the lam, he spends his time indulging his talent for writing and forging a bond with a young woman he rescues after she's a victim of sexual assault. Like many of King's most recent books, the novel largely eschews any supernatural element (although there are a few callbacks to The Shining lurking around its edges, situating it cleanly within the wider world of the author's fiction).
Set up at Warner Bros. Discovery, Summers will be the third King project that Abrams has shepherded to the screen to date; in addition to Castle Rock, the director and producer also served as an EP on Hulu's TV adaptation of King time travel novel 11.22.63. (He also wrote its theme song, one of those things he occasionally does on projects he's put his mark on in some for or another.) It's not clear yet whether Abrams will end up directing the film version of Billy Summers; he hasn't directed a film since 2019's Star Wars: The Rise Of Skywalker, seemingly preferring to operate in his role as a producer, instead.