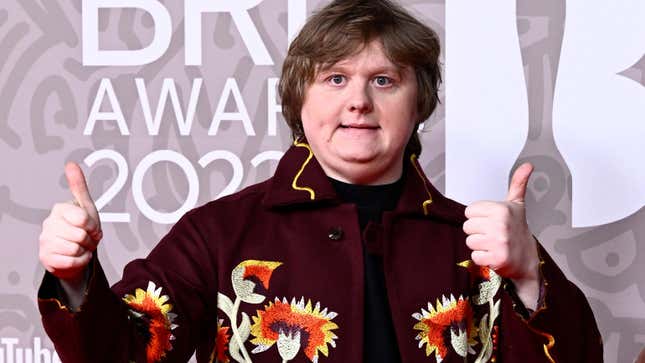 In what one assumes must be a Picture Of Dorian Gray scenario, Lewis Capaldi's alma mater St Kentigern's Academy in Scotland has unveiled a new statue of the artist that is truly a horror to behold. The unsightly bronze creation was a collaboration between the school's art department and a group of fourth-year students. "You've really captured my essence," Capaldi said generously, and perhaps literally, at the unveiling. "It's pretty weird-looking but I like it."
Anthony Hopkins has figured out what we all knew about Marvel movies
Weird-looking is an understatement. The art project, clad in drab brown garments, has bulging eyes and long, spindly extremities reminiscent of the early Internet icon Salad Fingers. It bears no great resemblance to the "Someone You Loved" singer, except maybe the hair, which does usually appear to be a little unkempt.
The art project apparently took six months, and all involved were sworn to absolute secrecy. That's because they made this statue a little fucked-up looking on purpose, which is admittedly kind of iconic of them. We are sorry to report that James Corden was the inspiration for this act of tomfoolery, as Principal Art Teacher Bryan Johnston told The Daily Record that the idea stemmed from Corden's prank on David Beckham (see below).
"The statue for Beckham didn't really look like David Beckham, so we did something similar to that, but wanted to link it to Lewis' new album which has now been released," Johnston explained to the outlet. "The art department at the school came up with the concept, and it went from there—we sourced a mannequin from a guy in Glasgow, took it back to school and built around it. The biggest challenge we faced was getting the face to look not quite right and a bit unusual and it went from there."
Given the goals of the project, it does indeed seem like an unqualified success. Capaldi is known for his sense of humor and can be found frequently making self-deprecating jokes on TikTok, so truthfully the statue does in some ways capture his essence. Whether his literal soul is now trapped behind its hellish mien remains to be seen, but his new album Broken By Desire To Be Heavenly Sent is out now.