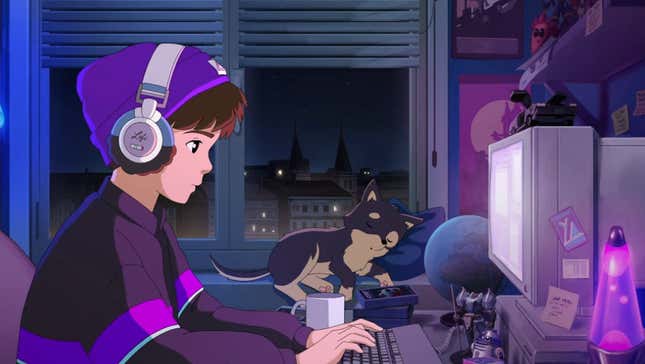 Any change to YouTube's "lofi hip hop radio - beats to relax/study to" represents a powerful disruption to whatever order the internet possesses. The eternal stream of the world's most dedicated worker, writing in a book with lo-fi beats driving her ever onward, is not meant to change. And when it does, people become very unsettled.
What Beth Ditto learned from her "Monarch" costar Susan Sarandon
Luckily, in the case of the channel's latest interruption, nothing has actually gone wrong. Instead, the Lofi Girl's world has expanded to include Lofi Boy.

Named "synthwave radio - beats to chill/game to," the new stream introduces a counterpart to Lofi Girl: A Lofi Boy, who sits in front of his computer with headphones on, accompanied by a snoozing dog instead of a cat. Rather than spend his days on solving whatever enormously complex physics problems we imagine Lofi Girl has dedicated her life to, Lofi Boy would rather endlessly play video games and, as the channel's official account tweeted, listen to "retro-futuristic sounds" and "[explore] the wonders of Synthwave." Otherwise, the format is the same.
As Kotaku's Ashley Bardhan writes, the changeover was accompanied by a stunt that temporarily horrified any channel visitors desperate for an endless stream of lo-fi hip hop beats (to relax/study to). Late last week, Lofi Girl began looking out at another glowing window across from her home. Not long afterward, the neighbor's window flashed morse code (which translated to a link to the Lofi Girl website), and the stream eventually displayed that room's interior, with yesterday's date circled on a wall calendar.

Instead of a total rebranding or new direction for the channel, all of this fuss resulted in that rarest of internet developments: A beloved website changing for the better without ditching what already worked. For that, we can be grateful, knowing that Lofi Girl is still there to help us concentrate—and that we don't need to migrate to Will Smith's bootleg version of the stream anytime soon.

Send Great Job, Internet tips to gji@theonion.com