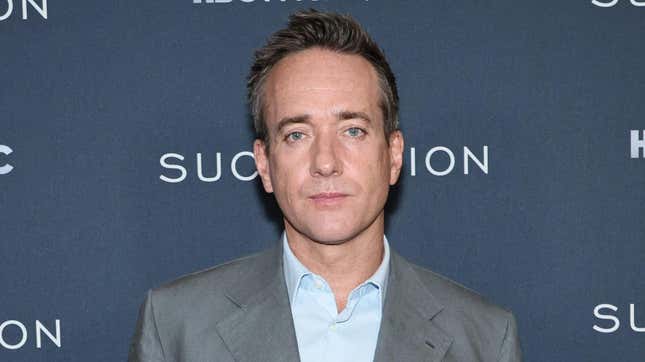 We know that Deadpool 3 is going to be about Ryan Reynolds' Deadpool and Hugh Jackman's Wolverine hating each other and punching each other in the head a lot, but apparently there will be a third person hanging around them as well. According to Deadline, Succession's Matthew Macfadyen—Tom Wambsgans!—has joined the cast of the next Deadpool movie, and a separate report from The Hollywood Reporter suggests that he might be playing "a character described as being a third wheel to Deadpool and Wolverine." Deadline doesn't know any specifics, but that's certainly an intriguing possibility.
Judy Garland's previously missing Wizard of Oz dress to be auctioned off
What kind of person would be a third wheel to Deadpool and Logan? It's exciting to think that it might be someone cool (Matthew Macfadyen as Gambit?) but the more realistic option is that the only appropriate third wheel for Deadpool and Logan would be a totally normal person who is not wacky or comedically violent at all. The last movie did a bit of that with Rob Delaney's character, but nobody has ever said or would ever say that a Deadpool movie can't just rehash jokes. Have Deadpool say, like, "oh, we have another normal guy in this one and it's the guy from Succession instead of the guy from Catastrophe" and nobody will have any issue.
Deadpool 3 is being directed by Shawn Levy (from every other recent Ryan Reynolds movie), and it will be the first movie in this series that is coming out under the Marvel Studios banner and will be part of the Marvel Cinematic Universe. In terms of other casting, Emma Corrin from The Crown will be playing some kind of villain who may or may not have something to do with swords. Or maybe she'll be another normal person. "Wow," Deadpool will say, "two normal people in this one. It's funny because I'm lampshading it."