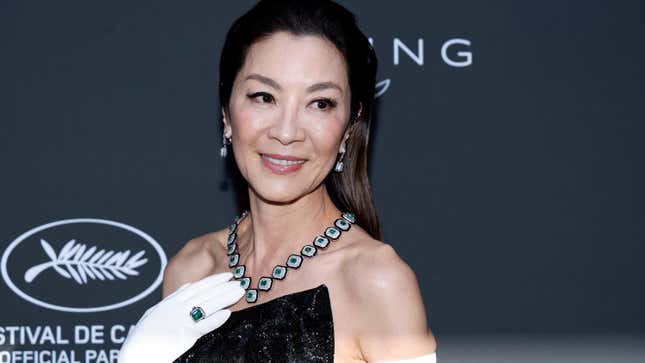 We're living in a time when any old Intellectual Property is in danger of being dusted off and resuscitated. Legacyquels dominate the box office; Disney films from less than 10 years ago are already getting the live action remake treatment. But there's one film you don't have to worry about getting shoehorned into sequel territory: Everything Everywhere All At Once. At least according to its Oscar-winning star, Michelle Yeoh.
"There's no sequel," Yeoh told Variety at the Cannes Film Festival. "We would just be doing the same thing."
That's never stopped a sequel before, but it's good to know that Yeoh has the good sense to let the film go out on a high note. She's ready to move on to new things, telling the crowd at the Kering Women in Motion talks that she's finally being offered a range of projects comparable to her peers. "The best thing that has happened is I receive a script that doesn't describe the character as a Chinese or Asian-looking person," she shared (via Variety). "We are actors. We are supposed to act. We are supposed to step into roles that are given to us and do our job as best we can. That, for me, is the biggest step forward."
In between enjoying her newfound acclaim and dancing with Brie Larson on the Riviera, Yeoh also got a dig in at ousted CNN anchor Don Lemon, or, as she called him, "some journalist who really put his foot in his [mouth] saying when you are 30 or 40 you are past your prime." Yeoh subtly referenced his infamous comment about Nikki Haley in her Academy Award acceptance speech, confirming her intention during the Women in Motion conversation.
"He tried to say it comes from Google or something like this," she said. "But do we have to live our lives through what somebody else decides? Once your numbers get bigger, it's really easy for things to shrink. There are less roles. I was always frustrated. Why do the guys in their 60s, 70s or 80s get to go out for these big adventures while I have to stay at home by the phone? No! It's fighting for these kind of opportunities. Why can't we do it? Mothers are just as fierce, if not more."
"The day I won [the Oscar] I honestly heard the roar of joy that came from that corner of the world," Yeoh said. "It's been slowly moving in that way and this has pushed the door open and it's not shutting behind me…When there's so few roles in the past it's so competitive. If you get the job, I don't get the job. But now we have to change the mindset. If I'm successful, you can be successful."