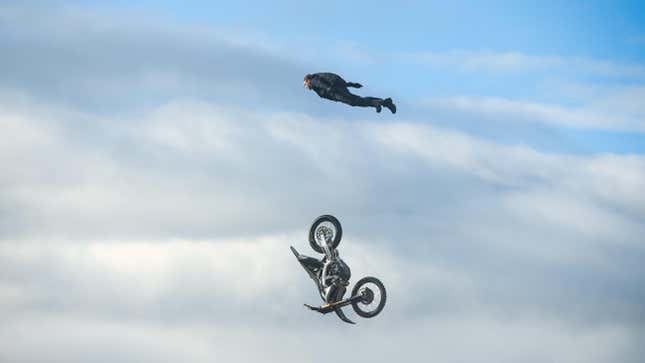 A couple weeks ago, Indiana Jones And The Dial Of Destiny earned $60 million in its opening weekend, burying its competition but falling short of the expectations that come with a $300 million-ish budget. This weekend, the similarly-budgeted Mission: Impossible—Dead Reckoning Part 1 earned a similar $56 million domestic gross between Friday and Sunday—a figure more than double the second-place movie, Sound Of Freedom. This may clock in as a similarly disappointing opening, but a couple of factors separate M:I's earnings from Indy's.

Sam Raimi on finding his place in the MCU
For one, the new Mission opened on Wednesday. With the Wednesday and Thursday grosses included, the film's opening haul is more like $80 million. And, per Deadline, the global opening stands around $235 million—only about $67 million short of the total gross Indy has earned over the past three weeks.
Following M:I this week is Angel Studio's Sound Of Freedom, which has attracted a crowd of people convinced that AMC is out to get them. While the picture has undeniably attracted a devoted, niche audience—earning about $27 million this weekend—part of the reason the movie continues to rank so highly is due to the studio's Pay It Forward program, where patrons online can bulk-buy tickets to distribute them to movie-goers. This has apparently only contributed to the paranoia of some of Freedom's more conspiratorially-minded fans. One TikTok went viral this week depicting a "sold out" but empty screening of the film—the insinuation being that the theater marked the showing as "sold out" to keep people from buying tickets, and not, you know, the result of people bulk-buying tickets that went undistributed.
Rounding out the rest of the top five are Insidious: The Red Door, which opened atop the box office last week, Indy 5, which came in second last week, and Elemental.
The full top 10, courtesy of Box Office Mojo, is below.
1. Mission: Impossible — Dead Reckoning Part 1
2. Sound Of Freedom
3. Insidious: The Red Door
4. Indiana Jones And The Dial Of Destiny
5. Elemental
6. Spider-Man: Across The Spider-Verse
7. Transformers: Rise Of The Beasts
8. No Hard Feelings
9. Joy Ride
10. The Little Mermaid