In Podmass, The A.V. Club sifts through the ever-expanding world of podcasts and recommends the previous week's best episodes. Have your own favorite? Let us know in the comments or at podmass@avclub.com.
---
Joining host Rebecca Bulnes this week to talk about formative childhood crushes is Sam Fragoso, a film critic and host of the Talk Easy podcast. Visiting L.A. from Chicago, Bulnes records the episode at Fragoso's home—and Chicago just so happens to be the setting of his crush story. There's something extremely satisfying about hearing tales of others' youthful, romantic embarrassments, not as schadenfreude but rather as a universality. Both Bulnes and Fragoso tell their stories with humor and nostalgia, allowing listeners to also reflect on their own experiences; the heartache and humiliation as amplified by the melodrama of hormonal youth is something everyone is familiar with. The storytellers are able to look at how their experiences have affected their approach to romance and relationships in an enlightening and real way, with a candidness that belies an admirable compassion for their younger selves. [Jose Nateras]
Note: Both Rebecca Bulnes and Sam Fragoso have written for The A.V. Club.
---
G/O Media may get a commission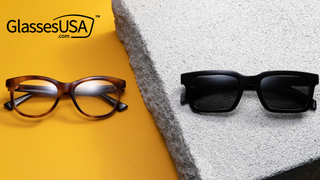 60% off frames
GlassesUSA.com Back to School Sales
Endless Thread, the new podcast from WBUR and Reddit, is a workhorse. Delving into the black hole that is "the front page of the internet," host Ben Brock Johnson returns with some of the "most compelling stories the internet has to offer," allowing listeners to sit back and skip the scrolling. This service-style podcasting makes it a great listen for the Reddit uninitiated, but the stunning storytelling provides enthralling entertainment to both regulars and skeptics. This week's episode proves it, following Reddit user Shane and his tale involving a "grizzly crime, Jehovah's Witnesses, abuse, escape, and a turtle that has lived through it all." Almost unbelievable in its twists and turns, the story is confirmed by Shane's accordion folder, which contains every important piece of paper documenting his harrowing journey. The story has its humorous highs (Shane recounts the first thing he saw on the internet that was "totally not Jehovah's Witness–sanctioned": Lil' Kim's "How Many Licks" music video) and horrific lows. Ultimately offering the type of hard-earned insight found in real-life relationships, Endless Thread is worth a listen. [Becca James]
---
Improvisor Betsy Sodaro is one of those leading Upright Citizens Brigade comedic voices that, whether live onstage or recorded in a podcast studio, dependably marries brainy long-form storytelling with outlandish, cartoony, often macabre (and always hilarious) character work. So it's fitting that last August, with friends and fiercely funny comics Mano Agapion and Adam McCabe, the Comedy Bang! Bang! and improv4Humans fan favorite launched her own regular podcast series celebrating and riffing on all things horror, from haunted houses and good/bad slasher movie breakdowns to "Horny Bowls" and elaborate elimination bracket tournaments to determine the sexiest horror villain. Over its 25-episode run so far, the series has benefited from a mercurial approach to its own format, as it did with this week's delightfully weird and improvised character chat between the hosts and Nicole Byer and Drew Tarver as devil dolls Annabelle and off-brand Child's Play monster "Chunky," respectively. Listeners need not be genre aficionados to find it a hoot, and best of all, the evergreen quality of the show makes digging through archived episodes a pleasure. [Dan Jakes]
---
Retail has been singled out in recent years as a tangible symbol of America's transformation, if not outright decline, and for good reason. Legacy big-box department stores deliver bad economic news seemingly every quarter, and a recent Credit Suisse analysis predicts one out of every four malls will close in the next five years. All this despite American spending being at its highest levels ever in the retail sector. The short answer to this discrepancy is the rise of online retailers. But while this 30-second summary is a useful general snapshot of how the retail landscape is being shaken up, the specifics are messier. Witness the scores of brands rushing to open pop-up shops to lure customers who can shop anywhere else with their mobile devices, and both e-commerce startups and giants expanding into physical storefronts to provide rich tactile experiences. Add to these potential near-future upheavals such as cashier-less stores, widespread augmented reality, and the self-driving cars being used as stores on wheels, and suddenly the lines between brick-and-mortar and e-commerce gets much less clear. [Zach Brooke]
---
Not sick of Tide Pods yet? Well then, by all means, listen to this podcast that describes what happens if you actually go through this dumbass internet challenge. Fresh off an episode highlighting the perils of raw water (this year is already deeply stupid), the hosts give a rundown of the body's response to ingesting Tide Pod laundry detergent. For starters, most laundry cleaners contain surfactant s, which bind to grease on clothes to lift stains. Inside people, however, they will cling to fats and water, causing stomach irritation and potentially foaming at the mouth or massive vomiting. Also contained in the gel capsules are bleach (nuff said), hydrogen peroxide (ditto), and polyethylene glycol, which can straight up kill you. The hosts also run down the dangers of other popular substance-based internet challenges, including inhaling cinnamon, igniting hand sanitizer on fire after applying it to skin, and trying to snort a condom through one nostril and pulling it out your mouth. [Zach Brooke]
---
Self-Inflicted Aural Nostalgia: The Guided By Voices Podcast
The Devil Between My Toes
Self-Inflicted Aural Nostalgia: The Guided By Voices Podcast intends to look back at the lo-fi pioneers' vast catalog, one album at a time. It would appear the show will be ignoring main man Bob Pollard's countless side projects and solo records—for now. On this premiere episode, host Jeff Gomez takes on (appropriately) Guided By Voices' debut LP, The Devil Between My Toes. Exploring the album, the songs, the stories behind them, and even touching on the cover-boy rooster, Big Daddy, and his significance in the greater GBV legacy. Guided By Voices fans are notorious completists, so it's hard to judge whether the stories told on the show will shed any light on the album for the diehards (it was certainly an enjoyable refresher course for this writer and fan) and works as an excellent aural companion piece to James Greer's expansive 2005 history of the band. The episode is a brisk 25 minutes and crams a lot of information in (not unlike a Pollard tune), but here's hoping for longer episodes in the future. There's a lot of history and characters to explore in the Guided By Voices story. [Mike Vanderbilt]
---
Hoping to help break taboos surrounding menstruation and "inform listeners about stigmas girls face around the world," That's My Story, Period invites guests to share stories from their time of the month. On this episode, host Steph Garcia is joined by Tampon Tribe founders Gaby Alves and Jennifer Eden to discuss global tampon trends, giving back, and the environmental impact of menstruation products. As explained on Tampon Tribe's website, the company is "passionate about eliminating all the crap that's in everyday tampons and pads and bringing you delightfully organic products that don't cost the earth." This is a direct result of Alves and Eden's respective experience with periods and the hygiene products that accompany them. Both guests recount their first period, bonding over similar experiences and laughing at their early naiveté. (At the end of each episode, Garcia asks guests to give listeners any period-related advice they wish their younger selves had known, and it's always invaluable.) The podcast consistently delivers with stories that are humorous and helpful as they support and normalize a dialogue about a common but often avoided subject, which in turn makes it easier to discuss important issues surrounding periods. [Becca James]
---
Podcasts are easily the modern era's most ambulatory art form. Free from visual distraction, they lend themselves to being enjoyed on the go. There hasn't yet been a series in which movement itself is a vital part of the listening experience—that is, until last week's debut of The Walk from Panoply, an immersive podcast that is meant to be listened to while walking. It might sound like a bit of a gimmick (and in truth it is), but it makes for an interesting and novel exercise. The program is a second-person narrative adventure, with the listener assuming the lead role. Its story revolves around a mysterious domestic terrorist group in Scotland that detonates an electromagnetic pulse device at a train station, from which the listener must escape. The sound design is top-notch, providing a richly colored world to help sell the you-are-there experience of it all. Certain elements of the narrative are a bit clumsy, keeping it just outside of being a total success, but later installments might fare better. However, it is rare for podcasts to take this kind of high-stakes artistic gamble, and that is definitely something worth championing. [Ben Cannon]