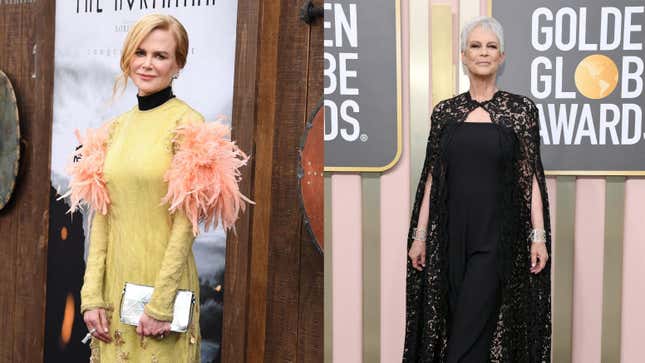 Nicole Kidman's obsession with small-batch TV is not only growing by the day—as the Australian actor continues to sign on to any show that promises a limited number of episodes and, maybe, the chance for her to look really enigmatic from time to time—it's spreading. This is per Deadline, which reports that Kidman has just signed on to what is, admittedly, a less limited show than usual—reportedly running two seasons, at 8 episodes apiece—at Amazon, with Jamie Lee Curtis on the hook to play her co-star.
Specifically, the two screen legends will star in an as-yet-untitled series adaptation of Patricia Cornwell's Kay Scarpetta books, with Kidman set to play the famed forensic pathologist, and Jamie Lee Curtis starring as her "flighty" sister Dorothy. And while Kidman is an old hand at this point at the movie star to TV star transition, Curtis might be a little more rusty; although she's done guest spots on the lil' screen over the years, her only major series lead was in Ryan Murphy's Scream Queens, which she starred in both seasons of.
If Curtis and Kidman do decide to push the series past a "limited" run, they'll have plenty of material to work from: Bestseller Cornwell has written 26 Kay Scarpetta novels to date, starting with 1990's Postmortem, which was heralded both for its approach to forensic pathology, and for focusing on a female protagonist in the glutted world of crime fiction.
The new series is being executive produced by Kidman, working with showrunner Liz Sarnoff, a veteran TV producer and writer whose most recent focus has been on HBO's Barry. Blumhouse TV is also producing, with an eye toward sending both of the show's seasons over to Amazon Prime Video; the streamer declined to comment on the news.