Cold Souls
Director: Sophie Barthes (97 min.)
Cast: Paul Giamatti, David Strathairn, Emily Watson, Dina Korzun
Headline: Spiritually burdened actor puts his soul in cold storage, then ventures into the Russian black market when the soul gets stolen
Indie type: Puckish head-trip laced with irony, self-reflection
Report: Paul Giamatti is typically wonderful playing "himself:" a New York actor who can't handle the depression that ensues while playing Uncle Vanya on stage. And there are moments in Barthes' feature debut that are beautiful, funny, and wonderfully weird. At its best, Cold Souls is like one of those curious dreams that's perfectly logical while it's happening, then completely ridiculous in the light of day. ("Wait, so I had my soul extracted and I wanted it back, but of course I couldn't get it back because it was in the body of a Russian model. So I traveled to St. Petersburg with a soul-mule to beg for my soul's return. Yeah, that makes sense.") But Barthes shoots herself in the foot by aiming for depth when she should've been content with light comic absurdity. Her movie is slow-paced and chilly, and the more the characters speculate on the nature of "the soul"—and the more they seem transformed by their experiences with different souls—the more vaguely New Age-y and dime-store philosophical Cold Souls feels. It's the kind of movie where every line of dialogue seems like it should end with a drawn-out, hippie-ish "maaaaan."
Grade: B-
Paper Heart
Director: Nicholas Jasenovec (88 min.)
Cast: Charlyne Yi, Michael Cera, Jake Johnson
Headline: Alternative comedian goes looking for love, is unsure if she's found it
G/O Media may get a commission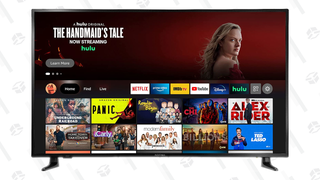 38% Off
Insignia 50" 4K UHD Smart TV
Indie type: Faux-profound faux-doc
Report: Here's another movie like Cold Souls in which the actors play "themselves" in a plot rooted in an abstract concept. Ostensibly a documentary about the existence of "love" and whether comedian/performance-artist/flibbertigibbet Yi will ever find a love of her own, Paper Heart cuts between scenes of Yi grilling everyday Americans about their romantic histories and scenes of her embarking on a new relationship with puppyish actor Michael Cera. Jasenovec and Yi want to play with the idea of documentary realism and human emotion, by showing scenes of genuine human interaction and then pulling back to reveal that they're just "scenes." But beyond the fact that this kind of "living in the camera eye" experiment has been done to death, Paper Heart fails because the very idea of making a playful documentary about whether love exists is, let's be honest, incredibly dopey. (And I mean "dope" in every sense of the word.) And it doesn't help that Yi comes off like every arrested-adolescent college sophomore who still carries a lunchbox and thinks kissing is icky, even though she's still enamored of the idea of having a boyfriend (in an elementary school, passing-notes-at-lunch kind of way). True, those horrible, horrible people are very much a part of American life—they're a byproduct of a culture in which growing the hell up has become less and less of a priority—but their habits and ways have been pretty well dissected in the recent films of Andrew Bujalski, Joe Swanberg and Greta Gerwig, all of whom apply a fair amount of self-criticism to their inside-out depictions of prolonged post-grad juvenilia. Yi, on the other hand, apparently thinks this crap is still cute. So she concoct this quirk-beset quasi-documentary in which people talk about "love" as though it has nothing to do with commitment, responsibility, sharing, nurturing, and—not incidentally—sex. Frankly, I've been over these kinds of movies (and attitudes) for some time now. But there's really no place for Paper Heart in a post-Humpday world.
Grade: D-
The Carter
Director: Adam Bhala Lough (80 min.)
Documentary
Headline: Rapper dranks, boasts, gives hangers-on a hard time
Indie type: Immersive look at fame and the creative process
Report: On the recommendation of my Popless readers, I picked up Li'l Wayne's Tha Carter III at the end of the year, and while I could hear what's appealing about it—Wayne's slurred rap-singing, his spontaneous melodies, his sense of humor and pathos—the record as a whole felt really sloppy to me, as though any set of rhymes from any given song could be transferred to another with no significant loss of meaning or flow. After seeing The Carter—a rambling, fact-light, immersive documentary about several months in Wayne's life—I feel like I understand where a record like Tha Carter III comes from a little better, and even though I'm not any bigger a fan of the music, I am a fan of this movie. Beyond some rough biographical details and statistics, Lough doesn't make any effort to tell the story of Li'l Wayne's life, or to explain his success. Instead we're embedded with the rapper as he rolls from studio to studio, concert to concert, interview to interview, and sizzurp cup to sizzurp cup. Basically, this dude lives his life in a creative whirlwind, never looking back and never writing anything down. It's all one long, hazy, top-of-the-dome, life-is-music-is-life experience. And I found it intoxicating for as long as it lasted, even though The Carter could've been 20 minutes longer or 20 minutes shorter and it wouldn't really have been much different.
Grade: B+
The Only Good Indian
Director: Kevin Willmott (113 min.)
Cast: Wes Studi, Winter Fox Frank, J. Kenneth Campbell
Headline: A young native American imprisoned in a Christian reeducation school escapes, then tries to duck both the sheriff and a freelance Indian tracker
Indie type: Dry, earnest history play
Report: I made a special effort to see The Only Good Indian, because I thought Willmott's previous film C.S.A. was funny and uncompromising, but this revisionist western—about racial identity among Native Americans—was far more stilted and scholarly than C.S.A.. From the Searchers-quoting opening shot to the digressive visits to a frontier town founded by ex-slaves,  The Only Good Indian has the moldy stench of a treatise about it. Willmott's too talented a filmmaker to make something outright dire, so there's plenty to recommend about The Only Good Indian. The framing is very precise, and the plot is nice and twisty, setting the escaped Winter Fox Frank against Wes Studi, an Indian who's dream is to join the Pinkerton Agency by betraying his people and just generally being "whiter than the white man." But the performances are flat, the lighting too bright, and the costumes too off-the-rack. At times, The Only Good Indian resembles one of those orientation films that get shown at the visitors' centers of historical sites; it's more reenactment than movie.
Grade: C
Amreeka
Director: Cherien Dabis (96 min.)
Cast: Nisreen Faour, Melkar Muallem, Hiam Abbass, Yussuf Abu-Warda, Alia Shawkat, Joseph Ziegler
Headline: Palestinian family moves to Illinois, discovers the promised land ain't what it's cracked up to be
Indie type: Closer look at evolving minority subculture, trumped up with unnecessary melodrama.
Report: There's so much to like about Amreeka, including a winning lead performance, and a rare and clearly personal exploration of how it feels to assimilate in a country where your national origin makes you automatically suspect. And because of its extraordinary promise, I found the movie's reliance on simplistic conflicts and crowd-pleasing resolutions deeply disappointing. Nisreen Faour is such a fully-rounded character: a pro-American Arab with wit and foibles and a uniquely optimistic outlook on life. Yet Amreeka is one of those movies where there'd be no story if the heroine didn't pointlessly refuse to reveal certain information to her family, out of some vague notion of "pride." And it's also one of those movies that plays to the cheap seats, making the racism bigger, the assimilation process rougher, and the family squabbles extra-broad, lest we miss the point. (In that way, it's the most Sundance-y film I've yet seen at Sundance, in that it seems to tackle a tough, uncommercial subject, but remains cautiously mainstream in its approach.) I liked spending time in this milieu, but at every turn, the plot kept getting in the way. By the end, I was realizing yet again how much I miss Aliens In America.
Grade: C+
Festival notes…
-As the weekend comes to an end, the big acquisition news at Sundance has largely been limited to Brooklyn's Finest, an Antoine Fuqua-directed cop drama that screened to mixed reviews early in the fest, but nonetheless has been bought by new distributor Senator. As for what the critics are raving about, the names that keep coming up over and over include Humpday, Moon and Push—all reviewed favorably in this space over the past couple of days—as well as the Ashton Kutcher/Anne Heche May-October romance Spread, and the docu-thriller The Cove. (The former I'm not going to have a chance to see; the latter I see tomorrow.) And the overall feeling is that this has been a very enjoyable fest, even if—as of yet—it lacks a masterpiece.
-And in other news, I've grown weary of my Sundance beard. More reports as events warrant.
Tomorrow: Big Fan (at last)! And two films about racial identity: Good Hair and Passing Strange.