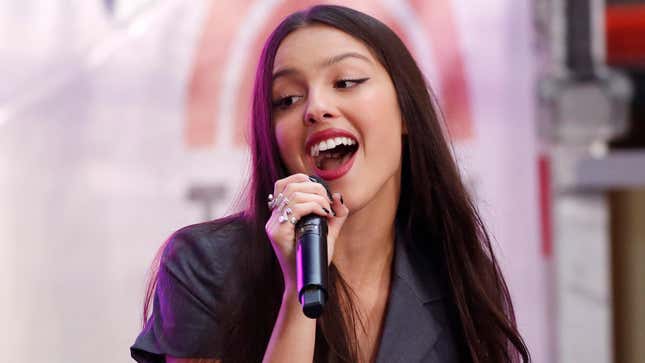 Olivia Rodrigo has become famous for her relatability as much as her pitch-perfect, messiest-but-most-memorable-teenage-summer-you-ever-had sound. In just one Rolling Stone cover story, the young star—who just released her powerhouse sophomore effort GUTS—talked about the struggles of taking Accutane, revealed that she "may or may not have" gotten bedbugs in her Greenwich Village apartment (which she owns), and called Billy Joel, who she performed with at Madison Square Garden, "uncle vibes."

The FBI wants Swifties to know snitching is actually cool
Okay, so this writer (and 99% of the population) may not be able to relate to everything Rodrigo's currently got going on. The stratospheric level of fame she's achieved in just the two years since releasing "drivers license" is still pretty mind-blowing, even to her ("It was zero to a hundred, baptism by fire," she told RS). Still, the way she processes that success—and the scrutiny that comes with it—is pure girl-raised-on-the-internet in a way that will likely ring true to a lot of her fans, even those born a decade or two earlier than her.
Take her alleged beef with Taylor Swift, for example, the rumors of which she says are greatly exaggerated. A little refresher for those not steeped in Olivia lore: early in her career, Rodrigo often cited Swift as a mentor and inspiration, which all seemed to change when Rodrigo gave Swift and songwriting partner Jack Antonoff retroactive credits for two songs on SOUR. While it's unclear whether or not Swift herself was involved, fans have speculated that this led to a massive falling out between the two icons, with everything from Swift's choice to bring Rodrigo's alleged love triangle opponent Sabrina Carpenter with her on tour, to Rodrigo's "vampire" lyrics being pulled into the fray.
But Rodrigo—who specified that the copyright dispute was "more team-on-team" and not something she was actively involved in—is pretty over all of it. "I don't have beef with anyone," she told RS. "I'm very chill. I keep to myself. I have my four friends and my mom, and that's really the only people I talk to, ever. There's nothing to say."
"There's so many Twitter conspiracy theories. I only look at alien-conspiracy theories," she continued. Which... again, relatable. Hopefully, the pop star—who has consistently been plagued by comparisons to other artists—doesn't draw too much ire from Blink-182 fans for stealing Tom DeLonge's thing this time around.