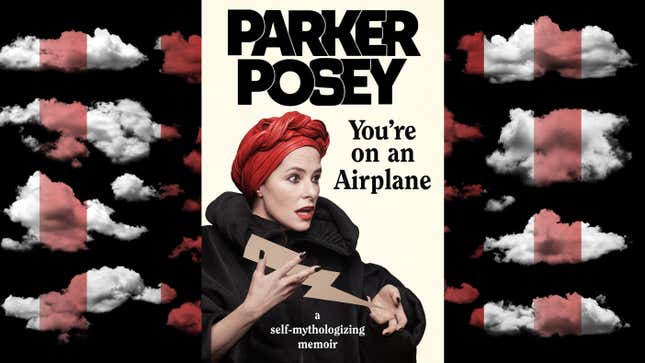 Early in the actor's career, Parker Posey once spazzed out so much during an audition that the casting director asked her agent if she was on drugs. "I wasn't," Posey recounts in her memoir, "but just had a lot of energy and was excited to be there." As it was in person, so it goes on the page. In You're On An Airplane, the Christopher Guest regular and Dazed And Confused scene-stealer recounts her life, both personal and professional, in a freewheeling style that can feel dizzying. She starts with one story, walks away from it or dives into an aside, before picking up the narrative thread and putting a button on the whole thing. It's enjoyable in the way getting drunk can be: You don't feel entirely tethered, but you're having a good time.
If Jesse Armstrong wanted Jeremy Strong to jump in a river, he would have put it in the script
Incorporating goofy collages (many of her dog, Gracie), tossed-off puns ("Being a vampire sucks"), and the occasional recipe (one for a Manhattan with an Atomic Fireball in it), You're On An Airplane exemplifies Posey's wry, devil-may-care sensibility, all while describing hobbies like yoga and ceramics, meaningful points in her wide-ranging career, apartments she's lived in, and her upbringing in Louisiana and Mississippi. She comes from a family of amateur comedians—her beyond-extroverted car-salesman father is known to have used whoopee cushions on strangers at the airport—and she inherited from her mother and grandmother a sense of old glamour. (Maybe that's where all those turbans and harem pants come from.) Ever the bohemian herself, Posey displays a fondness for the colorful, oddball characters of her youth and captures evocative, tactile images from growing up in the '70s, a "real take-your-shoes-off time": shag carpeting, metal glider couches, bamboo bowls.
The actress is also nostalgic for her indie days in the '90s, which she remembers as a more creative, collaborative time for filmmaking. During the shoot for Dazed And Confused, for example, she asked director Richard Linklater if she could join a scene with a certain late-cast Texan who she and her fellow actors were taken by. It's brief, her character pausing outside an arcade to thrust her pelvis onto fellow breakout Matthew McConaughey, yet it demonstrated her knowledge of her character and added texture to a film rich with such moments.
While You're On An Airplane is peppered with similar tales, those hoping for a celebrity tell-all will be disappointed. Posey doesn't name names, as it were, at least not of people she doesn't think fondly of. In the chapter dedicated to working with Woody Allen, she says little of the sexual abuse allegations against him: "This was in 2014, when the accusation scandal wasn't as hot in the climate of the culture." She instead dots the book with telling details of familiar faces: Jeremy Renner gives good hugs. Liza needle-points on set. Michael Shannon is "a big handsome presence of sensitivity and force."
Flitting among all the anecdotes and wordplay and wit, Posey frequently lands on moments of poignancy. "I've maintained a career and I love to act, but I think every job is my last," she writes. "And when I start the job, I forget that I know how to do it and by the time I find out that I do, I'm done." In 1997, when Time magazine deemed her the "queen of the indies," the moniker turned out to be a mixed blessing: It bestowed on her an alluring public identity, but was quickly followed by many of those roles drying up. Indeed, Hollywood hasn't always known what to do with Parker Posey, more often giving her supporting roles when she deserves leads.
As an artist who values authenticity and creativity, Posey chafes against some of the industry's worst, and most ingrained, conventions like superficiality and misogyny. Although she often worries about seeming difficult—she once tossed a terrible script down a hallway, only to retrieve it shortly thereafter—Posey maintains a good-humored attitude that seems to stem from the recognition that everyone is going to die someday, so you might as well live it up. On set for 2004's Blade: Trinity, a role she felt ambivalent about taking, she started a call-and-response cheer with the cast and crew for the heck of it. She once spent a year sticking her head out of car windows to ask strangers if they were vegan. "I like searching or being on the hunt and hope that even a conversation comes to life and there's a sense, even just a thread, of feeling connected," she writes late in the book. She's a curious, enthusiastic iconoclast who's willing to throw herself headlong into her life and craft—making those connections wherever she can.