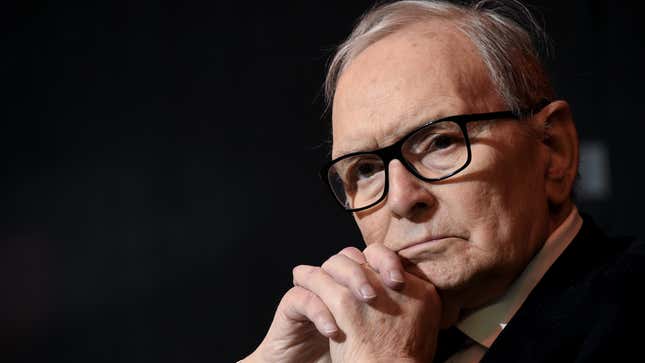 Ennio Morricone, the Oscar-winning Italian composer best known for his immersive work on Sergio Leone's spaghetti Westerns, has died. A lawyer for Morricone confirmed to CNN that the composer died in a Rome hospital after falling and breaking his leg. He was 91.
Sharon Stone made a fraction of what Michael Douglas did for "Basic Instinct"
The Maestro's vast body of work encompasses more than 500 films, from the iconic likes of Leone's The Good, The Bad And The Ugly and Brian De Palma's The Untouchables to less-reputable films like Exorcist II: The Heretic and Alberto De Martino's Holocaust 2000. He was especially prolific throughout the '60s, '70s, and '80s, trading between bawdy comedies like the original La Cage aux Folles (1978) violent B-movies like Dario Argento's The Cat O' Nine Tails (1971), and works by visionaries like Roland Joffe, Pier Paolo Pasolini, Bernardo Bertolucci, Pedro Almodovar, and Giuseppe Tornatore, for whom he composed the celebrated score of Cinema Paradiso (1988). He received his first Oscar nomination in 1979, for the score for Terrence Malick's Days Of Heaven, but it would be decades and hundreds of films later before he would finally win.
Although he worked in all genres, Morricone was a master at cultivating the kind of wordless tension needed in grim, dialogue-light Westerns and moody gialli. His work could stir with climactic grandeur or shiver with the wail of a single instrument, be it a lone trumpet or oboe. He continually broadened his musical palette over the years, toying with rock, samba, and folk sounds while incorporating electric guitars, non-traditional instruments, and organic sounds like church bells, howls, chirps, gunshots—and, perhaps most memorably, whips and whistles.
Born in Rome, Morricone grew up listening to his father, a professional musician, play the trumpet before learning the instrument himself and almost immediately penning his own compositions. From there, he built a career writing background music for radio dramas and composing songs for jazz and pop artists. And, though he worked as a ghostwriter on a number of scores in the '50s, he made his proper debut as a film composer on Luciano Salce's 1961 film The Fascist. 
His and Leone's first collaboration was 1964's A Fistful of Dollars, and Leone would never work with another composer. "Gradually over time, he as a director and me as a composer, we improved and reached our best, in my opinion, in Once Upon A Time In America," Morricone told the BBC in 2014. Their most famous work together, however, was on The Good, The Bad, And The Ugly (1966), whose iconic main theme has become a pop-cultural touchstone parodied innumerable times over the years. Leone's masterpiece was just one of the 16 films Leone scored that year, a typically eclectic mix that also includes the classic war drama The Battle Of Algiers and pulpy spy movie Agent 505: Death Trap In Beirut as well as four Westerns.
He continued to work, albeit sporadically, up to his death. But contemporary audiences arguably got to know Morricone the best through the repurposing of his work on the soundtracks for other films. Morricone's most vocal proponent in the 21st century has been Quentin Tarantino, who extensively used Morricone compositions on the soundtracks for Kill Bill, Vol. 2 (2004), Inglourious Basterds (2009), and Django Unchained (2012). But he's far from the only director who's utilized classic Morricone; the soundtrack to Anna Biller's The Love Witch (2016) is also largely composed of Morricone music, for example, and selections from his scores have showed up in many comedies, from Joe Dante's The 'Burbs (1989) to Curb Your Enthusiasm and The Simpsons.
G/O Media may get a commission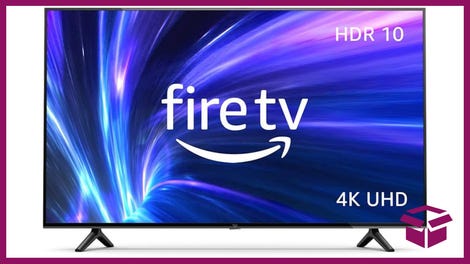 42% Off
Amazon Fire TV 50" 4K Smart TV
In 2016, his partnership with Tarantino got Morricone his first proper Academy Award for The Hateful Eight, a film that utilized both new compositions and unused music from John Carpenter's The Thing (1982). (In classic Carpenter style, the director hired Morricone, but ended up scoring much of the film himself.) That award followed an honorary award from the Academy in 2007, only the second ever given to a composer. In Italy, meanwhile, he won 11 David di Donatello Awards, the country's highest film honor. As Morricone's legend grew and he began scoring more prestigious films, he would often return to themes and melodies he used in earlier B- pictures—a technique that reflects the evolution of film itself over the past half century.
"Both a refined and popular musician, he has left a deep mark in the history of music in the second part of the 20th century," Italian President Sergio Mattarella said in a statement. "Through his soundtracks, he has greatly contributed in spreading and reinforcing Italy's prestige around the world." Morricone himself showed more humility about his work, crediting his prolific career to "[his] time [being ] better organized than many other people's" and adding that, "compared to classical composers like Bach, Frescobaldi, Palestrina or Mozart, I would define myself as unemployed."
It was with similar humor and pathos that Morricone wrote his own death notice to be distributed to the Italian press, writing, according to Canada's National Post, "I, Ennio Morricone, am dead." He went on to thank his friends and family, particularly his children and grandchildren, writing that"I hope they understand how much I loved them." In that same note, he bade farewell to his wife of 64 years, Maria Travia, writing, "to her I renew the extraordinary love that bound us together and that I am sorry to abandon."