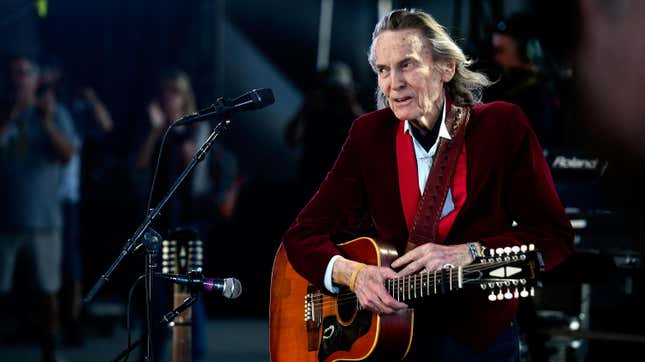 Platinum-selling musical artist and Canadian folk royalty Gordon Lightfoot has died. As confirmed by his publicist, Victor Lord, Lightfoot died of "natural causes." He was 84.
Kenny Loggins on "Playing With The Boys" and "Danger Zone"
Often considered one of the greatest Canadian songwriters of all time, Lightfoot's contribution to the folk music revolution of the 1960s is reflected by the artists that recorded his songs. Neil Young, Bob Dylan, Johnny Cash, Elvis Presley, and The Replacements have all recorded covers of his music. Best known for the hits "Carefree Highway," "If You Could Read My Mind," and the no. 1 hit "Sundown," Lightfoot continued touring and releasing albums for the next 60 years.
In April 2023, Lightfoot canceled a planned U.S. and Canadian tour, citing "health-related" issues. The troubadour toured regularly since 1974 and performed his final recorded date on October 30, 2022, in Winnipeg, Manitoba, Canada.
Ironically, Lightfoot once survived his own death announcement in 2011. "I was driving past Mount Pleasant Cemetery," Lightfoot told Winnipeg Free Press. "I heard Charles Adler start to play 'If You Could Read My Mind,' and he began reading my obituary. All I did was step on the gas."
Born on November 17, 1938, in Orillia, Ontario, Lightfoot was the son of a local dry cleaner. He didn't follow in those footsteps, performing for the first time in fourth grade, singing "Too Ra Loo Ra Loo Ral (An Irish Lullaby)" over the loudspeaker at his school's parents' day. As a teen, he learned piano, taught himself drums, and continued to perform at his vocational high school before studying music at Westlake College of Music.
Lightfoot's recording career began with a trip to Nashville in 1961. By his estimation, he "came out sounding like a cross between Jim Reeves and Pat Boone." But it was after hearing Bob Dylan he became more focused. "It was so basic in its nature," he once said. "If he could do it, at least we could sit down and write one! It was like an inspiration toward the work ethic, I suppose; get your tail down and get busy. Because he was really putting the stuff out, doing a lot of writing." He took this to heart.

In 1966, he released his first album, Lightfoot!, which included "Early Morning Rain." The song proved to be a bigger hit for other artists than Lightfoot. A version by Ian & Sylvia hit no. 1 on the Canadian charts. Over the next decade, Peter, Paul and Mary, Elvis Presley, and Bob Dylan recorded "Early Morning Rain."
The 1970s saw Lightfoot enter the most prolific period of his career, releasing eight studio albums, eight compilations, and several no. 1 singles. Four albums went Gold or Platinum in the United States during this period, but his only state-side no. 1 album in Billboard's Top 200 was 1974's Sundown. Two years later, Lightfoot released his favorite song: "The Wreck Of The Edmund Fitzgerald. The song commemorated the sinking of the bulk freighter SS Edmund Fitzgerald, which saw 29 casualties.

Despite disappointing some fans with the lack of deep cuts in his setlists, Lightfoot remained a fan of the music that connected with people all over the world. "Sincerely, I love the songs," he said of his hits. "I really do believe in my songs a lot. I know which ones really work best on the stage. And fortunately, all those songs, they really work."
Lightfoot released his final album, Solo, in 2020 and spent his last three years attempting to get back on the road, despite his failing health. Over his career, he received 16 Juno Awards and five Grammy nominations. Additionally, Lightfoot was inducted into the Canadian Music Hall of Fame, the Canadian Country Music Hall of Fame, and the Songwriters Hall of Fame.