The South China Morning Post reports that Lau Kar-leung—also known by his Mandarian name, Liu Chia-liang—died Tuesday morning at a hospital in Hong Kong. As a fight choreographer and later director at Hong Kong's famous Shaw Bros. studio, Lau helped define the look and tone of the martial arts genre, combining authentic martial arts styles with a sense of good-natured showmanship and humor. He was 76.
Born into a martial arts family in Guangzhou, Lau studied under his father, who had in turn studied under a disciple of the Chinese folk hero Wong Fei-hung. It was through a series of popular films about Wong that Lau got his taste of the movie business, working as a stunt man and bit actor while still in his teens. In those days, fight choreography wasn't taken seriously, and trained martial artists were treated like day laborers by the Hong Kong studios. Lau had to show up to studio every day and wait around just in case some production was willing to hire a kung-fu expert for the afternoon.
In 1963, after years of doing stuntwork for little money, Lau was hired as fight choreographer for the Cantonese-language production South Dragon, North Phoenix. From there, his career took off. In the mid-1960s, he was hired by Shaw Bros. to choreograph fights for Chang Cheh, the man who would become the studio's best known director and one of the biggest names in the genre.
Unlike Lau, Chang wasn't a martial artist, and was generally more interested in aesthetics than authenticity. Though the two clashed regularly, their partnership produced such genre-defining classics as The One-Armed Swordsman (1967), Return of the One-Armed Swordsman (1969), and The Water Margin (1972).
Lau began directing in 1975, and in had one of his biggest successes in 1978 with The 36th Chamber Of Shaolin, starring his childhood friend Gordon Liu. While the film remains Lau's most famous work, its comparative seriousness is atypical. Though he was devoted to depicting authentic styles and practices, Lau's major innovation was mixing action with comedy. Speaking to Olivier Assayas (then a critic for Cahiers du Cinema) in 1984, Lau explained: "The fact is that kung fu is basically not very varied, with always the same gestures and moves. An audience gets tired of it very fast. […] I [tried] to completely change the style of fights. To me, an action movie must have funny parts. Until then, kung fu movies always ended with a killing, a big slaughter. I said that I won't do that. In my opinion, it is not necessary to destroy the villain to make the audience happy."
Perhaps no film better showcases Lau's mix of humor and martial arts than the sublimely cartoonish wuxia comedy Dirty Ho (1976), also starring Liu. Lau's filmography includes such genre classics as Mad Monkey Kung Fu (1979), Return To The 36th Chamber (1980), My Young Auntie (1981), Legendary Weapons Of China (1982), Eight Diagram Pole Fighter (1984) and Legend Of Drunken Master (1994), starring Jackie Chan—a sort of spiritual disciple of Lau's light-hearted, technical brand of martial arts choreography. Lau's last film was 2003's Drunken Monkey. He continued acting and working as a fight choreographer throughout his career; his final work, on Tsui Hark's Seven Swords (2005), earned him a nomination for Best Action Choreography at the Hong Kong Film Awards.
G/O Media may get a commission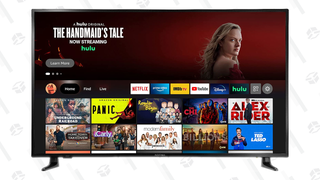 38% Off
Insignia 50" 4K UHD Smart TV
During the last two decades of his life, Lau struggled with lymphoma. He fell into a coma on Monday and reportedly passed away surrounded by family and friends. He is survived by his wife Mary Jean Reimer, their two daughters, and his younger brother, the choreographer, actor, and director Lau Kar-wing.