John Mollo, the prolific cinematic costume designer who won an Oscar—one of an eventual two he'd earn over the course of his career—for his work on Star Wars, has died. Mollo was 86.
Working from notes from George Lucas, and concept art from artist Ralph McQuarrie, Mollo managed to create some of the most iconic costumes in all of Western movie history, on a relatively shoestring budget. "As you see, the costumes from Star Wars are really not so much costumes as a bit of plumbing and general automobile engineering," he joked during his Oscars acceptance speech, which he gave flanked by models in the outfits worn by Darth Vader, the Imperial Stormtroopers, and Princess Leia. Mollo drew from his experience as a military historian for many of the film's designs; Lucas asked him to give the film's villains a "fascist" look, and so he dug into the styles of Nazi commanders and German WWI trench armor to create the Vader suit and helmet, solidifying the character as one of the most enduring cinematic villains of all time.
Mollo returned to the franchise for The Empire Strikes Back, making him the man at least partially responsible for Lando Calrissian's outfit, a feat deserving of recognition in its own right. On a less pulpy note, he also served as Ridley Scott's designer on Alien; much of the film's "space is just another shitty job" aesthetic can be lain in part on the rumpled, dirty, weathered clothes he served up for Ellen Ripley and her disgruntled, doomed co-workers.
Despite his sci-fi credentials, though, Mollo's real passion appears to have been period pieces. He won another Oscar for his work on Gandhi, and provided designs for films like Chaplin, Greystoke, and Disney's The Three Musketeers. He finished out his career fulfilling his love for military history, serving as the costume designer on all eight of Ioan Gruffudd's Horatio Hornblower TV movies.
G/O Media may get a commission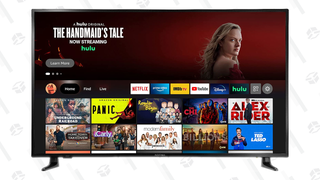 38% Off
Insignia 50" 4K UHD Smart TV