The latest entry in the ever-growing genre of contemplative half-hour dramedies created by singular young comedic voices (think Girls, Master Of None, and Shrill), Ramy has a couple of unique calling cards: It offers a nuanced portrayal of the daily lives of a diverse Muslim community in New Jersey. It explores the Egyptian-American immigrant experience. It features welcome disability representation. And it moves beyond the perspective of its late twentysomething lead, Ramy Hassan (co-creator/star Ramy Youssef, playing a loosely fictionalized version of himself), to give complex inner lives to its supporting players. But maybe the biggest thing that sets Ramy apart from other thoughtful comedies about lost millennials is that its lead character believes in god.
Religion isn't just a general cultural background for the series, like Hannah Horvath's Judaism in Girls. Nor is this the story of a young man clashing with his more devout Muslim parents, as explored in Master Of None and The Big Sick. Ramy himself is deeply religious and happily connected to his Islamic faith. Ramy explores familiar territory about hookup culture, career woes, and general aimlessness (Ramy lives at home with his parents and sister, and works at a tech startup that doesn't seem to actually do anything), yet the show finds freshness in exploring those ideas within a religious context. Ramy is frequently very funny, with a particular deftness with dark humor, but it has a weighty question at its heart: How do you live a devoutly religious life in the 21st century, particularly as a young, single, politically progressive person?
The 10-episode first season—which is largely episodic with some serialized elements—explores Ramy's slowly unfolding existential crisis about whether or not he's a good person and whether or not it's too late to become one. His parents, Farouk (Amr Waked) and Maysa (Hiam Abbass), immigrated to America from Egypt to give their kids more opportunities. They're not so sure Ramy is living up to that promise; he sometimes wonders if it would've been easier to grow up in a Muslim-majority country, where—in his mind, at least—it's a whole lot easier to live a simple, faithful life.
G/O Media may get a commission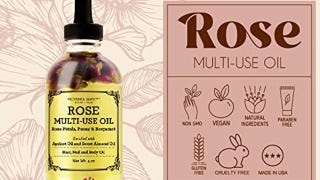 Provence Beauty Rose Multi-Use Oil
Ramy takes a pick-and-choose approach to Islam. He doesn't drink or do drugs, but he does have pre-marital sex. He's a regular at his local mosque, but tends to half-ass the ritual of pre-prayer washing. Last year he was half-in, half-out on Ramadan, so this year he overcommits to a degree that even his devout family find slightly odd. His friends Mo (Mohammed Amer) and Ahmed (Dave Merheje) serve as a kind of Greek chorus throughout the series, offering different Muslim perspectives while alternately enabling and criticizing Ramy's worst impulses. Ramy never sets out to be a didactic Islam 101 guide for a non-Muslim audience, yet in simply depicting the everyday lives of Muslim Americans, it offers plenty of cultural insights—like a young woman throwing on a headscarf to answer the door after checking her Postmates app to see the delivery person is a man. Depending on your own cultural background, Ramy will either be incredibly relatable or incredibly informative (or likely both).
The first two episodes feel like a bit of a prologue for the series; they're overwritten in a way the rest of the season isn't. It's in the fourth episode, "Strawberries," where Ramy's voice fully snaps into place. It's both written and directed by Youssef, who not only anchors the series as its endearing lead performer, but also pens the season's best episodes. "Strawberries" is a flashback episode that starts as a comedic story about the awkwardness of puberty, before transitioning into something else entirely, eventually offering a formal inventiveness that calls to mind Atlanta. (Produced by A24's TV division, Ramy looks beautifully cinematic, even if there are a few places where the season is still finding its visual style.)
It's almost a shame that Hulu is dropping Ramy's first season all at once—it's an easily bingeable show, but there's so much to dig into within each episode that you might want to space them out to let them linger. Ramy is interested in the kinds of big political and cultural questions that TV comedies don't often ask. The show's final two episodes are set in Egypt and unfold largely in subtitled Arabic, offering a thoughtful critique of Ramy's simplistic desire to idealize his homeland, and examining his Western arrogance when it comes to the experience of the 2011 Egyptian revolution. Executive producer Jerrod Carmichael brought a similar intellectualism (albeit in a much different comedic form) to his multi-camera sitcom, The Carmichael Show, and Youssef and co-creators Ari Katcher and Ryan Welch continue Carmichael's mission of asking big questions and offering multiple perspectives on them.

There's no sugarcoating the complexities of Ramy's world. There's a darkly hilarious, tossed-off moment where Mo suggests that a friendly attendee at their mosque's Ramadan break fast is probably an undercover FBI agent keeping tabs on the community. In addition to exploring racism aimed at the Muslim community, Ramy also depicts prejudice within it. Ramy's Uncle Naseem (Laith Nakli) is a virulently anti-Semitic, misogynistic conspiracy theorist who's convinced that the Queen of England murdered Princess Diana for dating an Egyptian. The sixth episode, "Refugees," centers around Ramy's sister, Dena (May Calamawy), and the sexist double standards she faces within the Muslim community.

Ramy delves into the interior lives of its supporting players in a way that many shows don't until their second seasons. In addition to the episode dedicated to Dena, the seventh episode, "Ne Me Quitte Pas," centers on the quiet suburban unhappiness of Ramy's mom. It's a stunning tone poem of an episode, featuring a fantastic performance from Abbass. Meanwhile, Ramy's best friend, Steve (Youssef's real-life best friend Steve Way), who has muscular dystrophy, takes the focus of the eighth episode "Saving Mikaela," which delves into the thorny complexities of an unusual date Steve goes on. Throughout the season, Ramy illuminates the daily realities of living with muscular dystrophy with the same casual matter-of-factness it applies to Ramy's life as well.
There are a few places where Ramy's narrative threads feel a bit shaggy or unfocused. The show can't quite seem to decide whether Ramy's dating life (which involves casual hookups with non-Muslim women and lots of internal debate over whether or not he wants to more seriously date a Muslim woman with an eye toward marriage) should be a serialized or episodic element of the series. However, that's a pretty minor complaint for a debut season that's otherwise thrillingly self-assured and impressively expansive. Aesthetically and tonally, much of Ramy feels similar to other coming-of-age single-camera dramedies. In terms of the stories it chooses to tell, however, Ramy feels like nothing else on TV.