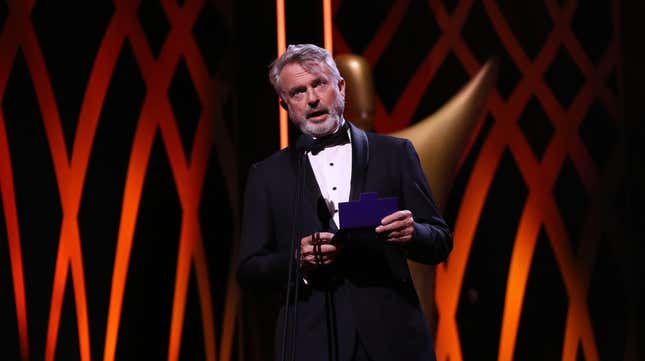 Actor Sam Neill, best known for his top-tier social media presence (and also as one of the chief performers of the Jurassic Park/Jurassic World franchise of films) announced today that he recently underwent treatment for stage three blood cancer. Per The Guardian, Neill delivered the news via his new memoir, Did I Ever Tell You This, which features in its opening chapter a segment in which Neill wrote, prior to treatment, that, "The thing is, I'm crook. Possibly dying. I may have to speed this up." Neill has since been declared cancer-free, after more than a year of treatment, although he'll apparently be on at least one anti-cancer drug for the rest of his life.
In fact, Neill's book is a direct response to his diagnosis, having begun writing down vignettes from his life as a way to take his mind off of his treatment for angioimmunoblastic T-cell lymphoma—symptoms of which first began to appear during the press tour for Jurassic World: Dominion. In a recent interview, timed to the book's release next week, Neill talked about how the process of writing helped focus him during some "dark moments":
I never had any intention to write a book. But as I went on and kept writing, I realised it was actually sort of giving me a reason to live and I would go to bed thinking, "I'll write about that tomorrow … that will entertain me." And so it was a lifesaver really, because I couldn't have gone through that with nothing to do, you know.
In addition to his Jurassic work, Neill recently popped up in 2022's Thor: Love And Thunder, while also appearing in TV miniseries The Twelve. Did I Ever Tell You This comes out next Tuesday.