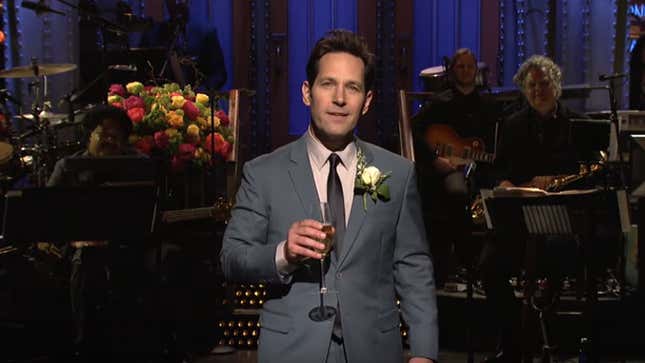 "Hands down, the most anticipated finale this weekend!"

"I'm not an actor, I'm a [superhero star who used to treat people pretty well]!"
There's an old reviewer's test that tasks us with speculating whether a movie (or 90-minute TV show, in this case) is as interesting as just watching the stars talk to each other for the same amount of time. Honestly, it's not a great metric when talking about Saturday Night Live, because there are nights when I'm genuinely stumped whether spending an hour and a half watching—just to pick a person at random for no reason—Russell Crowe flail around in a vain, flop-sweaty quest for laughs would be of more or less entertainment value than listening to the same person grumpily demanding I listen to songs he thinks I need to hear.
Late-night hosts welcome back their writers—and their jokes
But sometimes, when a truly engaging, charismatic, and effortlessly funny person hosts—someone like, say, Paul Rudd—the starkness of the choice is pretty illuminating. (See also season 44 hosts Don Cheadle, Emma Thompson, Idris Elba.) This has been a subpar year at Saturday Night Live, where the highs (John Mulaney and Jonah Hill's episodes, a few isolated great sketches) are swamped in memory by a listless, directionless sameness. In his monologue—amusingly giving the best man speech to his four-time TV partner on the conclusion of its 44th season—Rudd was at his most Rudd: charming, silly, utterly committed to the bit. And while his commitment never flagged, the sketches he got were either warmed over hash (alien abduction, again?), or sleepily mediocre. (I suppose farts can still be funny, but SNL keeps returning to that particular orifice to little effect.)

If there was one sketch where Rudd was given a proper vehicle for the oddball absurdist hidden behind his seemingly ageless leading man frame, it was What's Wrong With This Picture? Yes, it was yet another SNL game show sketch but, at least, the concept was merely a T-shirt cannon for Rudd, Pete Davidson, and Aidy Bryant to fire off increasingly absurd guesses to host Kenan Thompson's easy picture puzzles, while Kenan expertly slipped in the beleaguered deadpan asides that have always served him so well. There wasn't an ending to the bit, but Rudd and his co-panelists all inhabited their characters with the cockeyed certainty of three people whose inner lives are bracingly, hilariously weird.
---
Best/Worst Sketch Of The Night
That's my pick for the best, a nifty little ping-pong match between three squirrely ding-dongs and Kenan, whose barely contained loathing for his gig ("Well, that made me angry.") rivals Will Ferrell's ever-hangdog Alex Trebek.
Close behind was the Game Of Thrones rap video from Pete, whose utter predictability (an similarity to a Late Show bit that aired yesterday) was submarined by Kenan (and a visiting Grey Worm in Jacob Anderson) confronting Davidson with their knowledge that Pete's real favorite show is Grace And Frankie. Relievedly switching gears into a more excitedly accurate rap about the gently saucy joys of watching Lily Tomlin and Jane Fonda make dildo jokes and pondering the significance of Martin Sheen's CPAP machine, Davidson (and musical guest DJ Khaled) played up the musical incongruity between style and subject ("They're different but they're friends—it's a nice show!"), with Rudd popping in to join in the love. The music video game hasn't been as strong as in previous seasons, but this one was solid.
As every other sketch slots into one of the other categories tonight, that just leaves the fart sketch. I know, I know—it was technically a Twilight Zone sketch. Sort of, as Kenan's welcome appearance as a suited, salt-and-pepper-bearded interloper is revealed to be Jordan Peele's delightfully ominous narrator in the end. (Once more, using the concept of "an ending" according to the broadest possible definition.) It's conceptually a redo of the (much better) Thanksgiving song sketch from the Steve Carell episode earlier this season, with the joke turning on a disparate group's gradual realization that they do, indeed, remember the same ridiculous song. Except this one is about a farting ballerina, isn't as well-realized musically, and ends (sorry "ends") with that Twilight Zone twist that, Kenan's funny turn aside, doesn't tie the piece together as much as give it a hasty escape route.
---
Weekend Update update
Say this for Saturday Night Live at least—the recent all-out attack on women's reproductive rights by the Republican Party sent SNL viewers into the summer break with some naked anger in their memories. The cold open saw Kenan's gleeful Clarence Thomas singing (we'll get there, believe me) repurposed Queen lyrics about women being screwed, the return of The View (also coming, be patient) opened with a Roe riff, and Jost started out by noting that "This season started in 2018, but it looks like it's gonna end somewhere back in the 1970s."
But that was all prelude to Leslie Jones—sorry, "Leslie Dracarys That Bitch Jones"—doing her most fired-up desk piece ever. Coming out in full Handmaid's Tale garb (stripped off to reveal a "Mine" with nethers-pointing arrow T-shirt), Jones railed with accustomed boldness and less accustomed forthrightness about this anti-choice resurgence. Posting up pictures of the 25 white guys from the Alabama GOP who essentially struck down abortion in the state (pending court challenges) as looking like "the mugshots of everyone arrested at a massage parlor" and a "casting call for a Lipitor commercial," Jones built up a head of steam as she barreled over the "weird-ass men" (and Alabama Governor Kay Ivey) with the effectively contained fury of the truly fucking pissed off. There's a real power to Jones' signoff, where she pledges to women in the nine states seeking to take advantage of the GOP's right-wing court-stuffing, "I got your back." And, tossing out her own, formidable and glorious height and weight ("six feet tall and 233 pounds") in the faces of her would-be oppressors, Jones used her Update platform to announce that she will, indeed, go the full Khaleesi.
Jost and Che wrapped up their fourth year behind the Update desk in familiar fashion, which is to say that they showed flashes without ever coalescing into a coherently focused team. I think we're all as tired of the same complaints over and over this season (from me), so I'll leave it here: With the spotlight as hot as it's ever been on Saturday Night Live, Update should be bolder, and better. Still, the traditional, end-of-season joke swap showed the anchors loosening up to a much more enjoyable degree than usual. Supposedly playing out a Stefon-esque mutual gag by making each other read jokes they've never seen before, the bit invariably becomes an infectious exercise in one-upmanship, with Che, as ever coming out on top by making Jost self-incriminate for his and his family's supposed white privilege. Che loves to go for the audience's outrage buttons, and Jost's abashed delivery of a joke about a white teacher in North Carolina being forced to quit for telling students Martin Luther King Killed himself ("In her defense, he is the one who decided to keep running his mouth.") is about as gratifyingly groan-worthy as it gets.
In the other correspondent piece, Cecily Strong cemented her spot as this season's MVNRFPTP (see below) with the return of her blaring, boozy Fox News hate-foghorn Jeanine Pirro. As funny as it is to see Kate McKinnon trot out a new male member of the Trump administration every other week, her actual impressions (she did Wilbur Ross again tonight) aren't themselves especially on-point. Strong's Pirro, however, is a guaranteed knockout, a potent cocktail of (slightly) exaggerated speech and mannerism and a loony, glassy-eyed, bottomless font of (again barely) amplified bigotry. And in name-shaming actual remaining Pirro advertisers like Jeep and Mitsubishi (sticking to the sometime suspended Pirro despite backlash), SNL continued to show some fire on the way out the door on season 44. Again, credit where it's due to the show for actually layering in some real-world information into the finale. (Plus, dousing Jost with some expertly delivered spit-takes and drink-tosses was just some stellar work from Strong.)
---
"What do you call that act?" "The Californians!"—Recurring sketch report
Criticisms of recurring sketches invariably wind up sounding as tired as the reruns themselves, so stop reading if you've heard my thoughts about the alien abduction sketch(es) before. Here goes: The first time this thing aired, it was a revelation for Kate McKinnon, and a vindication for those of us who were telling everyone about this amazing cast member, Kate McKinnon. Her oft-abducted, butt-smoking Ms Rafferty was a fully realized characterization of a seen-it-all broad whose bemused reactions to her co-abductees sublime alien experiences emerged as the cheeky indefatigability of a woman whose hard-knock life has left her perpetually unimpressed and undaunted. Even when being subjected to unceasing, bare-assed humiliation by little green men who, she comes to suspect, aren't exactly impressed by her either.
But as the bit kept coming back, Rafferty's shtick never changed except for the increasingly effortful euphemisms for her intimate areas (here "clam casino and bean burrito") she uses to horrify her straightlaced scientist interviewers. There's a stab at dressing up the routine here—Rudd's hick can't stop name checking his free trial of a particular cable service, McKinnon mauls the ever-game Rudd by way of illustration, and it's technically time-travel this time around—but ultimately this is just another sketch that should never have been turned franchise. (And first sketch out of the gate? C'mon.)
Speaking of, The View is back. While hanging this undying recurring sketch on Aidy's infuriatingly funny impersonation of co-host Meghan McCain's whimpering conservative victimhood routine has provided something of a hook of late, how the hell long has SNL been doing these pieces? (The answer: since Cheri Oteri's Barbara Walters was making Debbie Matenopoulos jokes.) It'd be (marginally) more excusable to return to this daytime gabfest's well if the current cast had any other especially impressive impressions going. But, apart from Kate McKinnon's funny-but-nothing-special Joy Behar, and Leslie Jones' gravelly Goldberg mumble, there's nothing SNL has to say about The View beyond skewering McCain and pointing out that the hosts of The View aren't especially fond of each other. Rudd came out for a funny turn as presidential hopeful Pete Buttigieg (his vaunted linguistic skills extend to a secret language he made to communicate with gnomes, in a nice little piece of absurdity). But if The View's morning show personality cult infighting is to be the vehicle for SNL's political satire going forward, it's about as inconsequential as its source material.
On a more welcome note, should Leslie or Kyle leave in the off-season, the conclusion here to their running "Kyle and Leslie in love" gag is as sickly-sweet (or sweetly sick) a way to end as could be hoped for. The two—here as themselves, reminiscing about when they used to pretend to be lovers—become lovers, graphically, in Paul Rudd's dressing room. I've missed these pieces (and Kyle on film generally, most of the season), as they transcended the odd couple joke in the duo's unexpectedly endearing and slyly heartfelt performances. Here, both Mooney and Jones are genuinely kind of touching, at least until the actual touching starts, with a silly dream/fantasy sequence, complete with Lorne as the winking moon. Incorporating a gamely gross Rudd into their newfound, real-life affair only makes sense.
---
"It was my understanding there would be no math"—Political comedy report
Oh, swell, Alec Baldwin's back. The cold open opened in the Oval, with Baldwin's fish-mouthed Trump giving way to an all-White House, all-gloating musical number about Trump's supposed invulnerability, set to the tune of Queen's "Don't Stop Me Now." Which is . . . a choice. I suppose it could be considered bold to try to top the song's memorable use in Shaun Of The Dead, if there were any thematic resonance here, and if the production weren't so stiff and halting. (Seriously, the live direction this year has deadened more sketches than it ever helped land.) The jokes here are boilerplate SNL cold open Mad Libs: Mike Pence is secretly gay; Kate plays a male cabinet member; Trump pronounces it "Gynah;" Robert De Niro pops up for another cameo suggesting that live TV's not really his métier. I admired the lyric about Trump looking forward to hosting the three white NBA players who'll visit him after the finals, and the sketch did set the tone for the episode's genuinely outraged Alabama-bashing over abortion rights. But there's a perhaps unintended self-burn to Baldwin's on-again-off-again, decidedly ordinary Trump claiming to be "on cruise control for a second term." Signing off with the ominous teaser, "Tune in next season to see who lives and who dies," this cold open closed out a second year of a tack on Trump that's never evolved beyond its would-be, would-that-it-were temporary stunt casting.
---
I am hip to the musics of today
Introducing his first number of the night, DJ Khaled boasted defiantly, "They said I'd never do SNL!" I don't know who the they are who were so disdainful of that eventuality ever coming to pass, but I do admit to hearing more than one person ask, "Um, what is DJ Khaled going to do on SNL, exactly?" since his booking was announced. Well, the answer came as the ubiquitous, multi-faceted producer, music exec, media personality, questionable lover, and sometime performer spent most of his stage time playing hype man to what Rudd called "like, 200 friends" in his monologue. It wasn't quite 200, but, still, the guest verses by Lil Wayne, Lil Baby, Big John, Meek Mill, J Balvin, Jeremih, SZA, and John Legend kept on coming, each performer introduced with Khaled's bull-rush showmanship. It was fun, really, wondering which star was going to emerge next. (Khaled also wore a Nipsey Hussle hoodie in tribute to another, absent collaborator.) Still, I'll be stealing the best description of the spectacle from fellow A.V. Clubber Jesse Hassenger, who said Khaled resembled nothing so much as "a Spotify curator who lovingly refers to his various musician friends as ANOTHER ONE!"
---
Most/Least valuable Not Ready For Prime Time Player
Get out your score cards, kids. Season 44 started out with only a few changes, and stayed relatively stable throughout, cast-wise. Ego Nwodim was an intriguing hire who got almost nothing to do (although she came on in the second half). Chris Redd was last year's intriguing hire, who got stuck in featured player second-season, second-banana limbo. The Kyle and Beck partnership receded a bit. Kenan was a rock who may or may not be leaving. Speaking of, the rumored departures of the likes of Kenan, Kate, Cecily, Aidy, and possibly others went completely unremarked-upon throughout, so don't go digging for any tearful Wiig-style sendoffs here. The final scores for season 44, from most to least valuable, were as follows:
MVP (by a whisker): Cecily
Kate
Kenan
Aidy
Heidi (look for a big jump next season)
Leslie
Pete
Che & Jost
Beck
Redd
Ego
Moffat
Kyle
Day
Melissa (play her or trade her, Lorne)
As ever, these rankings are correct and unquestionable. It's science.
---
"What the hell is that thing?"—The Ten-To-Oneland Report
For the last sketch of its 44th season, SNL gave the spotlight to Melissa Villaseñor, which was kind of a surprise. Not that Villaseñor's a bad choice, but for someone who's been perpetually overlooked in her time on the show, it was nice to see her get a big, showy role in a ten-to-one sketch that at least reached for the appropriately weird and conceptual. Still, the sketch itself never really seized on its premise—Melissa's demon is summoned by some sleepover ouija play—settling for the single joke that Villaseñor's horns-sporting demon queen has her feelings hurt when the self-obsessed tweens tire of the novelty almost immediately. Rudd's on hand as a cluelessly amiable dad (offering snacks of "pita chips, raisins, and salt"), but, like much of the episode—not to say the season—the host's potential contributions remained disappointingly unexplored.
---
Stray observations
I did laugh at Rafferty's response to a question about her prehistoric gang-grope experience: "Buddy, God had no part in this."
"I'm a penis."—Pete Davidson.
Aidy's contestant, assessing what's wrong with that picture: "He's pointing at her butt door and explaining its features!"
Che, in a joke he did not give to Jost, speculates that the Chris Rock-led Saw remake will be called "Seent."
"As the only daughter at this table . . ."—Aidy's McCain, attempting to pull some "Do you know who my daddy was?" rank.
Kyle, to Leslie's offer of wine: "Yeah sure, I mean I drink every day, so . . ."
And that's a wrap on season 44 of Saturday Night Live and the A.V. Club's coverage thereof. I've been Dennis, and you've been great, for the most part. See you in the fall, when I genuinely have no idea who will be in the cast.