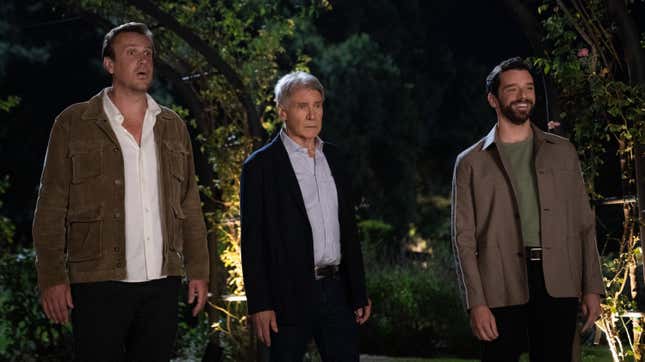 Shrinking may not get me on board with using "sadface" in everyday conversations. But it may actually get me to use "boop him" as shorthand for "pattern interrupt." That's mostly because none of us laymen ever use terms like "pattern interrupt" even if we sometimes find ourselves basically using that kind of strategy to short circuit well-known and well-worn patterns of behavior.

Not that you'll ever find me "booping" someone's coffee off the table. I don't know how successful that kind of passive aggressive maneuvering would be. (Would that really interrupt a pattern or merely, well, create a big mess, in all senses of the word?) Thankfully, we're not shown what does happen if/when Grace puts Jimmy's advice to work. Not well, I'd imagine.
But "Boop," which gives the episode its title, does end up making for a good overarching metaphor. Like Grace, many of the characters in Shrinking are in dire need of disrupting the patterns they've grown accustomed to—and in need of creating new ones. Liz, as we know, has been tasked with trying new things out of the house. (Derek's argument was solid: She's had the house all to herself for decades!) And so she finally gets some quality time with Gabby (and, implausibly, Sean).
I know I joke a lot about how Shrinking keeps finding ever more outrageous reasons to arbitrarily bring its disparate characters together. But even I couldn't have anticipated "art opening" as an excuse to rope those three together. But, as it turned out, Gabby, Sean, Liz, and Liz's laser made for a great comedic combo. Then again, any scene where Jessica Williams gets to deliver the line "I didn't say she was blind; I said she was a bitch" will always be A-okay in my book. I was also happy to see that Gabby's divorce factored again and wasn't just a dropped storyline. Watching her grapple with what it means to (re)connect with her ex while wishing him the best—and, of course, failing spectacularly at it—was a joy to watch. Even if, yes, we've seen many variations on this storyline in many a sitcom before. But it's good Gabby tried to break away from her pattern. In a way, her divorce was a kind of self-boop. She needed to reboot her life and, breakdown over a nude painting aside, she seems to be doing a lot better. (She might want to examine why she chose to kink-shame her ex all the while claiming she wasn't kink-shaming him, though.)
G/O Media may get a commission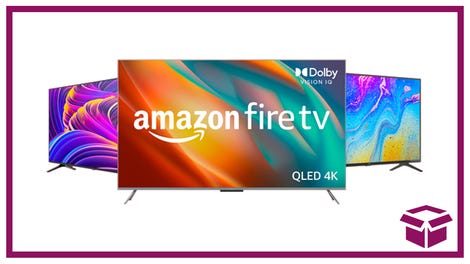 Ooh. stunning.
New Amazon Fire TVs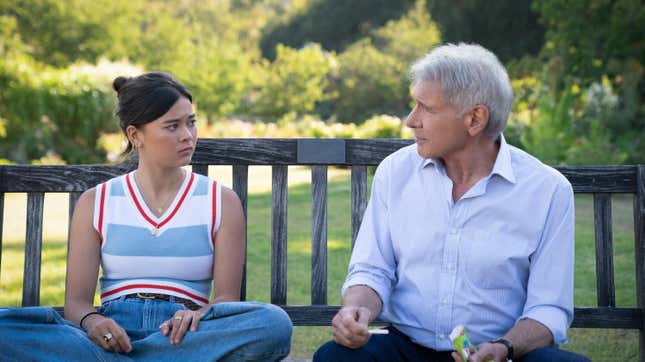 Elsewhere, the boys (that'd be Jimmy, Brian, and Paul) got to hang out together and play nice with one another as they sought out where Alice had gone. Again, teenage girl goes rogue feels like a tired sitcom trope (because it is), but there was enough playful banter that papered over the familiarity of this storyline. That's mostly owed to the chemistry between Jason Segel, Michael Urie, and Harrison Ford, as odd a platonic comedic throuple as you'd hope to get.
Bonus: Their shared moments brimmed with character beats (Brian not wanting Jimmy to officiate, Paul working harder at connecting with Jimmy) and their entire ordeal in tracing Alice down felt like it came with a great payoff for everyone involved. Yes, even Alice, who's finding out her dad is now firmly gonna be parenting—and doling out "You're grounded" dictums in the process.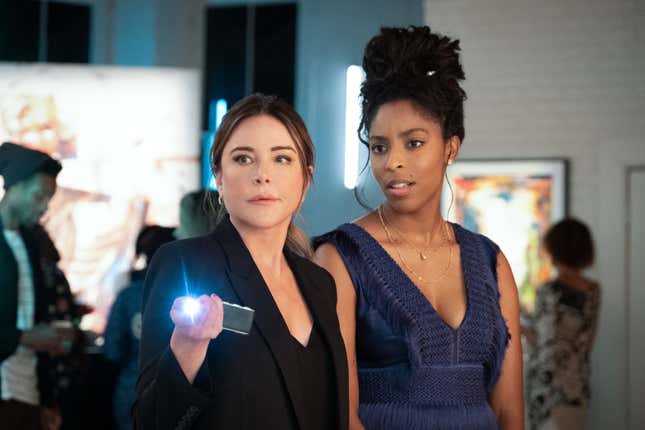 If you can't tell, I'm still very much having a muted response to Shrinking, even as it seems to have found its groove—a.k.a. creating accessible pop psychology-informed subplots that nevertheless echo classic sitcom ones, all in the hands of very capable comedy performers. (Even Jimmy and Gabby's conversation with Alice, which felt couched in contemporary ideas of honest parenting, felt like a throwback to "let's have the talk with our teenage sitcom kid, only this time with more sex puns.") If there's tension there it's because solid mental health professionals seem almost antithetical to sitcom characters: meddling is the bread and butter of the latter, and truly unethical in the former. Try as it might, Shrinking won't ever be able to square the two well enough if Jimmy is, at his core, committed to his meddling-is-solving practice.
Anyways, stream Japanese Breakfast?
Stray observations
Describing Grace's husband as "'80s movie villain" is so accurate it actually made me laugh out loud. Ditto the line "I think your grandpa and your dads are here." (Also, in case you're wondering: Chet is played by Sam Bixby, a.k.a. a young actor genetically designed in a "teen heartthrob" lab. You're welcome.)
Maybe it's The White Lotus in me talking but…what exactly is wrong with guys in Vespas? Was this a thinly veiled "Vespas are European by which we mean effeminate motorcycles" joke? Which is to say, was this a tired slightly homophobic (or, at best, femmes-shaming) joke? Because, I honestly don't get it. Or choose not to, I guess.
I love when throwaway lines tee up later storylines; it's why I perked up when both Jimmy and Brian both yelled out how much they hate a certain "Ben." Am I already fan-casting this nothing of a character because I hope the writers slipped that in for us to revel in whatever petty rivalry they're all involved in? Maybe.
(ALSO: MORE HIKING! I mean…I know folks here in the L.A. area hike a lot but this is almost comical at this point.)
Was this episode worth it just for the fun of seeing Harrison Ford scare a peacock? Jury's still out. But I'll admit Ford's playful approach to Paul and to any and everything he's been tasked to do in this series so far has been delightful. Sure, "Ford plays a curmudgeon" doesn't feel fresh; but here he's also allowed to be goofy and kind-hearted which, I admit, is enough to wish we'd get more of this Ford elsewhere.
Liz's "Maman, je t'aime" is kind of amazing. But it also reminded me that she and Derek have kids who they apparently never talk about or refer to unless it serves a B-plot storyline?
I need this fact-checked: Does Gen Z like Fun Dip? Is Fun Dip experiencing a revival of sorts? Or did Fun Dip never go away? What's the 411 on Nerds? How about SweeTarts? Ring Pops? Inquiring minds want to know.