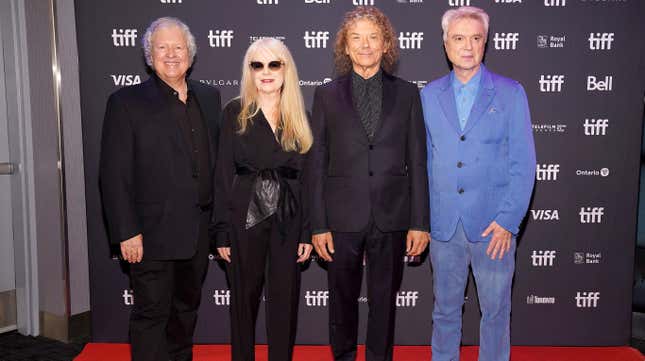 Toronto is a place, a place where Talking Heads reunite.
For the first time since their 2002 Rock 'N' Roll Hall Of Fame induction ceremony, the four Talking Heads shared the stage. Celebrating the world premiere of the 4k restoration of their seminal concert film Stop Making Sense at the Scotiabank Theater for the Toronto Film Festival, David Byrne, Chris Frantz, Tina Weymouth, and Jerry Harrison joined moderator Spike Lee for a brief Q&A following a screening of the movie. And, well, we'll just spit it out: David Byrne thought his suit should've been bigger in the film.
Anthony Hopkins transcends human consciousness as an NFT
"I was told that everything should be bigger onstage," Byrne said. "I thought, 'Oh, my suit should be bigger too.'"
But that's not all that happened. Setting a new precedent for how the band members treat each other, tensions were at an all-time low. Per The L.A. Times, the long-awaited reunion did not illuminate, touch upon, or even mention the group's breakup and long-simmering animosity. Instead, they discussed the power of the movie, which reportedly caused audience members, including Byrne and Lee, to stand and dance in the aisles. Even drummer Chris Frantz, who wrote a book primarily about how much he loves his wife, Talking Heads bassist Tina Weymouth, and how much he hates frontman David Byrne, said it was "so good to be here with my bandmates."
The screening served as the premiere for A24's 4K restoration of Stop Making Sense, which was simulcast with the Q&A at IMAX theaters. Lee, who directed Byrne's Broadway show, American Utopia declared it "the greatest concert film ever." And, yeah, our fact-checkers have determined that Spike Lee is correct. "One of the reasons for the lasting power of the film is you can see how much fun we are having onstage," said guitarist Jerry Harrison with another correct statement.
Of course, not even tentative decisions have been made about whether there will be another reunion, perhaps one where the Talking Heads hold and play instruments. Maybe a dream operator can make that happen sometime. Still, progress is progress.

"Divorces are never easy," Byrne told The New York Times earlier this week. "We get along OK. It's all very cordial and whatever. It's not like we're all best friends. But everybody's very happy to see this film coming back out.
"We're all united in the fact that we really love what we did here. So that kind of helps us talk to one another and get along."