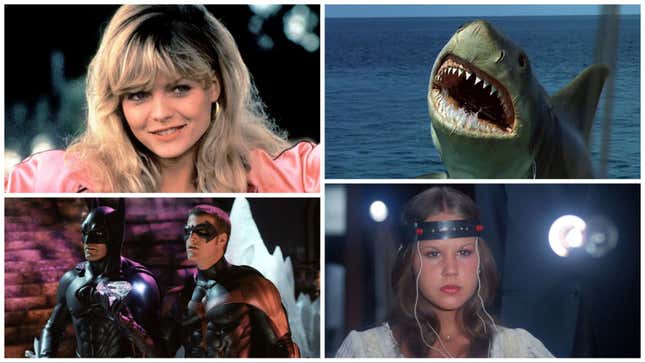 In 1997's Scream 2, self-proclaimed film geek Randy Meeks (Jamie Kennedy) rants about sequels in his college film class. "Sequels suck! By definition alone they're inferior films," he says. His classmates then struggle to think of a sequel that surpassed the original before finally settling on The Godfather Part II.
Although Scream 2 is a pretty solid follow-up to Wes Craven's Scream, Randy isn't wrong about the suck factor of most sequels. For every Scream 2, The Godfather Part II, or The Dark Knight, we have Exorcist II: The Heretic, Grease 2, Friday The 13th Part V: A New Beginning, Jaws: The Revenge, Space Jam: A New Legacy, Basic Instinct 2, I Still Know What You Did Last Summer, Batman & Robin, and hundreds more shoddy sequels.
As My Big Fat Greek Wedding 3 (statistically speaking, shouldn't there be a big fat Greek divorce in there somewhere?) hits theaters, we're ranking the sequels that not only don't live up to the original, but are such a step down in quality that their failure is legendary. Sure, you can argue that some of the cringy sequels on this list are golden turkeys or camp classics that have a so-bad-they're-good entertainment value, and that's legit—you do you. But they still suck and are inferior films, just like Randy said. What is the one god-awful sequel to rule them all? Let the countdown begin!