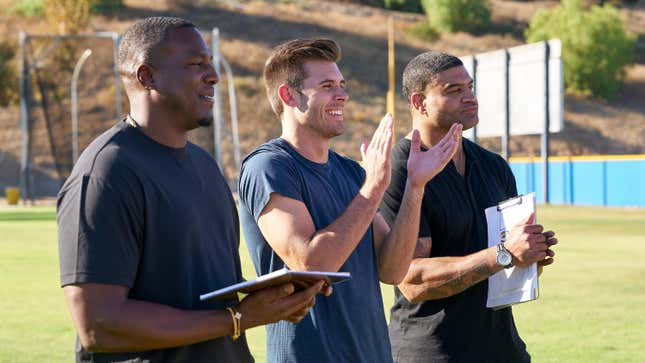 Okay, call me crazy, but this episode had an actual surprise in it. Christina, mother to Blakely Mae, daughter of a Mandrell sister, she of the first one-on-one date, was sent home! This is essentially unprecedented. The account @bachelordata did a breakdown of how far the first one-on-one date goes in the show, and in the last 14 seasons, the earliest that woman has ever gone home was week six. They are very often the winner, runner-up, or next Bachelorette. What happened here? Let's get into it.

Harry Shum Jr. talks "Grey's Anatomy," Raccacoonie, and Samuel L. Jackson
Our episode begins with yet another shower shot of Zach. He has another little chat with Sean Lowe via FaceTime. Is Jesse just golfing a lot or something? This is his job. He shows up to tell the women there will be two individual dates and one big group date, standard fare, and then heads back to the links.
Jesse tells the women the first date will not be today; it will be tonight. The date card comes for Kaity—"I want a love for the ages"—and the house is very supportive when she comes down in her evening attire. "Our princess!" they squeal. I'm enjoying this energy because it will be gone soon.
Zach comes to pick her up, and Kaity says she knows he has something special up his sleeve. He does not! A Bachelor producer, essentially a professional date planner, put this evening together! If it's you and this man standing together at the end, you are not in for a life of meticulously planned dates, Kaity.

Because I do have to admit, they have a genuinely cool date. Zach produces a key, and they have full and private access to the Natural History Museum. There are animal displays! Dinosaur bones! They explore by the light of little lanterns! Kaity looks at one of the dinosaur skeletons and says, "The long neck ones are really friendly," and I just know this girl grew up on Land Before Time.
During her confessionals and their dinner, Kaity says a few times that she's "never done anything romantic in my life." Wait, what? Both Zach and I are confused by this, as she goes on to say she was in a relationship for seven years. I mean, I'm sure that man did not clear out the Natural History Museum for you (again, neither did Zach), but he never did anything romantic? Kaity says he made her question her self-worth and starts crying. The way the show cues up the sob story music, I think things are going to take a dark turn, but then she just says, "I just want a good man."
For most of this non-story, Zach has furrowed his brow and said, "Wow"—in line with the emotional intelligence of his former Bachelor brethren. But at the end, he rises maybe one level above "Thank you for sharing that with me" and gives a heartfelt little speech: "I want you to know you deserve way more than the basics. It's baffling to me that no one has treated you better than that." Kaity gets the rose, and Zach asks her if she wants to spend the night with him.
He shows her a very cute tent set up in a safari area of the museum. They both slip on animal print pajamas and they each have a little twin bed in the tent. Zach calls it a slumber party, and they run around a kiss. I'm into it. Maybe this show is getting less puritanical, because as they pull the tent zipper down, Kaity says, "Let's move the beds together" and no one makes a big deal out of this. In the morning, the other girls notice she walks in at 7 a.m. in her pjs, but the slut shaming is at an all-time low. I remember the complete meltdown when Kaitlyn Bristowe spent the night with Nick Viall outside of fantasy suites, so this feels like growth to me.
Next up is the group date, and it's football related. Zach reminds us he played football for nine years: "Football is like love. It takes heart." Sure, okay. It's time for Bachelor Bowl V! I honestly didn't realize we were counting these things but sure. Two former NFL players are here to coach the teams, actual sportscaster legend Hannah Storm is back to provide commentary with Jesse (I love her delivery when she calls it "truly a career highlight"), and there's even a dramatic, ESPN style intro video. What's on the line? Winners get an afterparty with Zach; losers go home.
It's the Shallcrossers vs. the Ball-Zachs, a team name that makes me look up sharply in confusion every time they say it. Full tackle football, and people are into it, if not especially coordinated. Anastasia goes down on the kick-off, and an ambulance shows up for nothing, because she's back on her feet once Zach rushes over to help her up. Fans in the "crowd" have signs. A drumline is playing. Everyone reminds us a million times that they're playing for extra time with Zach, and then it's all over. The blue team—the Ball-Zachs—win, and they're spraying champagne all over the field while the Shallcrossers cry their way to the exit.
The afterparty is just your average evening portion of the date, but a few things happen: Christina will not shut up about how she's had the only one-on-one, rubbing many of the other women the wrong way. During her solo time with Zach, she does some baby talking about how she's scared, and Zach tries to offer some validation: "Nothing is guaranteed, but we're trying to figure this out together." Translation: "You have a kid so this is not going to work out in the end, but we can have fun for a little bit."
Bailey (Balon/Balin) can sense she's not really progressing and brings that concern to Zach, looking for him to reassure her. Instead, we get a very awkward two-part breakup. He's right in the middle of telling her he doesn't want to force anything when Ariel shows up asking to steal him. Bailey, not understanding what Ariel just saved her from, pulls Zach again later, only to have him finish his thought and send her home. "He is dead then, it is just as I feared," my husband says. "What?" I ask. "Oh, that's what Gandalf says when he finds out Balin died."
Zach still has to give out the group date rose, and it goes to Charity, who is lovely and unproblematic. After he leaves, Christina throws a hissy fit. "I'm just confused," she says, bewildering all the other women. "I'm just mad it wasn't me." Charity starts to cry and runs off. Everyone comes down on Christina for making this about her, and she says, "Would it have been better for me to not be truthful?" Except nobody asked? Being honest doesn't mean you have to share every thought that goes through your head. Brooklyn makes this point a little more sharply by saying, "Have you ever considered just literally shutting the fuck up?"
It seems like Christina suffered a personally change between weeks two and three. In the last episode, she deftly handled Brianna's accusations with a quick apology and diffused the situation. Now she's pulling villain faces for the camera and directly seeking out conflict? I smell a producer intervention.
The second one-on-one date goes to Aly, whose date card ("Are you ready to fall in love?") comes with a box. Maybe it's a gown! Maybe it's Gwyneth Paltrow's head! It's something white and lacy. When she shows up for her date, Zach is in a black suit, standing in a parking lot. He says he sent her a gown, but sir, that is a jumpsuit. She's wearing pants. Which makes sense, because they're going skydiving.
"I'm looking for a best friend that you can have a great time with all the time," Zach says to explain the date. Once again, let me say that having a best friend you have fun with every day does not mean skydiving! It actually looks a lot more like watching The Bachelor and making stupid jokes at each other in your sweats. Where's the show binging date?
But they're elated by the skydiving, which they follow up with a Bachelor patented hot tub session before heading to dinner. Zach tells Aly he's looking for someone who has their shit together, and she says, "We'll break that down later." No, let's unpack it now! Aly has clearly been through a lot of therapy and talks about her issues with control and how she processes them. Zach blinks in confusion. Aly gets the rose. He says he has one more surprise, and it's a private show from Griffin Palmer. One of these days they're going to bring out Taylor Swift, I just know it.
The pre-rose ceremony cocktail party is canceled in favor of a pool party, and there are some gratuitous shots of Ariel in a bikini. ("My parents are watching!" she scolds Zach as they kiss.) Brianna, seeing the writing on the wall after her disastrous showing last week, self-eliminates, but not before throwing Christina under the bus on her way out by saying she has been intimidating everyone. Christina sucks, but I feel like this is an exaggeration. Zach spends the rest of the pool party trying to sort this out. "I'm here to find my best friend, and I don't want to deal with this stuff," he says to her, and she sobs on the stairs.
In any other episode, Zach would have given Christina the final rose of the evening, signaling that she's on thin ice. But in a truly unpredictable move, he eliminates her. And it's my professional analysis that if she didn't have a five-year-old at home, this absolutely wouldn't have happened. But maybe this man is so terrified of becoming a stepfather that even the producers couldn't convince him to keep her around another week. Farewell, Christina! We'll see you in Paradise.
Stray observations
"I feel like it's so easy with Kaity," Zach says, which is not the compliment men think it is. No one likes to start a relationship being told their best quality is that they don't make waves.
Brooklyn accuses Anastasia of milking her football injury and physically mimics pulling on udders.
Gabi is extremely vocal about peeing her pants a little bit when she's tackled. Hannah Storm literally announces it. When her team loses, she says, "It's just so disappointing." Yeah, well. Maybe you shouldn't have pissed yourself.
When Zach takes off his shirt at the pool party, he says he's soft launching his chest hair. My husband asked me to explain what that meant, and reader, I tried. But I just couldn't.
During the rose ceremony, Genevie's arm is in a sling! This is never acknowledged! Anastasia got an ambulance for her fake football injury, but we never see what happened to Genevie's arm? Justice for Genevie!