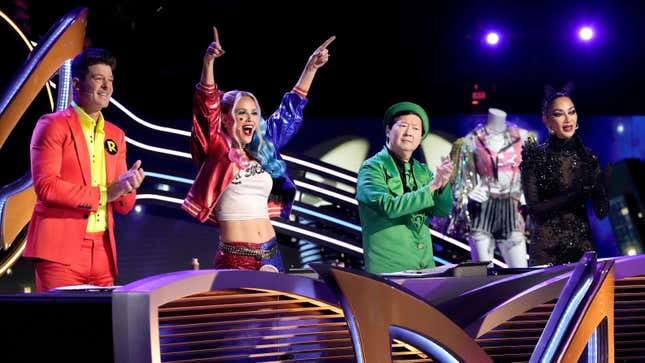 This week, Fox's The Masked Singer took a break from normalizing monsters to … normalize some fictional monsters with DC Superheroes Night, a special episode in which the regular panel of judges misread the memo and dressed up like DC supervillains (save for Robin Thicke, who put in the least amount of thought and effort possible with his costume choice). The stage was also decorated with Michael Keaton's Batmobile, Aquaman's suit, and a few other items from DC movies, and the singer intros and songs were vaguely superhero-themed (yes, a squirrel and a gargoyle sang dueling versions of "Kryptonite," because this show is deranged).
This was all part of a relatively new format shift for The Masked Singer, which involves doing these Dancing With The Stars-style theme weeks to make the show—which is typically so polite and restrained every other week!—a little more wacky and fun.
But when Dancing With The Stars has everyone grooving to Disney music or whatever on one of its theme weeks, it actually makes sense as vertical integration. They're all owned by the same mouse, after all. However, DC superheroes have nothing to do with Fox or The Masked Singer, so it just seems like they saw an opportunity to do some built-in advertising for Shazam: Fury Of The Gods and this was the only place that made sense … but it only made sense in a weird anti-sense way, like everything with The Masked Singer. That's sort of the magic of this goofy show anyway, right? Things happen for no apparent reason, the credits roll, and then you're left wondering where the last hour of your life went.
Either way, The Masked Singer committed to this gimmick, at least on the fringes of the regular show they do, and now we can't help but wonder just how compatible these two universes are. Are they more similar than we gave them credit for? And if so, which one has the greater evil villains? In other words, which crew is more nefarious, more cruel, and more mad: The villains of the DC universe, or the judges on The Masked Singer? Let's put on our Batman detective cowls and try to solve this mystery judge by judge.
Robin Thicke vs. Robin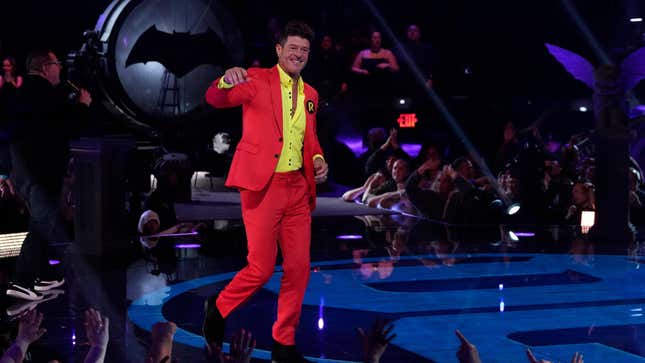 G/O Media may get a commission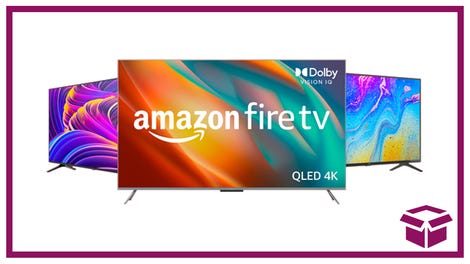 Ooh. stunning.
New Amazon Fire TVs
Robin Thicke is the featureless gray wall of the Masked Singer judges, so it makes sense that everyone else picked a villain who it would be fun to dress up as and he just picked the guy who is also called Robin (and then put an "R" logo on a ketchup-and-mustard suit). Robin in the comics isn't a bad guy, even the Robin who was raised by Ra's al Ghul and the League Of Assassins, so that makes this a pretty easy debate. Also: the whole "Blurred Lines" thing.

Who's more twisted: Robin Thicke
Ken Jeong vs. The Riddler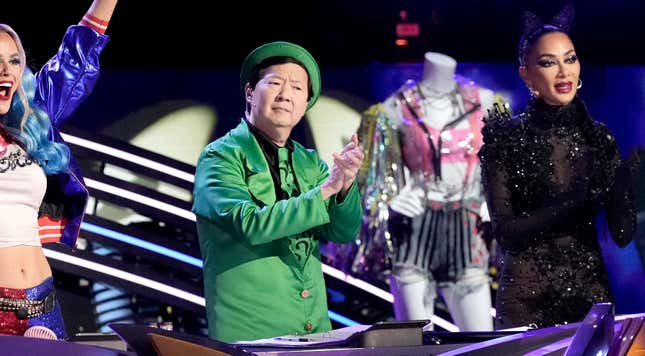 This is a tough one, because Jeong's Riddler outfit ruled and because he actually had fun doing Riddler-esque shenanigans whenever he appeared onscreen, but the last time we saw the Riddler he was getting his Twitter followers to do terrorism and trying to flood Gotham City. Before that he said the word "joygasm." As for Jeong, he came close to twistedness in this episode by insisting that one of the masked contestants was The Weeknd (absurd), and the crowd furiously turned on him at one point when he made a joke about George Clooney's Batman. And yet, nothing Ken Jeong has ever done is as twisted as saying "joygasm" in a movie for kids.

Who's more twisted: The Riddler
Nicole Scherzinger vs. Catwoman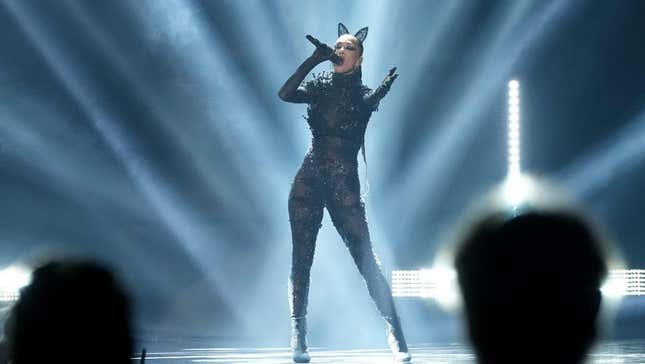 Nicole Scherzinger is the most reasonable member of the panel in any given episode of The Masked Singer, which is a low bar, but she did open the show by singing "Holding Out For A Hero" while flanked by superhero backup dancers—not DC superhero backup dancers, just generic Masked Singer dancers, which was a little twisted. At the same time, though, her Catwoman costume just looked like something she might've worn in any other episode, but with cat ears, which is not twisted. Meanwhile, Selina Kyle is typically the least twisted of all Batman villains … she twists a guy's arm real bad in The Dark Knight Rises, does that count for anything?

Who's more twisted: Tie
Jenny McCarthy vs. Harley Quinn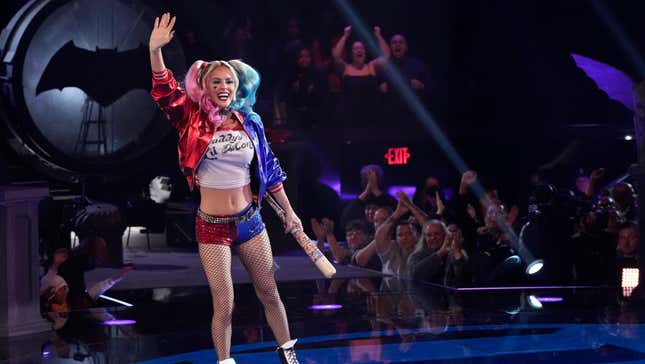 We're obviously coming into this with some idea of where the data will lead us, since Harley Quinn has a freakin' doctorate and Jenny McCarthy is Jenny McCarthy, but it would be a disservice to the science to let that tip the scales too much. So, with the utmost seriousness, let's break this down: McCarthy clearly put the most effort into her costume, even though she didn't have to do that much work since she's already a blonde woman and probably had Harley Quinn's Suicide Squad costume in her car (including the baseball bat). That's a point for her being twisted, but Harley Quinn was in a long-term relationship with the Joker, and he's way more twisted than Donnie Wahlberg.

In terms of non-twisted behavior, Harley Quinn is sometimes an antihero who does good guy things, and McCarthy does seem to take her job as a celebrity judge who makes completely outrageous and stupid guesses on The Masked Singer seriously. Honestly, it's too close to call, so we're just going to abandon the science and give it to Jenny McCarthy.
Who's more twisted: Jenny McCarthy
So, with a score of two to one (plus a tie), we can definitively state that the judges on Fox's The Masked Singer are more twisted than the villains of the DC universe.