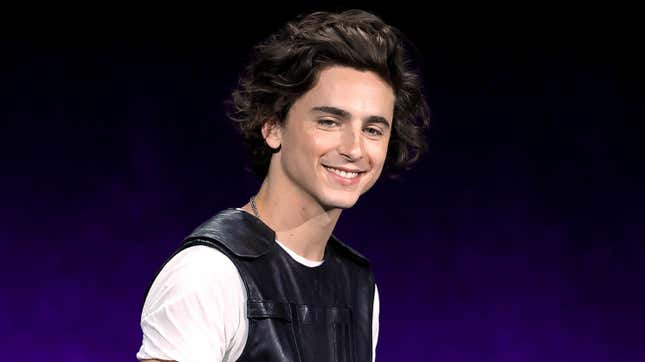 Who can take a sunrise, sprinkle it with dew, cover it with chocolate, and a miracle or two? Timothée Chalamet can.

"Shrinking" star Christa Miller on Harrison Ford and that "Clone High" revival
The world is a bad place. There's a writers' strike, a pandemic the government seemingly gave up on, a war in Ukraine, and a near-constant flow of filth and misery pouring from social media. But hey, have some chocolate, says renowned chocolatier and our future Willy Wonka, Timothée Chalament, who declared last year, "societal collapse is in the air."
Speaking to Vogue, Chalamet has sincere hopes for Wonka. Though anyone that's seen the first teaser can tell you abandon all hope ye who gaze upon Hugh Grant's original Oompa Loompa. Nevertheless, after eating his fellow human right the fuck up in Bones And All, he was ready to pop an Everlasting Gobstopper and work on something less cynical.
"To work on something that will have an uncynical young audience, that was just a big joy. That's why I was drawn to it," Chalamet said. "In a time and climate of intense political rhetoric, when there's so much bad news all the time, this is hopefully going to be a piece of chocolate."
Chalamet's take on the character aligns with what he told the crowd at Cinema-Con, where he discussed playing a character that would evolve into Gene Wilder's portrayal.
"The Willy Wonka films have been hugely inspiring," he said, presumably referring to the Mel Stuart and Tim Burton adaptations and not 2017's ‌Tom and Jerry: Willy Wonka and the Chocolate Factory. "I grew up on them, and this felt like an opportunity to present Willy as the optimistic, youthful, hopeful figure. Gene Wilder grows into this sort of cynical version. This is a willy that is full of joy and optimism and hope and a desire to become the greatest chocolatier of all time."
Chalamet's anti-cynicism interpretation raises some questions about what happens in this movie. Sure, we know a little Hugh Grant will be running around mixing chocolate or something, but Wonka, as an adult, is this "sort of cynical version" of the character. So what happens to him in this movie that turns Wonka into that? We're hoping it has nothing to do with his father.