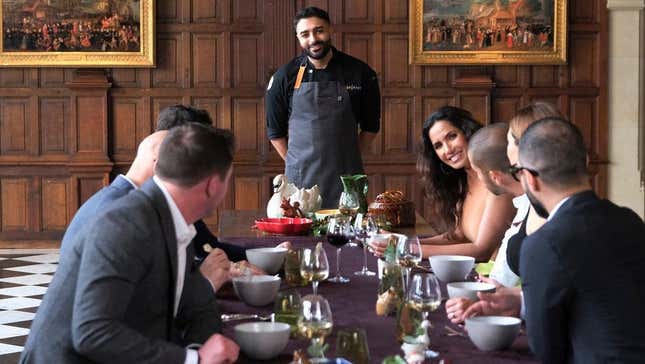 "That was a really tough elimination challenge," Padma Lakshmi says of the beef Wellington battle that knocked out two of the season's strongest competitors, Amar Santana and Sara Bradley, last week. "I can tell you that it's not gonna get any easier from here," she informs the remaining four challengers during Thursday's episode of Top Chef: World All-Stars—and for good reason: One of those two kitchen heavyweights is coming back to the competition.
Nyesha Arrington talks "Next Level Chef," Sushi, and her go-to comfort meal
Yes, Sara Bradley crushed it in Last Chance Kitchen, beating fellow formerly departed chef Charbel Hayek and returning to the Top Chef kitchen just in time for the penultimate episode before the big Parisian finale. "Those boys thought they were rid of me? I'm back bitches!" Sara gamely announces. "I'm ready to win. I'm inspired. There's like a fire going on inside this belly right now, and it's not heartburn."

And it's good she's feeling fired-up, because for this week's Quickfire, the final one before the whole lot leaves London for France, the chefs have to break the mold on, well, molds. With Sam Bompas of Bompas & Parr (a food art studio known for their intricately decorated jelly desserts) acting as guest judge, the players have to make a dessert that incorporates both gelatin and the use of a mold. ("Buddha might just faint from sheer love of the molds," Sara jokes, to which the toque admits: "I'm pretty pumped.") The key is to get your gelling agents spot on, Bompas tells the chefs: "Too much and it's like eating a bouncy ball. Too little and you're left with an embarrassing puddle on the plate...there's gotta be a wobble."

The five chefs will have 30 minutes to start, then their jellied creations will be allowed to set for one hour, and a final 15 minutes will be granted for them to demold and plate their desserts. "There's no way I'm gonna set a jelly and a mold in this sort of time. It's so important to be strategic in this," Buddha worries, a concern echoed by Alie: "Normally jellies take up to four hours minimum...but I'm gonna be using small molds so my dark chocolate crémeux sets perfectly," Ali reasons. "One hour, I hope it's going to be enough."

Unfortunately, Gabri's dulce de leche panna cotta with strawberry-raspberry coulis does not set in the timeframe ("There's no time to wiggle-wiggle anymore. I don't know what to do. Mommy!" he cries), so he tries to hide the jelly fail under his sponge cake. "I enjoyed eating it but I wanted to see more of that mold and the jelly being proud," Bompas tells him during judging. And though he salutes the ambition of Tom's goat cheese panna cotta with cherry jelly, curry popcorn, beetroot discs and cider gel, he tells him: "I think more consideration of how all the flavors could all work together would really elevate the dish."

Unsurprisingly, the mold master himself, Buddha—who sculpts a "really gorgeous" bloom of saffron ice cream with orange blossom jelly and panna cotta—wins the Quickfire, much to Ali's obvious chagrin. (The latter's chocolate crémeux with black currante sauce and pistachio creme was also previously praised by Bompass for its "good wobble.")

Onto the final Elimination before France: "things are about to get tricky," Padma tells them. Indeed, the chefs will be trying their hand at Trompe-l'œil, a highly realistic optical-illusion practice in which food is manipulated to look like something else entirely . "We want to be fooled, we literally want to be tricked," Padma instructs. They will have £300 to shop at Whole Foods, a full array of supplied molds, and three hours (save for Quickfire winner Buddha, who will get an extra 30 minutes) the next day to cook and prep at Hatfield House. (Historical fact of the episode: that's where Queen Elizabeth I learned she'd be queen.)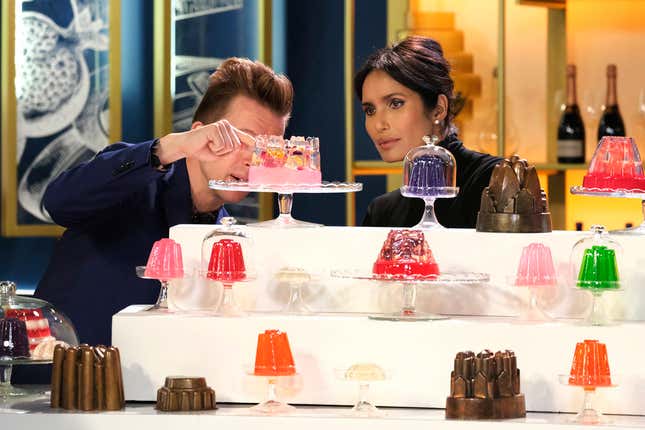 "I have never done Trompe-l'œil but I always try to manipulate the eye or the senses of my guest," Ali says, though he struggles to come up with an idea, even by the time he's at Whole Foods shopping. He eventually settles on a garden of tiny falafel turtles: "I hate turtles. But if these turtles take me to Paris, I'm gonna buy a big turtle and name it Amar!" Gabri, on the other hand, has a clean and clear inspiration: the ScotchBrite sponge, nodding to his past as a dishwasher. "I remember where I came from."

Gabri's "clever" lemon brioche "sponge" with lamb tartare and parmesan foam ends up being a hit with the judges' panel and this week's heavy-hitting guests, which include a trio of two-Michelin-starred chefs: Jeremy Chan (chef and co-owner of Ikoyi), Rafael Cagalli (chef-owner of Da Terra) and Tommy Banks (chef-director of Black Swan and Roots). "I think his idea was very tongue in cheek, very sweet," Gail Simmons proclaims. "And when I eat it and I close my eyes, it's a tasty plate of food,' Jeremy adds.

Also in the top two is Buddha's "impressive" display of beef and onion "red wine", bread "porcini'' with bone marrow butter, polpette "cherries" and potato croquette "black truffle." "It was my favorite bite, or gulp, of the day," Gail says of Buddha's "wine." And after announcing that both Gabri and Buddha would be moving on to the Paris proceedings, Buddha is declared this week's winner.

Ali's turtle-filled garden lands him in the bottom three—"There's 'trick of the eye' and 'inspired by a garden.' This is inspired by a garden," Jeremy says—along with Sara's tamale-shaped matzo ball soup and Tom's seaweed caviar with almond cream. The judges' feel that Sara's tasted the best of the bunch, whereas "Tom overshot and Ali undershot the Trompe-l'œil part of the challenge," says Gail. In the end, Tom's "caviar" just couldn't take him to Paris and he's eliminated, though he's proud to cook alongside "the sixteen best that they could find in the world."

And now, off to Gay Paree we go!

Stray observations
Both Sara and Gabri have never been to France. "What should we do when we get to Paris?" she asks him. "French kiss with some random guys!" he declares. Gabri forever!
Speaking of Sara, she actually served jelly to Padma once before…in the form of Jell-O shots. "We called it jiggle juice," she exclaims, before producers cut to a funny flashback of the Top Chef host barely surviving the boozy experience.
Ali stans, good news: there were plenty of swoon-worthy moments from the Jordanian chef this week, from his upper-body workout in the beginning of the ep to his flagrant wink to the camera while discussing shock-freezing. "I'm looking forward to putting the Ali in the finale!" We love a punny king.