Creighton: "May I ask what changed your mind?"
Toni: "Fuck those fucking fucks."
There's a lot of generalized anti-government fervor sweeping the nation right now, but it shouldn't be confused with the sort found on David Simon's The Wire, Generation Kill, and, now, Treme. Simon isn't arguing against the essential functions of government and he's not given to generalized anything, since one of the great strengths of all three shows is their ability to suggest the specific harms of governmental institutions as they trickle down to the rank-and-file. He's also nuanced enough to acknowledge the individuals within these institutions, like David Morse's overburdened lieutenant from the last week, who are either impossibly burdenned or quietly, heroically making a positive difference in people's lives every day.
Nevertheless, Simon and his writers are unsparing in drawing out the instances of corruption, inefficiency, and downright ineptitude in government; and if there's any moral to the story, it's this: You're pretty much on your own, kid. If the government isn't actively obstructing you, then it isn't present when you need it, either. And when you're dealing with a mass-scale catastrophe like Hurricane Katrina—which would challenge even the most well-meaning and competent of officials, which the likes of Bush/Nagin/Brownie/etc. were most assuredly not—the gap between what is needed and what is delivered is a chasm stretching to the horizon. For the characters of Treme, that means digging in, surviving, trying to make a brighten your corner of the world, and when you're completely exasperated, parading down the street dressed in a sperm costume.
DJ Davis sets the tone with his "Davis Can Save Us" campaign, an exercise in hilariously indulgent self-promotion masquerading as an outside City Council bid. As Louisiana political gimmicks go, his is about on par with porn star Stormy Daniels' attempt to unseat David Vitter for Senate, though it's even less substantive at the start; the guy just wants to sell some CDs, and any political points he scores are really a happy side effect. I'm reminded a bit of those high-school rebels who occasionally run for Student Council President under the promise they'll disband the Student Council if elected. However, in a anti-establishment atmosphere, that brand of irreverent populism can gain some traction, and Davis discovers soon enough that he has an opportunity to be a voice of the disenfranchised—an unsteady, grating, inarticulate voice maybe, but one that has an audience. He has no chance of winning, of course, but no one can say the "blackjack on the track" movement went completely unrepresented.
G/O Media may get a commission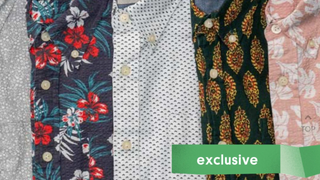 Grab three styles!
JACHS NY Summer Pack
Toni's latest odyssey through the post-Katrina bureaucratic tangle was the most compelling thread on tonight's episode, and a great example of how Simon and company (here co-writers Eric Overmyer and Tom Piazza) can use basic procedural elements as a window into social ills. Toni's encounter with Jim Dietrich, the arresting officer in Daymo's case, gives us a much-needed piece information—proof that he was, in fact, arrested and put in the prison system before the flood—but it also suggests the chaotic and stressful conditions for police officers immediately following Katrina. After eight straight days of living and working out of his squad car, Dietrich simply abandoned his vehicle and left New Orleans for good. So what seems like a terrible dereliction of duty really just aligns him with the thousands of other citizens forced to abandon their cars and their homes; and in this case, it adds to the bureaucratic losses of offices and computer databases underwater.
On the other hand, Toni's rebuke at the hands of opposing counsel cannot be written off as an act of nature, but an act of pure, risible systemic rot. With an arrest ticket in her hands, Toni rightfully expects opposing counsel to file a joint motion for an emergency hearing and help force a proper investigation into Daymo's whereabouts. Given the nature of being a civil rights lawyer, where she's used to fighting quixotic battles, it's remarkable to witness Toni's genuine disillusionment in that scene. She isn't her husband; she doesn't necessarily expect to be disappointed, and certainly not in a situation when she's so clearly in the right, holding physical, tangible, undeniable evidence. I've always loved Leo's tenacity as an actress—on Homicide, and in movies like 21 Grams and Frozen River—but she can be subtle, too; Toni cracks just a little in that scene, and it was both liberating and sad to see her march next to her husband in that parade and deliver the salvo quoted above. There's a difference between the impotent rage of someone like Creighton, who lets 'er rip via YouTube videos and provocative parade floats, and the anger of someone who still believes she exert her will through official channels. And with this episode, I think Toni had her ideals chipped away, at least for the moment.
For his part, Albert (a.k.a. Big Chief) sees another, equally nauseating side of how government works. The inability of residents to return to New Orleans is a personal problem for him: He wants his bandmates back, and some of them were forced out of now boarded-up projects that weren't really affected by the flooding. Last week, we saw him take action in advocating for displaced residents, and this week, he's offered the ultimate in wheel-greasing patronization: One brand-new FEMA trailer. No systemic changes, just something to hush him up. (The official's surprise at Albert's fury tells us not only that he fundamentally misread him, but that other people are usually content with just getting theirs.) As great as it was to see Clarke Peters throw down—as Lester on The Wire, the few times he'd raise his voice were always attention-getters, given his low-key M.O.—it's also a credit to the writers that they didn't let Albert come off as purely righteous this episode. That scene of him half-minding Delmond's performance on stage undercuts his image; he may be attentive to his fellow man, but as a father, his energies may be somewhat misdirected.
Elsewhere, the ironic payoff to last week's superstar chefs descending on Janette's restaurant is her having to close its doors this week. After dodging suppliers and punting her looming insolvency down the road again and again, Janette does the admirable thing by stopping short of asking her staff to wait another week on their paychecks. It's a heartbreakingly noble gesture: Dismantling her dream rather than twist others into sacrificing themselves at its alter. Good for her.
Stray observations:
• Now that he's off the wagon, I'm finding myself more in the Sonny-is-doing-nothing-for-me camp. I still like Annie as a character (and Lucia Micarelli), but it's as if Sonny is dragging us down along with her. He's insufferable—and worse, a walking cliché.
• Toni on the persuasive power of forms in a bureaucracy: "They get really wet when it's in triplicate."
• "Pot for Potholes," "Greased Palm Sunday." Davis has a way of giving wacky, go-nowhere policies a hook, doesn't he?