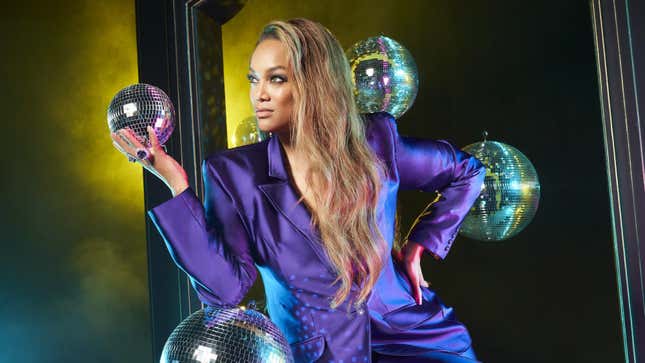 We have no choice but to smize through the tears today, as Tyra Banks has announced that she's leaving her position as the host of Disney+'s Dancing With The Stars to pursue her dreams of not doing that anymore. At least we were given one extremely solid Tyra-ism on the way out, as Banks told TMZ (who caught her outside a Whole Foods, which, sure) that "I think it's time to graduate from the dance floor to the stock market floor… from the ballroom to the boardroom." Instead, she'll be putting her pure focus into running her new ice cream business, which, as we understand it, is the true career apex for many media professionals.
Specifically, that's SMiZE & Dream (previously SMiZE Cream), a brand that Banks launched back in 2020, and whose gimmick is that there's a sprinkle-covered chunk of cookie dough at the bottom of every container as a "prize" to "reward" you for eating an entire pint of ice cream. (That's not us being snarky; that's their real marketing language.) Banks has recently been pushing to get her Dream cream—which includes flavors like "Lionel Richie's All Night Love" and "Butter Pecan, But Betta"—into stores in the US, and apparently hosting a reality dance competition was simply getting in the way of these luxurious cream Dreams.
Banks' departure comes as the long-running Dancing With The Stars faces a whole heap of personnel issues; long-time judge Len Goodman also announced he was departing ahead of the show's 32nd season, while pro dancers Mark Ballas and Cheryl Burke also won't return for its latest outing. It's not clear if Alfonso Ribeiro, who joined Banks as a co-host for the show's 31st season (when the series also moved from its home of many years at ABC to Disney+), will now take on solo duties on the series.
Anyway, here's the theme song for Tyra Banks' ice cream company, because of course Tyra Banks' ice cream company has a theme song: