"Swingers" was the best episode of Up All Night that season two has offered so far, punny title aside. It features some of the heart that makes Chris and Reagan a believable couple, Maya Rudolph getting to do a little more understated acting, and Rachel Dratch. Thank God for Rachel Dratch, even if she only got a few minutes of airtime as a saucer-eyed fangirl. Things are looking up for Up All Night.
The dilemma that Reagan and Chris face this episode isn't unique: After their years together, the habit they've gotten into is to settle on the couch, mindlessly salt their food, and gossip about various Real Housewives franchises. When the television goes out, they awkwardly stumble into a real, sit-down, TV-less dinner date. No surprises in how it goes, but the writing—plus some great performances from Will Arnett and Christina Applegate—freshens what could be a stale plot. The joy of coupledom is partially conspiracy. Sure, you should be eating broccoli or reading the news, but getting to watch bad television and make out in the backyard is a whole lot more fun. Doing the wrong thing together is more fun than the right thing.
The best scene of the episode is actually when Reagan, nervous about the lack of dinner conversation, makes herself cue cards for the dinner. When Chris finds out, he chastises her—and it turns into an actual conversation. No TV sounds good, Chris argues, but it's actually terrible. "Like communism," he affirms. Or like Ron, the ice cream man who lived across the street from Chris growing up. Proximity takes the joy out of something. The ice cream man as a hollow divorcee just isn't as good as the fantasy.
The conversation leads to Reagan's revelation that she'd always wanted to join the circus, and a botched make-out session in the garden. To make up for his shyness around the neighbors, Chris buys Reagan tickets to a trapeze lesson with him. Here is the cold, hard truth: Trapezes are scary. They are hard. And as a date, a trapeze lesson is mostly a chance to make an idiot of yourself in an expensive way. After Will Arnett performs some impressive contortions, the two conclude that they're happy being boring together. But not before they get to savor the best part—kissing in the safety net afterwards.
G/O Media may get a commission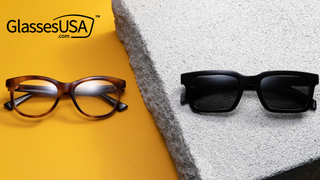 60% off frames
GlassesUSA.com Back to School Sales
Ava, meanwhile, is still coping with the cancellation of her talk show. She invites the Brinkleys to a doof-less champagne brunch, where they discover her secret hoarding room. When Reagan suggests that Ava gets rid of things—a rainstick, a keyboard, an extra yoga ball—Ava vehemently resists, clutching a jumble of weird objects. "Seriously, you look like the Cat in the Hat right now," Reagan says.
Reagan's brother Scott—remember him?—rises to the occasion, the occasion being the time to sell a bunch of crap on Craigslist. At a yard sale of Ava's possessions, she happens upon Ava super-fan Linda (Rachel Dratch). Ava gets so inspired by Linda's affection that she gives away a bunch of her beloved show memorabilia, including a "champagne mug" that meant a lot to her. Ava then, of course, has to try to get it back. In the end she ends up getting a mug with a picture of her, Scott, and the old mug on it. It's a sweet, if small, narrative, and a relief from Ava's dramatic breakdowns of the last few weeks. Let's hope Up All Night keeps on this track—the writers might just pull it off.