In early 2010, A.V. Club writer Nathan Rabin decided to listen to and write about the bestselling, zeitgeist-friendly CD series NOW That's What I Call Music! in chronological order. Each one of the 33 American NOW! collections compiles a cross-section of recent hits from across the musical spectrum. Beginning with the first entry from 1998, this column will examine what the series says about the evolution and de-evolution of pop music.
"Let's Get it Started," Black Eyed Peas
"Lean Back," Terror Squad featuring Fat Joe and Remy Ma
"Goodies," Ciara featuring Petey Pablo
"I Like That," Houston featuring Chingy, Nate Dogg, and I-20
"Ch-Check It Out," Beastie Boys
"Sunshine," Li'l Flip featuring Lea
"You & Me," J-Kwon
"Why?," Jadakiss featuring Anthony Hamilton
"Baby, It's You," JoJo
"Angels," Jessica Simpson
"One Thing," Finger Eleven
"Dare You To Move," Switchfoot
"Cold," Crossfade
"Pieces of Me" Ashlee Simpson
"Take Me Out," Franz Ferdinand
"1985," Bowling for Soup
"Here for the Party," Gretchen Wilson
"Days Go By," Keith Urban
The greatest challenge of writing this column involves finding new angles from which to write about artists that reappear over and over again like a recurring nightmare. That's why I am happy to introduce a radical theory that promises to shake up the moribund field of Will.I.Am studies. Will.I.Am is the closest thing we have to Marcel Duchamp. He's a fearless avant-garde pop-art provocateur, a Dadaistic madman.
Let's consider some of the highlights of the ubiquitous pop superstar's career. He appeared on CNN on election night as a hologram. For a recent VMA performance he slathered on blackface. He hired an ex-meth addict who sometimes publicly soils herself to be the eye candy in his group. He wrote and produced a song called "My Humps" whose chorus finds this preposterous "Fergie" concoction singing about her "lovely lady lumps." He recently released a song designed solely to be played at Bar Mitzvahs called "I Got A Feeling," which prominently features the phrase "Mazel Tov!"
According to a fascinating article in Wall Street Journal, Black Eyed Peas are "the most corporate band in America." The article describes Will.I.Am delivering PowerPoint presentations to corporations he hopes to get into business with (to further his cryptic agenda, of course) and communicating in near-impenetrable business-speak like,
I consider us a brand. A brand always has stylized decks, from colors to fonts. Here's our demographic. Here's the reach. Here's the potential. Here's how the consumer will benefit from the collaboration.
G/O Media may get a commission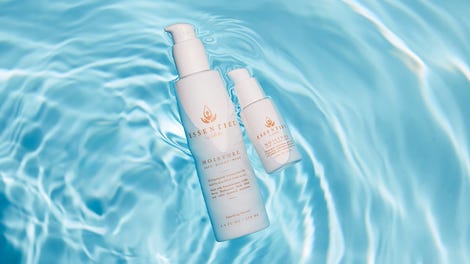 20% off
Essentiel by Adele
The article quotes the CEO of AEG Live gushing, "I've never seen anyone more astute at dealing with sponsors' and companies' needs and understanding their brands."
Here is my question for you: Is Will.I.Am the soulless shill he appears to be or a prankster whose entire career represents a post-modern critique on the dangers of corporate co-option? Could it be that Will.I.Am is simply holding a mirror up to a society in which the concept of "selling out" no longer has cultural currency, exposing to us the emptiness of our mass culture?
Will.I.Am understands the futility of endeavors like Adbusters, which merely preach to the choir. What makes Will.I.Am such a fascinating and powerful figure is that he is subverting the pop mainstream from within by intentionally making the most cynical, opportunistic pop imaginable. Think about it: The bloat of prog-rock and '70s corporate rock inspired the raw anarchy of punk. The slick phoniness of hair metal prompted the righteous rage of Nirvana and its army of acolytes. Logically, the all-consuming shittiness of Black Eyed Peas can't help but inspire the next great countercultural art form. That's exactly how Will.I.Am planned it. He is fearlessly advancing pop music by attempting to sabotage it. And here's the really crazy part: Nobody was hip to his game. Nobody even knew he was playing a high-stakes game. Until now.
Fat Joe is one of those venerable hip-hop survivors who fascinate me for reasons that have nothing to do with music. As with P. Diddy, much of this affection is rooted in sheer longevity: The Artist Formerly Known As Fat Joe Da Gangsta has been a hip-hop fixture for 17 years, so we have a history that goes way, way back, pre-Big Pun and certainly pre-50 Cent beef.
"Lean Back," Terror Squad's contribution to NOW 17, is both Joe's biggest hit and, with the possible exception of Ja Rule's "New York" (which he guested on alongside Jadakiss), his best song, an infectious club track (must not write "club banger") built around a snaky Scott Storch beat and monster hook. Though credited to Terror Squad, it's actually a duet between Fat Joe and Remy Ma. Two people don't constitute much of a squad, do they? It's more like a Terror Duo. Ah, but there's a reason more Terror Squad members don't appear on the song: Fat Joe has fired just about all of them. Shit, an entire Terror Squad compilation could be made from former Terror Squad members dissing their old boss. So when Joe brags about how tight his crew is, it's hard to take him seriously.
To add insult to injury, Fat Joe said his Terror Squad label didn't release albums by members Prospect and Armageddon on account of them being "really lazy." Joe apparently felt their lackluster work ethic prevented them from ghostwriting his own lyrics, as Big Pun and Triple Seis apparently did during their tenure with Terror Squad. In that respect Big Pun represented the perfect Terror Squad artist for Fat Joe: He was a huge star, made Joe plenty of money, and had the good taste to die a martyr before he could leave Terror Squad. (The late Big Pun, incidentally, should have realized that his girth was becoming problematic when he was 200 pounds heavier than a dude with "fat" in his name.)
Yet I like "Lean Back" all the same. Whoever wrote Joe's lyrics scored some amusing bits, like his one-liners about gangs being so trendy that even Bow Wow is "throwing it up" and B2K are "Crip walking like that's what's up!" I'm not alone: Joe is so amused that he chuckles at his own rhymes. Oh, and as for Remy Ma: This will shock you, but she's no longer part of Terror Squad.
During the mid-2000s, rumors spread that NOW favorite Petey Pablo (making his third appearance, this time as a guest on Ciara's Lil Jon-produced smash "Goodies") had signed to Death Row Records, which is a little like someone deciding to invest their life savings with Bernie Madoff after he'd been sent to prison. Clearly, no one can be that stupid, right? Then again, when Pablo was arrested recently for carrying a gun onto an airplane, he claimed that he'd simply mistaken the gun for one of his laptops. Common mistake, right? I had to go home earlier this morning because I'd mistaken my MacBook for a .45. Why must guns and computers be so goddamn similar? Anyway, isn't it possible that Pablo was simply doing research for an animated children's show pilot he's writing about laptops that turn into guns and visit airports? I've got the perfect name for such a show: Transmorphers.
The rumors about Pablo signing to Death Row turned out to be false, though "Goodies" marked the end of his stint as a hitmaker. The song is a relic of an era in which Lil Jon seemed to produce every third single and his signature cries of "Yeahhhh!" and "Whut?" and "Duck, you sucker!" could be heard throughout the land. Jon's formula was as simple as it was potent: He simply punched a few keys on a synthesizer, shouted a lot, then waited for the money to roll in. Sometimes Jon hit the exact right notes and the result was an instant smash like "Yeah!" or "Goodies." According to the Pollyannas over at Wikipedia, "The song's lyrics are about female empowerment and virginity. The protagonist does not want to be an object. The song's protagonist rejects a male's sexual advances, proclaiming that he will never get her 'goodies' because 'they stay in the jar.'" That's untrue only in the sense that it's false; it's really more a matter of Ciara teasing and toying and tempting listeners.
There's a nursery-rhyme quality to the song's hook that's nowhere near as creepy as Pablo's observation that the object of his affection is "so damn hot but so young, still got milk on your tongue." Here is a little bit of advice for all y'all: If you're thinking about having sex with someone who is still breast-fed, DON'T. It is, perhaps, not a good idea. I know many of you see Pablo as a prophet-like figure, but this is one instance in which his judgment is lacking.
The first time I covered Sundance I went to a press conference on the side of a hill for Awesome; I Fucking Shot That and was struck by how old Beastie Boys seemed. They weren't the prankish hellraisers of my youth; they were some kids' Jewish dads. It was easier to envision them driving their kids to soccer practice in a mini-van than slamming Brass Monkey. It's very telling that when the guys perform "No Sleep Til Brooklyn" in concert they now change the chorus to "No Sleep Til Brooklyn, But A Little Nap And Maybe A Little Nosh Wouldn't Hurt, Now Would It?"
Yes, the Beasties got old and responsible, but they never got boring. So I was a little bewildered by the lukewarm response given to the old-school throwback album To The 5 Boroughs, including its terrific single "Ch-Check It Out," the venerable outfit's contribution to NOW 17. Did people really miss all that admirable if sometimes pointless experimentation and genre-jumping? Were they angry that the group didn't include any Bossa Nova numbers about the tyranny of the male gaze and the evil of objectifying women? I've come to know and tolerate the many sides of the Beasties, from the debauched to the preachy, but nothing can replace good old hip-hop as far as I'm concerned.
Sometimes revolutions begin in the unlikeliest of places. Take Akon's "Locked Up" for example. Imagine a pop music world without AutoTune or Lady Gaga. It's not easy, is it? Yet if "Locked Up" had flopped, it's entirely possible that T-Pain would still be getting laughed offstage for using that silly robot voice and Lady Gaga would be shocking and offending listeners at open mic nights.
For it was T-Pain's remix/cover of "Locked Up" that brought him to the attention of Akon, who shares his deep, abiding love for silly vocal transformers and plastic R&B. An impressed Akon signed him to his label. And if Akon hadn't convinced Interscope head Jimmy Iovine to let him sign Lady Gaga to his vanity imprint, it's possible she would have gotten dropped by her label altogether. Needless to say, Akon benefited from his business savvy: He made something like 20 million last year, and it sure wasn't from "Locked Up" ringtones.
Yes, the world would be a whole lot different if it weren't for "Locked Up," a moody prison blues number highlighted by a gritty turn by The LOX's Styles P. Prison has proven central to Akon's image and persona, so he was humiliated when it came out that he wasn't the big-time crime kingpin he claimed to be, but rather a law-abiding gent who spent an afternoon in prison once due to an unpaid parking ticket. (Or something like that; if Akon can exaggerate his criminality than I can exaggerate his lawfulness.) For shame, Akon! I really admired you when I thought you were a dangerous criminal. Now I've lost all respect for you.
Jadakiss is one of those alternately blessed and cursed rappers doomed to go down as a "rapper's rapper." Critics, hip-hop-heads, and rappers respect Jadakiss, but he's never sold huge numbers or crossed over into the mainstream. Once upon a time, Puff Daddy made the mistake of sticking The LOX in shiny suits and having them release a single built around the chorus from Rod Stewart's "Do Ya Think I'm Sexy?," a move only slightly smarter than trying to convince M.O.P. to reinvent themselves as tarted-up New Romantics.
Diddy clearly knew how not to market the LOX; as Kanye West raps on "Touch The Sky": "I felt like Bad Boy's street team, I couldn't work The LOX." Yet the greatest rapper never to put out a great album scored an unlikely hit in the form of 2004's "Why?," a message song that, as its title suggests, ponders the great mysteries of our world. They fall into the following categories:
Rhetorical
Political
Self-pitying/Self-aggrandizing
The song generated controversy for a line about George W. Bush knocking down the World Trade Center (rappers do love their conspiracy theories) but predictably enough, not for the lines depicting Kobe Bryant as the blameless victim of the woman who accused him of rape. I think "Why" is most useful as a conversation starter. I don't agree with many of Jadakiss' assertions, but by asking provocative questions he's bound to spark conversation, and Anthony Hamilton, who handles hook duty here, conveys pain like few soulmen before or since.
NOW 17 offers two different flavors of Simpson sister. There's Jessica with a cover of the Robbie Williams power ballad "Angels" and younger sister Ashlee getting her secretary rock on with "Pieces Of Me." They're both terrible in their own way. I don't want to inspire competition among family members so I'm going to very diplomatically proclaim that they each suck equally.
I like to think of NOW as the quintessential Sweet Sixteen party. Listeners might get older, but pop music always stays the same age. It's never quite old enough to drink, legally that is. (But it still knows how to party!) The inclusion of Franz Ferdinand's "Take Me Out" on its 17th volume consequently feels like the birthday girl's super-cool brother, who wears skinny jeans, does lot of coke, and spends several hours each morning trying to make his hairstyle look casual, crashing the party along with a smattering of his equally hip friends. It's a terrific slice of 1979 New York (by way of Scotland) that builds and builds and builds to a giant, unstoppable chorus that doesn't announce itself until a full minute in. Between Franz Ferdinand and Beastie Boys, the NOW series threatened very briefly to become cool with this volume. Very, very briefly.
Bowling For Soup's "1985" has the potential to be a great song. It certainly has promising subject matter: a housewife and mother who pines nostalgically for 1985, a time when the universe radiated possibility. It's a song about the death of youth and the toxic allure of nostalgia. On behalf of the protagonist, the lead singer sensitively croons, "I hate time, make it stop," an evocative line undercut by the glib jokiness of what follows: "When did Motley Crüe become classic rock?" That's the song in nutshell, a potentially fascinating look at nostalgia and our nation's obsession with youth reduced to a bunch of stock one-liners about MTV not playing videos and Ozzy Osbourne being a reality show star.
The compilation ends with a pair of country hits: Keith Urban's eminently forgettable "Days Go By" and "Here For the Party," a Gretchen Wilson hillbilly anthem I liked a little better back when it was called "Redneck Woman."
\
It's strange to think of all the songs on this unusually strong compilation it was the modest "Locked Up" that had the greatest effect on the pop landscape, albeit in an indirect way. God may work in mysterious ways, but he's got nothing on the cryptic machinations of the pop music world.
---
Up next on Then!: Snoop and Pharrell drop it like it's hot, Nelly realizes his destiny by collaborating with Tim McGraw, Skye Sweetnam inexplicably thinks you're fascinated by her, and Lindsey Lohan has been hearing some rumors.
Outside the bubble: What else was happening in music in winter 2004
Pantera's Dimebag Darrell is shot to death onstage in Columbus, Ohio.
De La Soul comes back with The Grind Date.
Brian Wilson finally gets around to finishing and releasing Smile.
Ben Folds and William Shatner team up for the surprisingly melancholy Has Been.
Smashing Pumpkins fans forget all about the band's break-up following the release of drummer Jimmy Chamberlin's side-project, The Jimmy Chamberlin Complex.