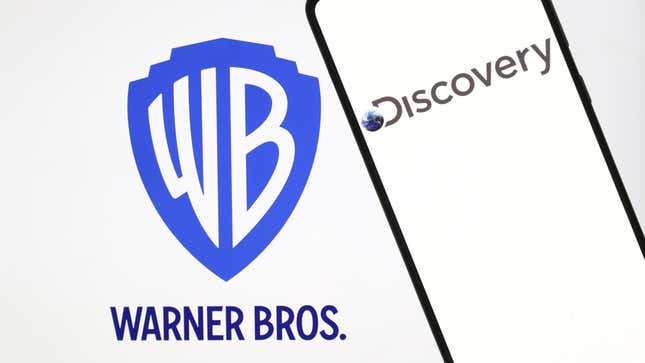 [Update, 4:34 PM: Speaking to The A.V. Club, a source from WarnerMedia clarified that WBD's plan to bring together HBO Max and Discovery+ content remains unchanged. However, the source also added that WarnerMedia plans to keep the lower-priced offering of Discovery+ in the U.S. marketplace, as per the original report.]
Warner Bros. is retooling its controversial plan to merge Discovery+ and HBO Max into one new streamer, The Wall Street Journal reports. WB plans to keep Discovery+ as its own standalone service, but is still moving forward with plans to roll out a new, rebranded service this spring that will incorporate content from both services. This contradicts previous suggestions that both services would shutter in favor of a single new one.
Citing multiple industry insiders, WSJ found that the decision to pull back on merger-palooza arrived after research suggested Discovery+ subscribers wouldn't necessarily shell out extra cash for an expanded subscription. HBO Max currently costs $16 a month, or $10 with ads, compared to Discovery+'s respective tiered pricing, $7 and $5. The A.V. Club has reached out to representatives at Warner Bros. Discovery for comment.
Per WSJ, a popular bet on the situation has been that HBO Max will be renamed Max, throwing its weight behind appealing to a broader group of subscribers and moving beyond its premium-cable origins. This process, at least, has been in motion for months: HBO Max had begun more prominently featuring flagship Discovery+ programs like 90 Day Fiancé and Chip and Joanna Gaines' Fixer Upper.
WBD is also stepping into the ring of free, ad-supported streaming. WBD recently reached an agreement that allows Roku and Tubi to license a wide berth of HBO and Discovery+ content; they're also planning on launching FAST channels later in 2023.
For now, any further clarity on how WBD will proceed seems like a wait-and-see game. Every service these days, from OG's like Netflix to newer ventures like Paramount+, is bumping up against the increasingly thin and taut edges of the streaming bubble. One thing is for sure: if anything messes with Succession's upcoming fourth season, WBD will have a whole lot more to worry about than on-the-fence Discovery+ subscribers.