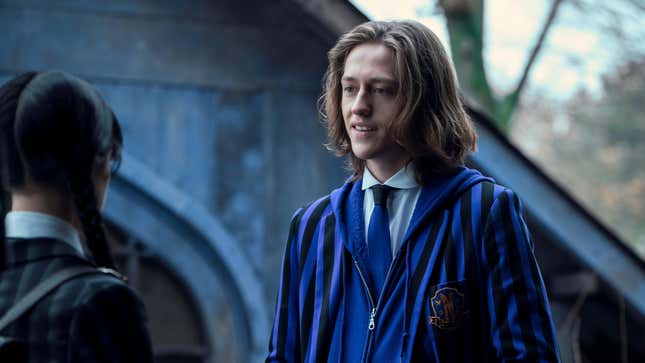 Several months after being accused of sexual assault in a series of Twitter posts, actor Percy Hynes White issued a statement tonight responding to the accusations. In an Instagram story, the Wednesday actor—who played love interest Xavier in the first season of the Netflix show—said that he had been the target of a "campaign of misinformation" and denied all of the accusations against him.
In the statement, Hynes White writes that, "My family has been doxxed, and my friends have received death threats" as a result of the allegations. Hynes White goes on to accuse his accusers of using underage photos of him in the alleged campaign, and also wrote that "My friend Jane was recently portrayed as a victim, and her attempts to set the record straight have been ignored. She gave me permission to include her in this message."
Per Variety, allegations against Hynes White first appeared online in January, two months after Netflix aired the first season of Wednesday. A Twitter user issued a series of since-deleted tweets that accused Hynes White of pursuing sexual relationships with women as young as 13 while he was between the ages of 17 and 20. Other Twitter users reportedly added into the thread, adding similar allegations, including accusing Hynes White of using racial slurs and making inappropriate jokes. (From Hynes White's statement: "The rumors are false. I can't accept the portrayal of me as someone bigoted, or criminally negligent of people's safety. These are the kind of baseless, harmful claims that can create mistrust toward victims.")
So far, Netflix hasn't made any comments about the allegations against Hynes White. The streamer renewed Wednesday for a second season shortly after its first one aired; it's not clear at present whether Hynes White will return for that second outing.