A.V. Club writers Genevieve Koski and Steven Hyden have decided to explore the Billboard charts every month in search of the good, the bad, and the ugly of contemporary pop music in all its forms. This month, they take a look at the Hot 100 chart for March 26, 2011.
"E.T." Katy Perry featuring Kanye West (No. 3)
Genevieve: How many writers does it take to pen a second-tier Katy Perry single? In the case of "E.T.," four, or maybe five if you count Kanye West's puzzling guest verses. It could be a case of too many cooks in the kitchen, but the combined efforts of Max Martin, Dr. Luke, Ammo, and Perry make for a pretty underwhelming fourth single from the unstoppable Teenage Dream, which has thus far churned out the juggernauts "California Gurls," "Firework," and the title track. Like those singles, "E.T." possesses borderline-embarrassing lyrical content—in this case, a terrible metaphor for dating a foreigner that has strong STD connotations ("Infect me with your lovin', fill me with your poison") and somehow culminates in Yeezy rapping about alien sex. But unlike Perry's previous singles, "E.T." doesn't have an all-consuming hook to redeem it; what it has instead is a rote "dark futuristic" beat that bears more than a passing resemblance to t.A.T.u.'s "All The Things She Said." But while it may not be as earwormy as its predecessors, "E.T." gets a couple of bonus points for showing a slightly darker (very, very, very, very relatively speaking) side of Top 40's reigning Hussy Next Door, which is just barely more tolerable than the schlock of "Firework."
Steven: GK, I'm gobsmacked. "Borderline-embarrassing"? Why are you underplaying the astronomical absurdity of this song? Let's review: An alien comes to Earth—not just from another world but a whole other dimension—to inject Katy Perry with poison via his extraterrestrial cock. That's what this fucking song is about: Katy Perry, fucking an adorably diseased space creature, played by special guest star Kanye West. And people are giving Rebecca Black shit? West's rap on "E.T." is beyond bad—"Welcome to the danger zone / step into the fantasy / you are not invited to the other side of sanity"—but the whole concept of the song is so beyond either side of sanity that I'm at a total fucking loss as to how to grade it. I'd have to travel to the interstellar dimension of treacherous wangs to even begin to wrap my head around this. Barring that, I must recuse myself.
Genevieve's grade: C- 
Steven's grade: N/A
Jennifer Lopez featuring Pitbull, "On The Floor" (No. 5)
Steven: "On The Floor" has eight (!) credited songwriters and one questionable idea, which is updating the hedonistic nightclub pop of Jennifer Lopez's highly successful late '90s and early '00s singles. I guess you can say they pulled it off—this is Lopez's first Top 10 hit in eight years. Obviously, that has at least something to do with Lopez's current gig as a judge on American Idol, a faded but still potent consumerist institution with enough hucksterish gusto left in the tank to push a warmed-over club jam like "On The Floor" on an audience that's still years away from being able to credibly use a fake ID. For those who have actually been inside a club, "On The Floor" is plenty preposterous (see the strange South African pronunciation of "Af-ree-ka"), but not oppressively so. As drunken rallying cries go, "Don't stop, keep it movin', put your drinks up!" ain't bad. While the Pitbull cameo is solid, though a bit oversold—he's playin' with your brain like it's The Butterfly Effect, not Inception—"On The Floor" seems more like a post-peak epilogue than a real comeback. And J. Lo probably knows it, which is why I can forgive the overbearing, Crown Royal product placement cash-grab in the video.
Genevieve: I don't know that "hedonistic" is a word I would use to describe Lopez's music, past or present. There's always been something grown-and-sexy about her approach to dance music that's less about "losing yourself" on the floor than about sexily gyrating while never spilling a drop of your martini. This isn't music for sexy young things to bump and grind to; it's made for overpriced Vegas clubs and the vacationing couples and bachelorette parties that populate them. That said, "On The Floor" is J. Lo's version of going hard, and she manages to do so without embarrassing herself: In between the tiresome "dance the night away" fade-outs—which are a cheap way to rebuild the overlong song's lost momentum—she and Pitbull manage to bring enough strut to their performances to give the bland, "Lambada"-biting Europop beat a slight edge. In those moments when Lopez drops the benevolent-club-queen persona, it feels like she actually wants to dance with you instead of judging your outfit from the VIP booth.
Steven's grade: C+
Genevieve's grade: C+
G/O Media may get a commission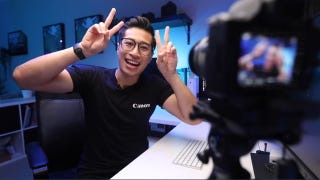 Up to 33% off
Canon Camera National Promotion
Webcam kits, lenses, & more
Since many of us adopted working from home, we've become accustomed to the crappy video quality output of our laptops' built-in webcams. Present yourself professionally with the help of a professional quality camera. Dress to impress now means set dressing and picture definition. Canon has made it easy to take your EOS camera and convert it to a webcam with the help of a variety of kits.
Bruno Mars, "Grenade" (No. 7)
Steven: The most surprising thing I discovered from tuning into the Grammys this year for the first time in a long while was that, incredibly, it might be the only award-show that's still worth watching. Not because the Grammys have gotten any better at judging musical quality, but because they (rightly) care more about squeezing in the maximum number of performances than handing out trophies. Which leads me to the second most surprising thing I discovered while watching the Grammys: I think I actually like Bruno Mars now. His stone-soul redux of "Grenade" (and his supple drumming while backing up current tourmate Janelle Monáe) made me forget how much I disliked his wimpy breakthrough hit, "Just The Way You Are." Or, rather, it made me set aside what I didn't like about the song and focus on Mars' strengths, which are his easy grasp of melody and the way his voice punches up his already-catchy choruses without showing off too much. On "Grenade," Mars even allows for some grit to rough up the edges of his vocals, giving this nice-guy pop song some much-needed sack.
Genevieve: I know this column is more fun when we disagree, Steven, but I don't have much to add, except "Yup, same." I liked "Just The Way You Are" marginally better than you, mostly because of the catchy drumbeat and my slightly higher capacity for "Girl, you so pretty" schmaltz, and "Grenade" doubles down on the propulsive drumming and eases off just a skosh on the goo-goo eyes, making for a much more appealing version of Mars. It's still eye-rollingly earnest, but at least this time, Mars' lady-worship is coming from a place of anguish rather than puppy love, which adds the aforementioned sack to his singing. "Grenade" didn't do it for me when I first heard it a few months back—though the terrible, terrible music video might have colored my impression—but Mars' voice has grown on me, which is saying something, considering I generally don't care for male vocalists. Maybe "Grenade" is a better song than I originally gave it credit for, or maybe the encroaching warm weather has just made me more receptive to Mars' sunny charms; regardless, I'm sorry for tossing you in the trash, Bruno. I won't catch a grenade for ya, but I will add you to my playlist.
Steven's grade B+
Genevieve's grade: B+
Britney Spears, "Til The World Ends" (No. 9)
Genevieve: Steven, I think my affection for Britney Spears is comparable to your love of Ke$ha, in that we love our respective pop tarts for being unapologetic about what they do—Spears is just a lot less crass about making fun-dumb music than Ke$ha. She's the slide whistle to Ke$ha's armpit-fart. Britney is the elder stateswoman of the pop charts by now, and she doesn't need to pretend she wants to make (or is capable of making) anything other than barnstorming dance music. She's a thousand times more fun for it, absolved of the need for her music to "say something" that we see so often in Lady Gaga, Katy Perry, or even Pink. You could—and I'm sure you will—apply the same criticisms to her voice that I've applied to Ke$ha's in this very column, and trump it with the fact that she doesn't even write her own music. (Gasp, faint.) In fact, coincidence of coincidences, this song was co-written by none other than Her Trashiness, along with Dr. Luke, Max Martin (those guys are gettin' around this week, huh?), and Alexander Kronlund. Then again, Ke$ha also shares a writing credit on "Blow" with Dr. Luke, Martin, and three other writers, so go ahead and infer from that what you will. Regardless, "Till The World Ends" is a no-holds-barred club banger, rife with sky-high synths, fade-in-and-outs, and a chant-along "whoa-oh-oh-oh" chorus. Spears herself plays second fiddle to the production, but she still brings a healthy dose of sex to the party where Ke$ha would just bring sleaze. Is it groundbreaking? Of course not, this is the Hot 100. But it's fun as hell, and that's all I ever expect or want from Brit-Brit.
Steven: Dude, are you trying to pick a Ke$ha fight with me? Let's not be hasty, GK, we'll get to Ke$ha soon enough. As for Britney, I know she's now an "elder stateswoman" of pop music and all, but I'd argue that she's still more sleazy than sexy. Or am I the only one that remembers way back to her previous single, "Hold It Against Me"? (Let's not forget deep cuts from the forthcoming Femme Fatale, like the one where Britney tells an ex to "shut your mouth and turn me inside out." With white gloves and a curtsey, I'm sure.) Look, I'm not the one who has a problem with sleaziness; you're the one who seems to be bending over backward to justify liking this song. Personally, I think "Till The World Ends" works on exactly the same sublimely stupid level as Ke$ha's hits do. (C'mon, it sounds just like them.) To Britney's credit, she's figured out how to capitalize on trends that her imitators have made and codified. As you say, she's right to focus on club bangers, but she's dancing to somebody else's song. 
Genevieve's grade: A- 
Steven's grade: B
Ke$ha, "Blow" (No. 10)
Steven: GK, Lincoln and Douglas have nothing on us when it comes to arguing about Ke$ha. You think she's a skanky crack whore with nonexistent talent, while I believe she's a skanky crack whore with some talent. I'm wondering if "Blow" can be our meeting point. You can't deny the top-notch bubblegum production—especially since it comes courtesy of practically every big-name pop producer in the game, including Max Martin, Dr. Luke, and Benny Blanco—that really makes "Blow" fly out of your speakers. (I was tempted to make a projectile-vomit joke here, but good taste prevailed.) But even I'm not going to argue that this song is great in the indomitably trashy way I think Ke$ha's best singles are great. "Blow" is what Ke$ha is almost never accused of being: safe. So if I think this song is just okay, any chance you'll soften on your anti-Ke$ha stance?
Genevieve: You picked a good week to ask for Ke$ha leniency, Steven; it's hard for me to trash "Blow" in the same column in which I rave about the similar-sounding Ke$ha-penned "Till The World Ends." Oddly enough—or not really, if you're familiar with my stance on her—I prefer "Blow" to most of Ke$ha's songs for the exact reason you knock it down a couple pegs: It dials down the trashiness and ups the glamour. My biggest sticking point with Ke$ha—aside from her annoying voice, which I'm willing to chalk up to personal preference—is her trash-glam aesthetic, which I find vulgar, lazy, and generally unappealing. (She said, clutching her pearls.) I like my dance-pop to soar to the rafters, not wallow in the muck, and "Blow" is nice and shiny, just the way I like it, and has minimal dirty-girl posturing. (I guess you call that "safe"; I call it "not actively repulsive.") There's still the issue of her pinched voice, which will never sound like anything but whining to me, but I have to hand it to the producers of "Blow" for crafting a track that's big, bold, and bumping enough for me to overlook Ke$ha's involvement.
Steven's grade: B
Genevieve's grade: B+
[pagebreak]
Christina Perri, "Jar Of Hearts" (No. 19)
Genevieve: I first encountered Christina Perri during her television debut, when her nasal-y, anemic live rendition of "Jar Of Hearts" brought the episode of So You Think You Can Dance that I was reviewing to a screeching halt. But apparently that appearance was enough to earn her a deal with Atlantic, which she signed less than a month later. The smoothed-out recorded version is more palatable, but it's definitely the type of song more suited to accompanying a sentimental contemporary dance number on SYTYCD than enjoying on its own (a fact seemingly acknowledged by including said number in the official video for this song). The simple piano melody is pretty, but the dear-LiveJournal lyrics and Perri's vocals skew a little Evanescence-y for my liking. I like that "Jar Of Hearts" is a different sort of ballad than we usually hear in the Top 100, but it isn't exactly a breath of fresh air… more of a stifled yawn.
Steven: I'm confused—did people actually dance to this? Or was the idea that the judges were the ones with the "jar of hearts," running around, leaving scars, being all cold and stuff? Either way, this is a song only a second-rate talent-show montage could love. The music of "Jar Of Hearts" is "pretty" in the same way the lyrics are "poetic"; everything is so on-the-nose and telegraphed, from the somberly plunking piano to the weepy strings to the laughably trite "Jar Of Hearts" metaphor, that I'm surprised the song didn't come with a script cueing the audience to make sad faces while leaning against a rain-streaked window. I'll gladly take Katy Perry alien-sex songs over this draggy pabulum.  
Genevieve's grade: C-
Steven's grade: D
Jason Aldean featuring Kelly Clarkson, "Don't You Wanna Stay" (No. 34)
Genevieve: I've never had much use for power ballads, but "Don't You Wanna Stay" almost makes up for its mawkish lyrics, swelling strings, and predictable guitar solo with the vocal interplay between Jason Aldean and Kelly Clarkson. Clarkson does most of the heavy lifting on this one, with Aldean providing a comfortable country-rock base to her soaring pop divaisms. It's sappy as hell, yes, but it's the right kind of sappy, and Aldean and Clarkson seem comfortable enough with the song's blatant sentimentality to get all cinematic and grandiose with it. There's nothing remotely modern or adventurous about "Don't You Wanna Stay"—it could easily slot into any of the last 20 years or so—and the lyrics are banal even by modern-country-ballad standards. But Aldean and especially Clarkson don't hold anything back, making a solid, if not slam-dunk, case for the continued existence of the pop-power ballad.
Steven: I'm with you on Kelly Clarkson being the MVP on "Don't You Wanna Stay." I'm not sure why she was given the "featuring" tag rather than full-blown duet credit; in fact, Aldean's name should be the one in parentheses. Clarkson's big voice is the only thing I take from this otherwise standard-issue mall ballad that's already been written by Diane Warren dozens of times. (Co-writer Jason Sellers has penned similar treacle for scores of other country artists, including Montgomery Gentry and Reba McEntire.) I'm not sure "Don't You Wanna Stay" justifies the existence of the power ballad, but its success will certainly help perpetuate it. 
Genevieve's grade: B-
Steven's grade: C
Jessie J featuring B.o.B, "Price Tag" (No. 58)
Genevieve: Take one part Katy Perry, one part Fergie, and just a dash of Lily Allen, and you have the latest divisive female pop figurehead, Jessie J (who's also partly responsible for one of the most love-it-or-hate-it pop singles in recent memory, Miley Cyrus' "Party In The U.S.A.," which she co-wrote). Jessie J has been making waves in the UK for a hot minute, but after her memorable-by-SNL-standards performance on Saturday Night Live a couple weeks back, she's poised to either blow up or flame out spectacularly here. It's hard to say which way she'll go: "Price Tag" and her previous UK single, "Do It Like A Dude" aren't exactly timeless pop singles, lyrically speaking, but her vaguely urban, R&B-tinged vibe is something that's missing from the charts right now, and she possesses a certain hyper quality that makes her stand out. "Price Tag" is a more amiable introduction to Jessie J than the trying-way-too-hard "Do It Like A Dude," but its anti-consumerist sentiment is just as calculated and about half as fun. However, the feel-good hook courtesy of Dr. Luke—which shares its lineage with about half of the current Top 40—goes a long way toward undercutting the self-conscious moralizing.
Steven: If there's one thing you know I hate, GK, it's when gleefully frivolous pop singers decide to inspire us. Being big and dumb is perfectly fine when it comes to hittin' clubs and tappin' asses; it's less forgivable when you're trying to talk me out of being such an asshole all the time. In the case of "Price Tag," the message is doubly bad, because for us normals, it really is all about the money, money, money. We don't have any, Jessie J, so please stop tearing up dollar bills in your videos. (Please, that could buy several days' worth of ramen.) Misplaced lecturing aside, I like "Price Tag," mostly because of Dr. Luke's production, which impressively sounds different enough on this song to make me forget that he had a hand in seemingly every other track on this list.
Genevieve's grade: B-
Steven's grade: B
Seether, "Country Song" (No. 74)
Steven: Seether is one of those anonymous post-grunge radio bands that have managed to carve out a career spanning more than a decade without leaving an impression on anybody not listening to Gator and the Z-Man every morning on the local modern-rock station. For instance, did you know that Seether is from South Africa, just like Dave Matthews and Charlize Theron? I know I didn't. Anyway, I'm sure Gator and the Z-Man see "Country Song" as a bold stylistic departure, and I won't argue otherwise, since I'd rather just go back to ignoring these guys. But just for the sake of accuracy, "Country Song" is not, in fact, a country song, though it sounds a bit like the 2010 hit (and This Was Pop favorite) "Little White Church" by Little Big Town. That little piece of Little Big Town in the verses is the only part I like about "Country Song," the first single from Seether's forthcoming album, (deep breath) Holding On To Strings Better Left To Fray. Here's to never typing those words ever again!
Genevieve: "Country Song" pulls a bait-and-switch, building around the sort of swampy riff that's Koski Katnip. (If it sounds like it could score a True Blood promo, chances are good I'll like it.) That twangy intro is almost toe-tapping enough to make me overlook the fact that the lyrics don't so much rhyme as repeat the words "me," "now," and "through" over and over. Then that hard-rock-by-numbers chorus kicks in, and I remember, "Oh yeah, this is terrible." Seriously, this is terrible, and all the dobro in Nashville isn't going to change that. The lyrics are terrible, the singer's voice is terrible, the half-assed "country" pandering is terrible—and the fact that Seether tried to sneak this shit past me disguised as a backwoods jam makes me hate it even more.
Steven's grade: D
Genevieve's grade: F
Foo Fighters, "Rope" (No. 92)
Steven: "Rope" is the first song I've heard from Wasting Light, the first Foo Fighters album in four years. I've listened to it five times, and as per usual for a Foo Fighters single, I like it a little more after each spin. I bet I won't get sick of it until at least 2015. With its echoing guitar hook and epically cascading chorus, "Rope" almost certainly will end up being one of the three best songs on Wasting Light, since Foo Fighters albums are always good for three solid radio songs and between nine and 12 decent filler tracks. Some will call "Rope" a return to form, but this really is just Dave Grohl doing what Dave Grohl has done best since 1995. He's just decided to remind us of it again.
Genevieve: I think it's fair to say this is the most Foo Fighter-y the Foo Fighters have sounded in a while; Wasting Light was recorded in Grohl's garage, and "Rope" has a sort of claustrophobic, stripped-back energy that the Foos' more polished recent studio efforts have lacked. That's not to say it's a simple song—the battling guitars, feedback, and Taylor Hawkins' intricate drumming give it an epic, almost proggy vibe—but it sounds like Grohl And Co. (including a returned Pat Smear! Hi Pat Smear!) were trying to get back to their essence with a charging, pedal-to-the-metal rocker. I like all the elements—especially the guitar solo—in "Rope," and I really like its energy, but it doesn't quite gel the way I want it to. The song certainly merits repeat spins, but it will take quite a few of them for "Rope" to make a lasting impression.
Steven's grade: A-
Genevieve's grade: B