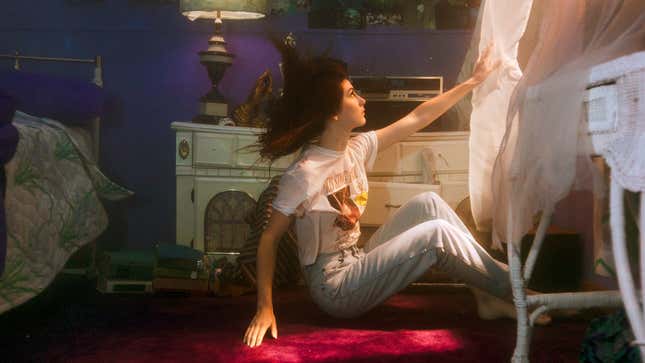 Why Robert Rodriguez still loves "Spy Kids"
Indie music has been snuggling up to all things orchestral for decades. But the sumptuous textures on Titanic Rising, singer-songwriter Natalie Mering's fourth studio album under the pseudonym Weyes Blood, are worlds away from Belle & Sebastian's twee chamber-pop or Arcade Fire's sweeping bombast. The record isn't timeless, exactly—the prevailing musical style is anthemic piano pop highly reminiscent of Tapestry-era Carole King, particularly on the stirring mid-album tracks "Everyday" and "Something To Believe." But while comparing anyone's songwriting to King's is the highest of compliments, simply evoking the macramé sensibility of Laurel Canyon in the early '70s is inadequate to describe this musical swan dive into the underwater forest of Mering's mind.
The key term when attempting to put Titanic Rising into words is "layered"; "Wild Time" builds on Mering's clarion alto with piano, strings, trumpet, and even a full-throated French horn solo worthy of The Beatles in their post-Revolver period. The tape warble that overlays lead single "Andromeda" tacks a smooth yacht-rock sheen onto an already complex arrangement, and even the sparest song on the album, penultimate track "Picture Me Better," adds a cushioning overlay of velvety strings before hitting its one-minute mark. Where traditional orchestration is absent, cascading synths—and, in the case of "Mirror Forever," electric guitar that blasts through the song like the tractor beam of a UFO—come in.
That last sound always causes a musical interlude from Beaches to abruptly appear in this writer's consciousness; it's definitely random, and probably coincidental, but still fitting for this highly cinematic record. "Everyday" comes accompanied by a music video, directed by Mering herself, paying tribute to '80s slasher flicks, and "Movies" turns reminiscing about Titanic into the most ethereal ballad since This Mortal Coil's version of "Song To The Siren." "The meaning of life doesn't seem to shine like that screen… I want to be in my own movie," Mering sings, lifted above the everyday world and into a realm of fantasy on a bubbling fountain of ambient synthesizers, sharp strings, pounding tribal percussion, and murmuring voices.
The arrangements evoke such specific moods that it's hard to believe that this is Mering's first time incorporating strings into one of her records, as she told The A.V. Club in an interview earlier this week. But the through-lines carried over from Mering's earlier work are obvious—albeit bundled up into spacesuits and launched into orbit by producer Jonathan Rado, with whom Mering built the custom reel-to-reel recorder that created the cosmic ambience of the instrumental title track. Rado's opulent production gives the experience of listening to Titanic Rising—particularly on headphones—the feeling of being enveloped in sound, insulated from the outside world like an astronaut looking down at the earth through layers of atmosphere.
The lyrics on Titanic Rising certainly contribute to the album's daydream quality: Throughout the first half of the record, Mering makes references to falling down, breaking down, and getting "a case of the empties," all of which fade into blissful oblivion in the middle section of Titanic Rising before coming back down to the human realm of gnawing feelings in the final stretch. Ironically, the bleakest lyrics accompany the perkiest melodies, as when Mering sings, "True love is making a comeback / For only half of us, the rest just feel bad" ("Everyday"). Occasionally, the swooning production and sardonic lyrics clash. But considering the state of existential unease Mering grapples with throughout the album, this may very well have been intentional.
The lyrics ultimately, appropriately, end with their eyes turned toward the skies, as Mering sings, "Waiting for the call from beyond / Waiting for something with meaning / To come through soon" at the end of "Picture Me Better." But that's not the end: Titanic Rising closes with an orchestral coda that incorporates snippets of Mering's gently off-kilter melodies from throughout the album, one that bleeds seamlessly into opener "A Lot's Gonna Change" when you listen to the record on repeat. Like the cycles of despair and hope mapped out in Titanic Rising, it's endless.