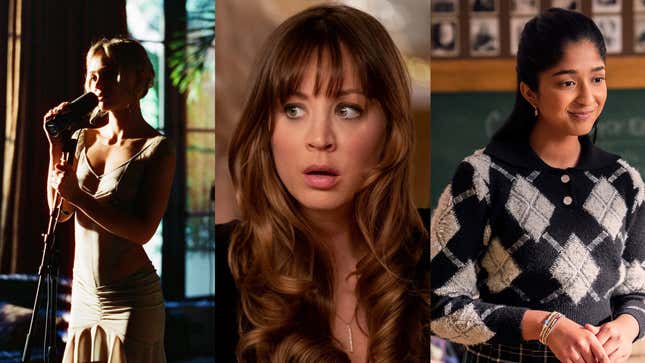 Welcome to What's On, our weekly picks of must-watch shows. Here's what you need to watch from Sunday, June 4, to Thursday, June 8. All times are Eastern. [Note: The weekend edition of What's On drops on Fridays.]

---
The biggies
The Idol (HBO, Sunday, 9 p.m.)
The Idol is here to take over Succession's Sunday-night spot on HBO. In this new drama, Lily-Rose Depp plays Jocelyn, a former pop star whose tour is canceled after she has a nervous breakdown. To reclaim her career, she joins forces with a contemporary cult leader played by Abel "The Weeknd" Tesfaye. Dan Levy, Rachel Sennott, Jennie Kim, Hank Azaria, and Hari Nef co-star. The A.V. Club will recap the show weekly.
---
Based On A True Story (Peacock, Thursday, 3:01 a.m.)
Peacock jumps on the true-crime satire bandwagon, a la Only Murders In The Building, with Based On A True Story. The eight-episode first season follows married couple Ava (Kaley Cuoco) and Nathan (Chris Messina), who team up with their eccentric plumber, Matt (Tom Bateman), to start a podcast. The subject? The serial killer currently turning their L.A. neighborhood into his playground. The ensemble includes Natalia Dyer, Priscilla Quintana, Liana Liberato, Li Jun Li, and Alex Alomar Akpobome. Look out for The A.V. Club's review next week.
---
Never Have I Ever season 4 (Netflix, Thursday, 3:01 a.m.)
Netflix's Never Have I Ever returns for a last joyride. In season four of Mindy Kaling and Lang Fisher's comedy, Devi Vishwakumar (Maitreyi Ramakrishnan) is in her senior year and rapidly approaching graduation. Will she get into Princeton? Will she finally choose a love interest and will it be Ben (Jared Lewison)? The answers arrive in a 10-episode final season. The A.V. Club's review of the show will drop next week.
---
Hidden gems
The Lazarus Project (TNT, Sunday, 9 p.m.)
TNT brings the British sci-fi drama The Lazarus Project to the U.S. I May Destroy You's Pappa Essiedu leads the show as George, who wakes up one morning to discover time has moved back six months, but no one else around him seems to notice, and then inadvertently stumbles across a secret organization working to save the world.
---
Burden Of Proof (HBO, Tuesday, 9 p.m.)

Cynthia Hill's documentary Burden Of Proof is about a real cold case but is presented with recreations to make it look like a fictional HBO series. It chronicles Stephen, who launches an investigation into his sister Jennifer's disappearance in 1987. A complicated story emerges when he digs into what might've happened (she left only a handwritten note as a clue) and why American audiences are obsessed with true crime.
---
More good stuff
The Age Of Influence (Hulu, Monday, 12:01 a.m.)
ABC News' six-episode docuseries The Age Of Influence aims to examine the dark side of influencer culture by diving into some of the biggest social-media scandals of our time, from sweeping cons to viral cancellation campaigns, and looks at how people are caught up in controversies in their curated digital worlds.
---
Arnold (Netflix, Wednesday, 3:01 a.m.)
Netflix really loves Arnold Schwarzenegger. The actor, who recently starred in Fubar, is now the subject of a three-part docuseries about his life as a movie star and politician. Arnold features never-before-seen footage and stories about his rise from rural Austria to the highest echelons of the U.S.
---
Can't miss recap
Top Chef (Bravo, Thursday, 9 p.m.)
---
Arriving now
Joe Pickett (Paramount+, Sunday, 3:01 a.m., season two premiere)
The Eric Andre Show (Adult Swim, Monday, 12:01 a.m., season six premiere)
Cruel Summer (Freeform, Monday, 9 p.m., season two premiere)
The Real Housewives Of Orange County (Bravo, Wednesday, 8 p.m., season 17 premiere)
It's Always Sunny In Philadelphia (FXX, Wednesday, 10 p.m., season 16 premiere)
---
Ending soon
The Good Bad Mother (Netflix, Thursday, 11 a.m., season one finale)