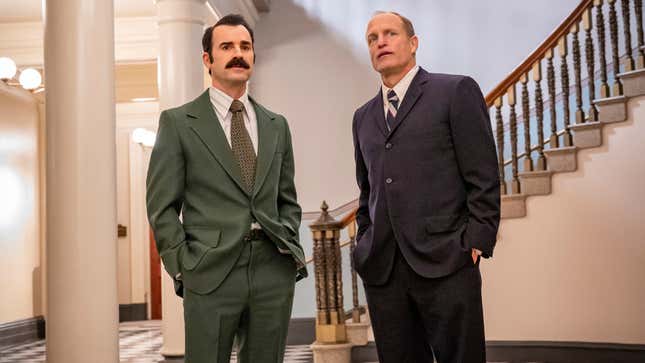 The end of two award-winning HBO shows is nigh, with Succession and Barry culminating their fourth and final seasons soon. So naturally, the cable network is ready to launch a brand new drama that might take over your weekly water cooler discussions. Today, HBO released a first look at its upcoming series White House Plumbers, which debuts in early May (and was one of our most anticipated new shows of the year).
HBO really doesn't want to talk about J.K. Rowling
Created by Alex Gregory and Peter Huyck, White House Plumbers is a five-part political miniseries led by Woody Harrelson and Justin Theroux—both HBO vets hailing from True Detective and The Leftovers, of course. And let's not overlook Theroux sporting a lovely oversized mustache in the trailer below. They play saboteurs E. Howard Hunt and G. Gordon Liddy, who accidentally topple the Nixon presidency they're zealously trying to protect.
The show chronicles how the White House hired Hunt and Liddy, former CIA and FBI, respectively, to investigate the Pentagon Papers leak. They're white men who fail upwards—a trend that hasn't slowed down since the '70s (or forever)—so the unlikely pair is charged with bugging the Democratic National Committee offices at the Watergate complex. And, well, we all know what happened next.
As seen in the clip, White House Plumbers isn't a straight drama as much a political satire. So it makes sense that Veep's David Mandel directs the show. WHP's stacked cast also includes Lena Headey, Kiernan Shipka, Ike Barinholtz, David Krumholtz, Yul Vazquez, Judy Greer (RIP, Reboot), Domhnall Gleeson, Gary Cole, Toby Huss, F. Murray Abraham, and Kathleen Turner.
While HBO gears towards ending Succession, Barry, and the second season of Perry Mason, it's nice to know we have more exciting projects coming up at athe network, including the returns of Somebody Somewhere and A Black Lady Sketch Show.
We now add White House Plumbers to the list. It will premiere on May 1, 2023.