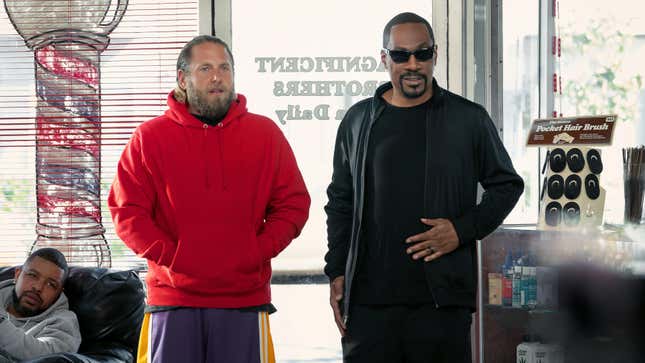 You People is a perfect movie for Netflix because it's best watched for the first half hour and then turned off, which Netflix will count as a view anyway. Everyone wins, except those who hang in until the end, hoping the movie won't slowly peter out after blowing through all the good jokes in the first act. Director Kenya Barris is best known as the creator of TV's Black-ish, but as a filmmaker, he wrote Barbershop's less-good sequel, Shaft's less-good reboot, The Witches' inferior remake, and yet another Cheaper By The Dozen that nobody asked for. You People marks his feature directorial debut, and since it's a comedy about race, one might hope it would hew closer to his successful TV work. It does. But only for a moment.

Over the opening credits, Ezra (Jonah Hill) and Mo (Saturday Night Live writer Sam Jay) trade riffs about former President Barack Obama. They're podcast cohosts of "The Mo And E-Z Show," about culture from the perspective of a Black lesbian and a tattooed Jewish atheist. Their dynamic is a bit like an R-rated Weekend Update, both raucously funny and a potential minefield, as they discuss topics like the ALS ice bucket challenge and Black swimmers. There's plenty of humor here that's arguably politically incorrect, but in general, the characters make themselves the butt of the joke, which softens any potential blow.
Ezra's more comfortable in a hip-hop milieu, and not so much at a Yom Kippur ceremony where he's set up with a social climbing Jewish girl by his clueless mom, Shelley (Julia Louis-Dreyfus). Their subsequent date is uncomfortable, mostly because she questions his ambition to host a podcast about Black culture. Only when he later meets Amira (Lauren London) does Ezra finally feel a connection. They hit it off so well that the movie skips ahead six months as Ezra prepares to propose.
First, though, it's time to meet the parents, which is the film's central comedic premise. Amira's father Akbar (Eddie Murphy) is a Nation of Islam devotee whose wife Fatima (Nia Long) mostly just parrots his arguments. Shelley, of course, is the sort of overzealous liberal boomer so desperate for non-racism cred that she inevitably utters the stupidest faux-ally platitudes, while her husband Arnold (David Duchovny) is obsessed with rapper Xzibit.
G/O Media may get a commission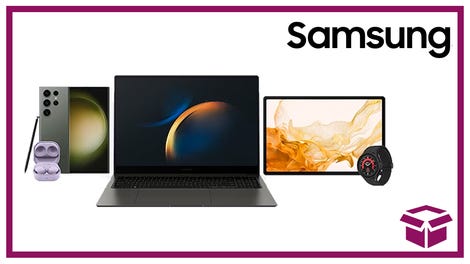 24 hour deals
Discover Samsung - Daily Deal
In 2023, the film's premise has an inherent flaw it might not have had in previous generations: outside of insular religious communities, parents don't have the power to stop 30-something adult children from marrying anymore. They have the power to be pains in the ass, but that doesn't come with the same stakes. And while Murphy as a straight man is excellent, ironically getting more laughs here than in some of his recent comedic turns, neither he nor the movie commits to it. Making him a full-on, Louis Farrakhan-style anti-Semite would render him unforgivable by the standards of a gentle rom-com, so of course it transpires that Akbar's a bit of a poseur, whose religious commitment has been artificially inflated over the years. Murphy gets to indulge in plenty of improvisation here, playing off the likes of Mike Epps, as his freeloading brother.
The script may be credited to Hill and Barris, but it feels like it was a loose template to let the stars do their thing. There's nothing wrong with that, except that Murphy begins the movie playing Akbar the character until he gradually morphs back into Eddie Murphy the comedian. Hill plays close to his usual shtick while Louis-Dreyfus, unsurprisingly, leans easily into an annoying self-obsessed vibe as Ezra's mom. Elsewhere, Rhea Perlman plays Ezra's grandmother, and gets absolutely nothing to do.
Barris' direction is mostly rote, save for aggressive scene transitions that blast hip-hop and briefly turn the screen into a collage. He frequently parallels scenes between Hill and Murphy with similar scenes between Louis-Dreyfus and London, which never feels fair, as London plays the one character who bites her tongue while the rest continually go for laughs. Perhaps because the movie's construction forces everyone to get along by the end, very little after the movie's initial tense scenes carries the same sense of peril. Indeed, for the first half-hour, Netflix has a high-concept hit on its hands. Pause it there, and imagine the rest—you won't do any worse than Barris and Hill's script at conceiving an ending.
(You People premieres on Netflix on January 27th)