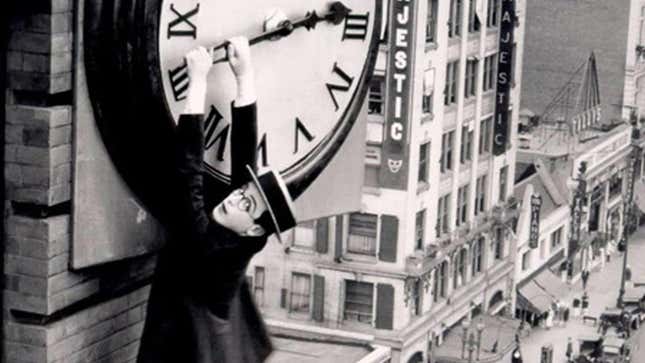 While a lot of people are looking ahead to the movies that are coming in 2023 (we've done it too), The A.V. Club thought this would also be a good moment to take a look back. Way, way back. We decided to time-shift a full 100 years, to 1923, a seminal year for Hollywood in particular and the movie industry in general. A century ago, the growing business of moviemaking already had a foothold in Los Angeles—and the recently incorporated neighborhood of Hollywood—but it was in 1923 that Hollywood as we know it today began to take on a familiar shape. Literally. That's the year an enterprising real estate mogul completed construction on a giant sign in the hills overlooking a new housing development called Hollywoodland. A cultural landmark, and an industry, was officially immortalized.
A Quiet Place: Part II's Millicent Simmonds thinks she'd be a goner if aliens attacked
Hollywood was a hive of activity in 1923, both on and off film sets, as widely depicted in histories and period pieces set during that era (Damien Chazelle's heightened historical drama Babylon is one recent example). Studios like Warner Bros., which was formally incorporated in 1923, were consolidating their power and building stables of contracted talent. As a result, production companies sprang up to give creatives more power over their own work. Many artists, including Charlie Chaplin and Buster Keaton, were making the transition from shorts to feature films. The year also saw early experiments with new technical advances like synchronous sound and color, which would revolutionize the industry within the next decade.
Silent films were going from production to theater screens at a frantic pace, with many of those films coming in from overseas. With no language barrier to hold them back, filmmakers in countries like France, Germany, the Soviet Union (as it was called at the time), Japan, and Brazil were able to reach mass audiences around the globe, just as long as they were able to translate their title cards. International talents like director Ernst Lubitsch also made their way to Hollywood during this time, attracted by natural and industrial resources that weren't available anywhere else.
There were hundreds of silent films and shorts released in 1923, about half of which are now considered lost. Preservation wasn't a priority in those days; it's frankly amazing that we still have access to as many as we do. For example, only one of the five films made by legendary director John Ford (you know, the guy recently portrayed by David Lynch in The Fabelmans) in 1923 has survived intact—a tale of gamblers and river boats called Cameo Kirby. Its main significance (besides being remade into a musical in 1930) is that it was billed as "A John Ford film." Before 1923, he was always credited as "Jack Ford." Another of his films from that year—the Tom Mix adventure North Of Hudson Bay—has just 40 minutes of viewable footage remaining. The rest are considered lost.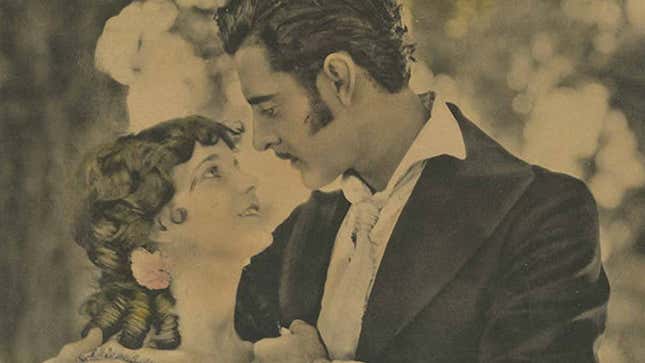 A year of firsts and spectacles
A number of future stars made their film debuts in 1923, including Jean Arthur, Thomas Mitchell, Fay Wray, and an aspiring starlet named Marlene Dietrich. It turned out to be a momentous year for Dietrich. Not only did she make her film debut as a lady's maid in a German feature titled The Little Napoleon, she followed that up with another supporting part in the film Tragedy Of Love. While working on the latter film, she met producer Rudolf Sieber and the two were married in May of 1923. In December of that year, she gave birth to their daughter, Maria Elisabeth (we'll leave you to do the math on that one).

It was also the year a young filmmaker named Walt Disney released his first short film, "Alice's Wonderland." It featured Walt playing himself, as well as other animators—including Ub Iwerks, the most fabulously named animator in history—alongside a young actress (Virginia Davis) who playfully jumps in and out of animated sequences. Shortly after completing the film, Walt's first studio in Kansas City went bankrupt. But that turned out to be a blessing in disguise. "Alice's Wonderland" became a hit, and inspired Walt to move to Los Angeles with his brother Roy, where they established the Disney Brothers Studio in October 1923. You may have noticed that Disney the corporate entity (as opposed to the man himself) is hyping a big 100th birthday celebration this year (The A.V. Club marked it too, with a full Disney week).

Behind the scenes, 1923 also brought some major technological advances. Cecil B. DeMille's The Ten Commandments was the top-grossing film of the year, and featured a segment in color using the state-of-the-art (for its time) Technicolor process 2. On the audio front, although the advent of talking pictures was still four years away (ushered in by The Jazz Singer in 1927), two Paramount releases were filmed and presented with synchronous Phonofilm soundtracks at a single theater in New York City. The Covered Wagon premiered in March (it would go on to become the second-highest-grossing film of the year), followed by Bella Donna in April. Most movie audiences saw the silent versions which played everywhere else, but it was a sign of the seismic shift about to change movies forever.

Comic origins: Chaplin, Keaton, and Lloyd
Going to the movies was a big event in the early '20s. In addition to the featured film, you could expect a comedy short, a cartoon, a newsreel, or some combination of them to run before the main event. This was the early days of Our Gang (later known as The Little Rascals), Felix the Cat, and of course some of the greatest physical comedians of the 20th century, including Charlie Chaplin, Buster Keaton, and Harold Lloyd.

Having established his success in short films, Chaplin transitioned to making features, and in 1923 he began releasing them through his own company, United Artists, which he formed with fellow actors Mary Pickford and Douglas Fairbanks and director D.W. Griffith. February saw the premiere of The Pilgrim, Chaplin's last film before he transitioned solely to UA. Later that year, the company released A Woman of Paris, which he directed but didn't star in (he shows up briefly in an uncredited cameo, but he wasn't outfitted in his familiar Tramp persona, so many moviegoers missed it). The film wasn't a comedy, but a tragic love story, and audiences didn't know what to make of it. With Chaplin's name on the marquee, they went in expecting to see him doing his thing, and instead got an unconventional melodrama full of emotional complexity.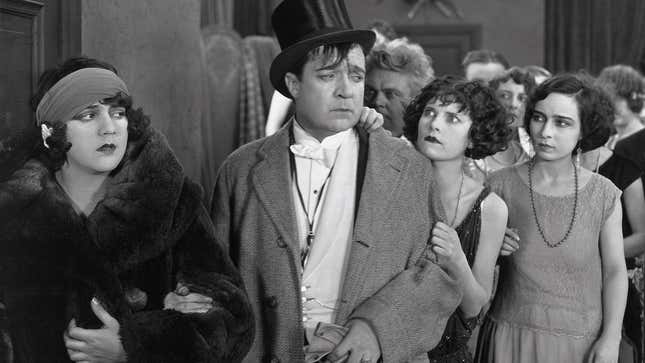 Buster Keaton was also in the process of making the leap from shorts to features at that point. His final two short films were released in 1923—The Balloonatic, in which he gets stuck on top of a hot air balloon, and The Love Nest, a comic farce set on a sailing ship. Keaton also released his first two feature films that year. He wrote, directed, and starred in Three Ages, a satire told over three historical time periods. Despite mixed reviews from critics, audiences loved it. Later that year he managed to top it with Our Hospitality, now considered one of Keaton's best works for the masterful way he infuses his comedy with thoughtful intent.

And let's not forget Harold Lloyd, who may be the lesser-known of the trio but whose works might be the most relevant to modern society. His anxious, bespectacled character is a parody of an aspiring capitalist who will do anything to get ahead in America. Of his two 1923 releases, Safety Last! is the more memorable, for featuring one of the most iconic images in all of silent film. The scene of Lloyd hanging from the hands of a giant clock on top of a skyscraper was so skillfully shot and framed it still lives on in our visual language, 100 years later.

International influences and experimentation
Even though Hollywood was establishing itself as the center of the movie industry, some of the most influential films of 1923 were produced outside the U.S. France was a major center of culture at the time, and the films created there were typically ambitious and artistic in nature (bien sûr). Abel Gance's La Roue was originally over eight hours long before being cut down to a still pretty hefty five-hour experience. The reason why we still use the French term "montage" today to describe a heavily edited sequence that tells a lot of story in a brief amount of time is because the French popularized the technique in films like La Roue. It features several rapid-fire sequences unlike anything seen in an American film at the time. Likewise, Germain Dulac's The Smiling Madame Beudet is an avant-garde work that pushes boundaries with a poetic visual language demonstrating the artistry of early French filmmaking.
There were a number of notable works coming from elsewhere in Europe too, like "Glumov's Diary," the debut short from Sergi Eisenstein (who would go on to make Battleship Potemkin, a masterpiece of the silent era), as well as films from European directors who found their way to Hollywood. Having arrived in the U.S. just a year before, German-born director Ernst Lubitsch teamed up with Mary Pickford to make Rosita, in which she took on one of her first mature roles as a Spanish street performer. You can see the influences of German expressionism in films like Karl Grune's The Street, and the modernist movement taking over the art world in the experimental film Rhythms 23, which is just a sequence of shapes and lines.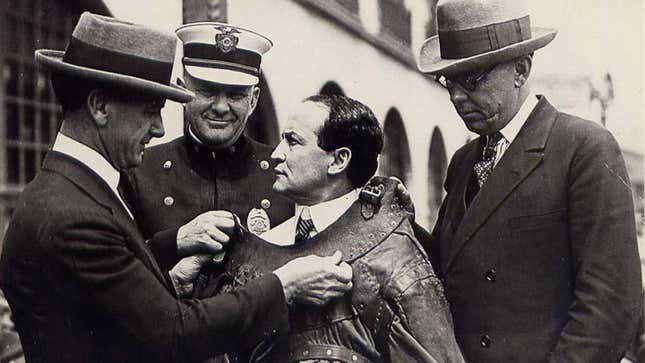 Film was still a relatively new art form in 1923, and it attracted a number of artists who wanted to play around with the possibilities it offered. Surrealist artist Man Ray made a film called Return To Reason, basically just a series of images, textures, and shots of a female model's torso. German playwright Bertolt Brecht tried his hand at screenwriting (which ended up being just a series of ideas and notes) for the short comedy "Mysteries Of A Barber Shop." Even Harry Houdini got into the business for a spell, showing off his escapist skills in the adventure film Haldane Of The Secret Service.
100 years later
Hollywood started out as a physical place, a rugged settlement just outside Los Angeles where outlaws, con men, artists, and entrepreneurs converged in pursuit of fame, or money, or just to play make-believe. By 1923, it had already started to become more than that. Now it's a concept, a catch-all term synonymous with the American entertainment industry. You don't have to know the history to understand how we got here, but if you're a movie buff, it's worth seeing some of these early works for yourself.
The good news is that all of them are now in the public domain. The bad news is that they're not so easy to find. Film preservationists are currently focusing on restoring the important works of the silent era, so we may see them become more available as those efforts pay off. If you get a chance to experience one of them in a theater, don't pass it up. They're like little time capsules of history that can tell us what Hollywood—and the rest of the world—was like 100 years ago. It's almost like traveling through time.