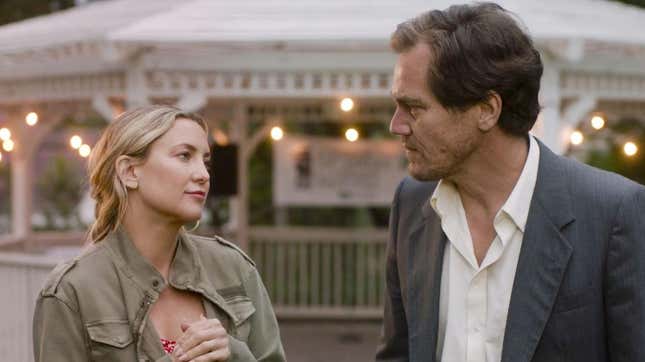 Perhaps the biggest draw of any movie set within the rarified realm of the literary world is the inherent promise of sharp-tongued, dizzyingly articulate dialogue. When a film's central characters are authors, poets, screenwriters, or any other kind of specialist in the written word, it's all but guaranteed that the level of dialogue will be pleasurably high. Think of the often New York-centric literary bubbles that the films of Wes Anderson (The Royal Tenenbaums) and Noah Baumbach (The Squid And The Whale) occupy, or of the shaggier college town milieu that Michael Douglas' perpetually stoned has-been novelist inhabits in Wonder Boys.

Daymond John really wanted to ask Gwyneth Paltrow about "Shallow Hal"
The academic setting of the latter film makes it something of a spiritual analogue to writer-director Michael Maren's new comedy A Little White Lie, which is set at the fictional liberal arts college Acheron University. But while Maren's eagerness to establish his literary bona fides is certainly evident—John Updike and J.D. Salinger are name-checked within the first five minutes—he only intermittently delivers the kind of verbal wit that one would expect and want from a scribe-centered lark. Adapting Chris Belden's 2013 novel Shriver, Maren has at least improved upon his feeble debut, A Short History Of Decay, but this still feels overall like a generically quirky indie trying to pass itself off as a sophisticated farce.
While clearly not intentional, that's entirely fitting for a film centered on a character pretending to be someone he's not. Handyman C.R. Shriver (Michael Shannon) receives an invitation to speak as an honored guest at Acheron University's 92nd Annual Literary Festival, which baffles him until his drinking buddy, Lenny (Mark Boone Junior), informs him that he shares a name with the famous novelist of the wildly acclaimed Goat Time, who has become a Salinger-esque recluse in the 20-odd years since that book's success. Armed with the knowledge that no one knows what the novelist Shriver currently looks like, and yearning for a life outside the lonely nights spent with his cat, the handyman Shriver decides to attend the festival claiming to be the world-famous Shriver.
His first hurdle is Dr. Simone Cleary (Kate Hudson), the writing professor doubling as program administrator for Acheron's festival. She's in desperate need of a literary celebrity to keep the annual event from being given the axe, so she happily accepts Shriver as the real deal. With this mutually beneficial arrangement in place, Dr. Cleary guides Shriver around campus while he does his best to play the role of a revered intellectual and not be unmasked as the fraud he is.
G/O Media may get a commission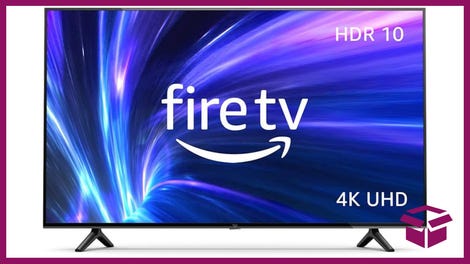 42% Off
Amazon Fire TV 50" 4K Smart TV
The execution of the simultaneous mistaken identity and fish-out-of-water shenanigans that ensue is oddly muted; you keep waiting for Maren to amp up the comic energy and narrative complications, but it isn't until the satisfyingly madcap climax that he really does. Where the filmmaker also succeeds in getting laughs are in the clever, tossed-off witticisms about the writing life, as when Lenny convinces Shriver that he can pass himself off as a writer because "all they do is complain about not writing, and then they write about not writing." At another point, someone tells Shriver that when it comes to internet journalism, "absolutely nothing is more than enough." (Ouch!)

Considering that the wit isn't consistent, it helps to have a terrifically understated comic performance from the always-great Shannon to help give the unfunny material a boost. There are only a couple of instances of him letting loose with the high-decibel craziness that fans of the actor know he's capable of. Mainly he offers a perfectly deadpan evocation of deer-in-the-headlights panic, as well as some first-rate hangover humor (Shriver loves his whiskey). Hudson nicely contrasts Shannon's energy by expertly playing a different response to inner panic—that of hiding it behind a practiced, more socially savvy sense of optimism.
Other good actors turn up as eccentric supporting characters, including Don Johnson as a colleague of Dr. Cleary's who fancies himself a macho Hemingway type, and Dolemite Is My Name breakout Da'Vine Joy Randolph as Shriver's seatmate on the flight to the festival who keeps crossing paths with him once they land. But with these peripheral oddball characters and potentially fun story developments—like the disappearance of a poet (Aja Naomi King) who Shriver clashed with—remaining underwritten, too much of A Little White Lie is spent waiting for Maren to pull these disparate strands and people together. When he finally goes for the aforementioned madcap climax, the movie belatedly feels like a legitimate farce. There's also a smart, rug-pulling piece of misdirection as the story wraps up. But even if it's sound writing advice to end on a strong note, the middle of a story shouldn't spin its wheels as much as this one does. Otherwise, you end up with an amiable 100-minute comedy that begs for an even more brisk Cliff's Notes edition to get right to the good parts.
(A Little White Lie opens in theaters and on demand on March 3.)