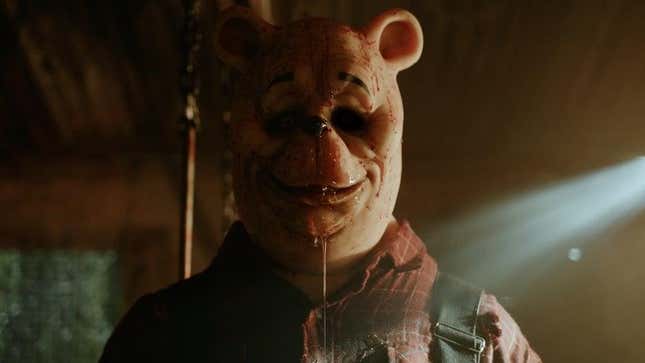 Old-school exploitation promoters like Roger Corman must surely admire how the makers of Winnie-The-Pooh: Blood And Honey seized on an item in the news cycle—Winnie-the-Pooh entering the public domain when the copyright expired on A.A. Milne's 1926 book, Winnie-the-Pooh—and cranked out a quickie horror movie. Normally, the idea of Pooh becoming fair game for any artist to interpret (minus specific elements owned by Disney) might inspire a fake trailer for an inappropriate movie reboot by a site like Funny or Die. But writer-director Rhys Frake-Waterfield went and cranked out a whole feature. Then, when its trailer went super-viral, production company ITN gave him extra money to do reshoots, although judging by the end credits, which mention "principle photography," it still wasn't enough to hire a proofreader.
Oh bother, Hong Kong shuts down Winnie The Pooh
There was a time—let's hypothetically call it "the '80s"—when audiences reasonably knew what to expect from a slasher movie. Creative kills, some gore, a bit of sex and nudity, a slow-moving and indestructible killer with some kind of gimmick, and the promise of a sequel that'll be pretty much the same thing. A glut of copycats watered down the formula, and many of the imitators these days deliver very little exploitation and not enough story to make up for that loss. So to say that Winnie-The-Pooh: Blood And Honey delivers everything a slasher movie should is higher praise than it used to be. Marketing alone would have guaranteed this movie a certain percentage of curious eyeballs, but Frake-Waterfield made sure that what genre fans see is everything they expected. In a nutshell: two hefty dudes in animal masks doing really gruesome shit.
Like so many slashers, this is a movie perfectly targeted to adolescent boys who are right on the cusp of "stuff for children is stupid!" and "violence is hardcore!" They're the kind of kids at the right age to laugh when Blood And Honey's opening narration refers to the original incarnations of Pooh and Piglet as "abominations." Lest such labeling makes any reader feel excluded, rest assured; if you're in any way still in touch with that inner Beavis or Butt-head, you'll find something here that's huh-huh cool.
G/O Media may get a commission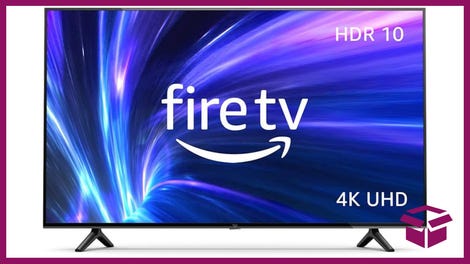 42% Off
Amazon Fire TV 50" 4K Smart TV
Eschewing too much backstory, which the best slashers usually save for the sequel, the opening animation suggests that back in the days of Christopher Robin's childhood, his animal friends, rather than sapient plushies, were actually demonic man-animal hybrids. When the boy became a man and went off to college, an unprecedented winter hit the Hundred Acre Wood, causing Pooh to stave off starvation by eating Eeyore and promptly going insane. Resentful at the human who abandoned them, he and Piglet vowed never to speak again, which is sad news for anyone hoping to hear classic Pooh catchphrases after every kill. Despite supposedly rejecting their humanity, however, they still dress like fat lumberjacks.

Adult Christopher Robin (Nikolai Leon) is perfectly cast, with one of those vewy Engwish lisps that Mike Myers made a fortune imitating. He wants to prove to his wife that his childhood friends were real, but probably didn't expect them to break her neck with a chain, then hang him on a hook and whip him with Eeyore's severed tail.
Blood And Honey is smart enough to subvert at least a couple of old slasher tropes, while leaning into two very modern ones. Yes, the setting is an Airbnb, and yes, one of the characters is a social media influencer, a trait as punishable by onscreen death these days as a character losing their virginity used to be. We don't otherwise learn much about the five girls facing inevitable, imminent doom as we might like, save for Maria (Maria Taylor), whose PTSD backstory seems to be setting her up as the final girl. And lord knows why an American redneck runs a garage in the middle of the English countryside, except as a really odd way to honor slasher history.
There's very little comic relief here, allowing the inherent absurdity of a killer Pooh with arbitrary super powers (that skin-cutting karate chop is seriously random) to do the humorous work. The masks absolutely look like masks, but they're slightly more expressive than the trailer reveals, allowing Pooh to wiggle his ears and widen his grin as needed.
It all ends very abruptly, and because so much happens at night, not every kill is clear. The gore, however, is ample, while the nudity involves Pooh gratuitously tearing off one victim's shirt. (One might call it a silly old bare.) That, along with the fact that most of the violence is male on female, may alienate some viewers, though it wasn't made for them. This isn't any kind of elevated horror, and barely has any plot. But it never pretended otherwise. Bring on the Heffalumps and Woozles in part 2!
(Winnie-The-Pooh: Blood And Honey is now in theaters)