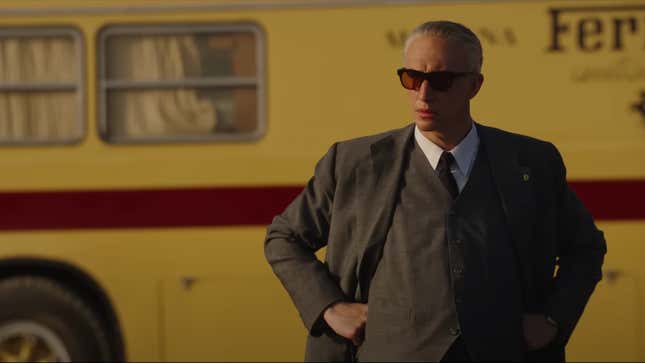 Adam Driver lives up to the prophecy of his name in Ferrari, the new historical drama from Michael Mann. The actor, who has clearly never met an old, nearly washed-up Italian character he didn't like, stars as the former Formula 1 racer and automobile entrepreneur Enzo Ferrari in the film, which is set to premiere this week at the Venice International Film Festival and later debut in theaters December 25.
Michelle Yeoh brought her Oscar to her wedding
"It is the summer of 1957. Behind the spectacle of Formula 1, ex-racer Enzo Ferrari is in crisis. Bankruptcy threatens the factory he and his wife, Laura built from nothing ten years earlier," reads the synopsis. "Their volatile marriage has been battered by the loss of their son, Dino a year earlier. Ferrari struggles to acknowledge his son Piero with Lina Lardi. Meanwhile, his drivers' passion to win pushes them to the edge as they launch into the treacherous 1,000-mile race across Italy, the Mille Miglia."
The first trailer is a tense, almost dialogue-free affair that focuses on Ferrari's relationship with his wife Laura (Penelope Cruz) and his mistress Lina (Shailene Woodley). All the while, Ferrari is haunted by a need for speed—or at least glory. The growing unrest in his relationships is offset by the roar of the Mille Miglia, an event destined to end in tragedy (as evidenced by the ominous explosion towards the end of the trailer). Gabriel Leone stars as the Ferrari driver Alfonso de Portago, alongside Patrick Dempsey as fellow driver Piero Taruffi, Jack O'Connell as racer Peter Collins, and Sarah Gadon as Linda Christian.
Ferrari has been granted an Interim Agreement from SAG-AFTRA amid the actors strike, meaning Adam Driver will be present to support the film as it premieres in competition in Venice. Mann spoke proudly of Ferrari's indie bonafides in a recent interview with Variety, saying, "The origins of the movie and the content of the screenplay and the movie that you saw do not fit into the kind of film that would be embraced by the conventional studio system. It's truly appropriate that it is an independent film being distributed by Neon, a very independent distributor."
Mann blamed "late-stage capitalism" for Hollywood's current struggles, noting that "writers are massively underpaid." Having adapted the screenplay from the biography Enzo Ferrari—The Man, The Cars, The Races, The Machine alongside the late Troy Kennedy-Martin (The Italian Job), he added, "Troy and the screenplay, I changed it around quite a bit. But the absolute foundation and the beating heart of this movie is what Troy did."