In response to a $50 million defamation lawsuit filed by Johnny Depp, Amber Heard has countered in new filings with the Los Angeles court. Those filings, obtained by Variety and first reported by Page Six, detail disturbing new allegations of years of physical abuse. Heard claims that Depp's drug and alcohol abuse led him to become someone she refers to as "the Monster," and that he would often forget attacking her the night before:

"Johnny often would not remember his delusional and violent conduct after he came out of his drunk or medicated states…Because I loved Johnny, I had believed his multiple promises that he could and would get better. I was wrong."
In the filings, Heard recalls an incident in December 2015 when Depp allegedly grabbed her hair and throat, physically attacked her, and threatened to kill her, screaming "I'll fucking kill you, you hear me?" According to Heard's recollection of events, Depp dragged her to a bed and punched her in the head numerous times to such a violent degree that the bed frame broke. Heard said, "For a while, I could not scream or breathe. I worried that Johnny was in a blacked-out state and unaware of the damage he was doing, and that he could actually kill me." The filings contain details regarding other alleged incidents, including one that occurred in May 2014, prior to Heard and Depp's marriage. During this incident, Heard alleges that an intoxicated Depp physically assaulted her on an airplane and subsequently passed out in the bathroom for the remainder of the flight. Heard says she later received a text from Depp in which the actor apologized for his behavior, though he could not recall what he had done. Heard claims she also received a text from Depp's assistant, which read "He's a little lost boy. And needs all the help he can get."
Heard's filing additionally details a prolonged incident that occurred a month after she married Depp in February 2015. Over the course of three days, Heard claims that Depp–under the influence of ecstasy and alcohol–repeatedly assaulted her, throwing her through a ping pong table, choking her, and using blood to write on the walls. Per the filing, Depp was subsequently hospitalized. "To this day, I still have scars on my arms and feet from this incident," says Heard. The pair divorced in August 2016, three months after an incident in which Heard alleges that Depp threw a cellphone at her face, resulting in a black eye–the photos of which have previously been released online.
Depp filed a $50 million defamation lawsuit against Heard in response to an op-ed his former wife wrote for The Washington Post in December 2018. In that editorial, Heard wrote about being a survivor of abuse, and although she did not mention Depp specifically, his lawyers claim it was "insinuated." Depp has called Heard's allegations against him a "hoax," and maintains that he is innocent. In a statement to Rolling Stone, Depp's attorney Adam Waldman said:
"A hoax confronted with the reality of evidence requires new lies to sustain itself. Yesterday's filing, made by a woman with a prior arrest and incarceration for domestic abuse, presented Amber Heard's new lies. Which part of 87 surveillance videos, 19 (and growing) sworn eyewitness statements, audio tapes, time and date stamped photographs, police depositions and her own sworn testimony does Amber Heard and her PR team think the public is too stupid to comprehend?"
G/O Media may get a commission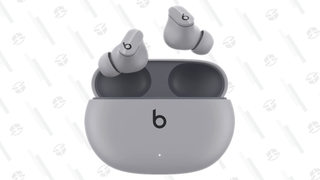 Waldman went on to claim that he is "now interviewing other women who have come forward claiming they are victims of horrific acts of violence and other abuse at the hands of Amber Heard."