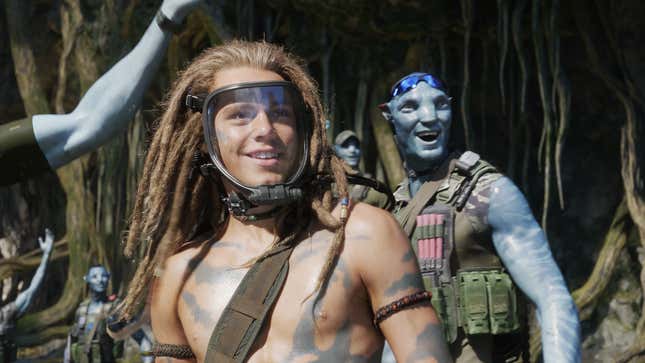 It seems to be happening, Pandorans: Much like the gradual meteoric rise of James Cameron's first Avatar movie, the sequel—The Way Of Water—is quietly climbing its way up the all-time international box office charts. The movie crossed $1 billion just before the end of 2022, half of what it needs to break even (grimacing face emoji), and as of yesterday it cracked $1.5 billion.
Gold Standard: Oscars edition - Best Picture
That's according to Deadline, which says that this total puts Avatar: The Way Of Water a couple of bucks ahead of Furious 7, number 10 on the all-time list of highest-grossing blockbusters internationally, and it will also probably be enough to put it ahead of the first Avengers movie (which made $1.518 billion in 2012). It'll take a little more doing to get any higher than that, with the next target being the Lion King remake (which inexplicably made $1.66 billion in 2019), but there is a weekend coming up and M3gan might not end up being everyone's cup of robo-tea. Why not see Avatar?
Domestically, The Way Of Water is making a much smaller splash: It's currently number 23 in the all-time charts, behind a bunch of Marvel movies, Star Wars movies, and Disney cartoons, but Avatar movies (of which there have only been two) tend to make the vast majority of their money internationally anyway. More than 70 percent of the original Avatar's ultimate haul came from outside the United States, and the same is definitely going to be true for The Way Of Water whenever it eventually finishes its theatrical run—and that's not even counting any re-releases that Cameron will probably want to do in the lead-up to his other Avatar movies. Once we're on number five or six, The Way Of Water will have cool retro appeal.