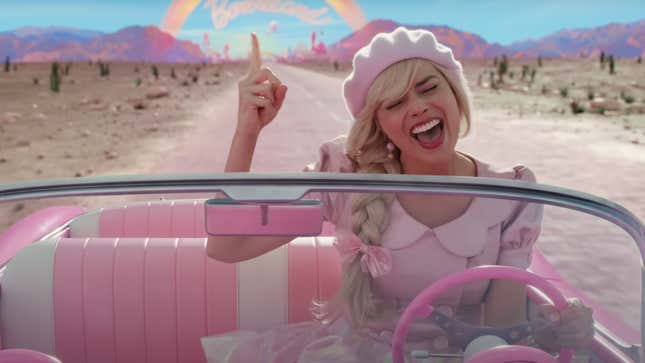 At this point, Barbie has already received widespread praise for the unexpected depth of its story and overall theme. In the words of The A.V. Club reviewer Courtney Howard, "Gerwig and her creative collaborators... not only give the formerly inanimate figure a sparkling personality and a pastel-shellacked pop-art playground, they also deliver genuinely meaningful sentiments surrounding the complexities of gender politics." What could have been a fun and frothy (but ultimately forgettable) silly little romp is clearly about so much more than a single plastic doll.
You can now buy a Weird Barbie — but isn't that missing the point?
The Barbie soundtrack on the other hand is... not. The album, which dropped in full today, is mostly made of pure, fun, surface-level pop—a collection of pithy hits as bright and easy as Barbie's life before discovering the pain of the real world. And that's okay!
Often, we look to film soundtracks to move us in the same way as the movies that inspired them—if not more. Lana Del Rey's "Young And Beautiful" from 2013's much-lauded The Great Gatsby soundtrack, for example, has had a hell of a lot more staying power than the film itself. More recently, the Minions: The Rise Of Gru soundtrack made waves, featuring a stupidly stacked list of talent—from Phoebe Bridgers to H.E.R. to Brittany Howard—far more than anyone could argue that that particular film deserved. Even just this week, Oppenheimer composer Ludwig Göransson described his score as "music that surpassed what I believed to be humanly possible" (per Rolling Stone), a descriptor that seems more befitting of the film's infamous subject matter than the sound behind it.
But sometimes a soundtrack is just that: a collection of songs clearly inseparable from the material they score. Take Lizzo's opening track, "Pink," for example. The song's first lyrics—"When I wake up in my own pink world / I get up out of bed and wave to my homegirls / "Hey Barbie!" (hey!) / She's so cool / All dolled up just playing chess by the pool"—will hardly go down among the pop star's best. But do they perfectly set the tone for the nothing-can-go-wrong world in which Barbie initially thrives? Of course. That's what they're really there for, even though we can bop along to the track on Spotify whenever we want.
The vibe doesn't really change much when Barbie takes a bite out of the apple or (spoiler alert) Ken gets red-pilled by the real world's patriarchy. Billie Eilish's "What Was I Made For?"—a soaring, slow piano ballad reminiscent of "TV" or the beginning of "Happier Than Ever" without the catharsis—is easily the most melancholic track on the album, but still feels more befitting of a cozy cup of tea on a rainy day than any real-life revelations. Similarly, the song most clearly aligned with Ken's transformation (apart from Ryan Gosling's goofy power ballad "I'm Just Ken," which is included in full) is Sam Smith's "Man I Am," which—despite a macho-sounding opening—quickly transitions into a clubby, dancey bop no deeper than anything else on the list.
There are certainly a few standouts in the compilation that could feasibly enjoy a life out of plastic. Dua Lipa's "Dance The Night"—despite (or due to) sounding a little like everything else on Future Nostalgia—is already a certified hit, as is Nicki Minaj and Ice Spice's fun and catchy take on Aqua's "Barbie World." Charli XCX's "Speed Drive" is easily the sexiest Toni Basil's "Hey Mickey" has ever sounded and Haim's "Home," well, sounds like a Haim song, but you'll still probably love it if you like Haim.
This seems to be the general thesis of the collection, which was put together by legendary pop producer Mark Ronson. If you're looking for something new or revelatory, well, it sounds like you should probably check out the other half of the Barbenheimer double-feature because you certainly won't find it here. But if you're more interested in kicking up your hot pink heels, sipping lemonade with your best friends, and/or dancing the night away, this is a fun and solid choice. And isn't fun what summer—and Barbie—are supposed to be all about in the first place?