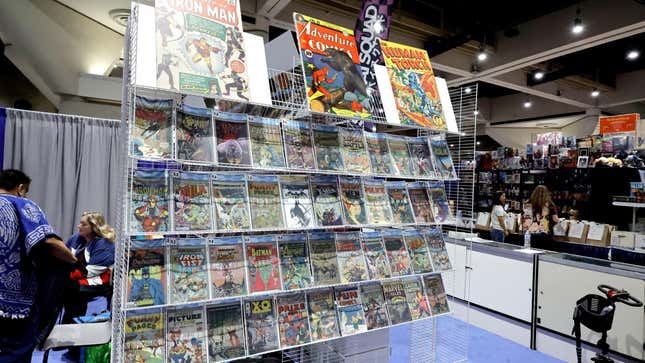 Congratulations, John Q. Public, you're the proud owner of a new Fables comic book series.
After trying and failing to negotiate with DC Comics in good faith, Bill Willingham put his beloved comic book series Fables in the public domain. Fables ran on DC's Vertigo imprint from 2002 to 2023, with the last issue releasing in 2022. In his must-read Substack post, Willingham explains that after 20 years of working with DC, the "honest men and women of integrity" who began the relationship were released "by a revolving door of strangers, of no measurable integrity." As a result, whenever he needed to work with the company, DC would "interpret every facet of our contract in ways that only benefit DC Comics and its owner companies." So he's giving the comic to everyone by putting it in the public domain. DC Comics did not immediately respond to The A.V. Club's request for comment.

Willingham explains he could not afford to sue DC and grew exhausted attempting to get "them to live up to the letter and the spirit of our long-time agreements." Over the last 20 years, the company, he argues, consistently violated their agreements. He says DC failed to seek approval on new books or third-party releases and attempted to trick him out of ownership when they approached him about doing a 20th-anniversary book. The company also failed to protect the property from third-party releases, notably Telltale Games, which would "alter the characters, settings, history, and premises of the story." DC was also under no obligation to pay him for third-party releases because the license wasn't anticipated in their original agreement. And mirroring other entertainment industry labor disputes, DC failed to pay Willingham his royalties in a timely manner, leaving him to seek them out.

To be clear, Willingham says he cannot publish more Fables without DC, but the public didn't sign any such contract. He continues:
If I understand the law correctly (and be advised that copyright law is a mess; purposely vague and murky, and no two lawyers – not even those specializing in copyright and trademark law – agree on anything), you have the rights to make your Fables movies, and cartoons, and publish your Fables books, and manufacture your Fables toys, and do anything you want with your property, because it's your property.

Mark Buckingham is free to do his version of Fables (and I dearly hope he does). Steve Leialoha is free to do his version of Fables (which I'd love to see). And so on. You don't have to get my permission (but you might get my blessing, depending on your plans). You don't have to get DC's permission, or the permission of anyone else. You never signed the same agreements I did with DC Comics.
We look forward to seeing everyone's new Fables books, movies, and TV shows soon.
Update, 9/17/23, 9:46 a.m.: DC Comics released the following statement:

The Fables comic books and graphic novels published by DC, and the storylines, characters, and elements therein, are owned by DC and protected under the copyright laws of the United States and throughout the world in accordance with applicable law and are not in the public domain. DC reserves all rights and will take such action as DC deems necessary or appropriate to protect its intellectual property rights.