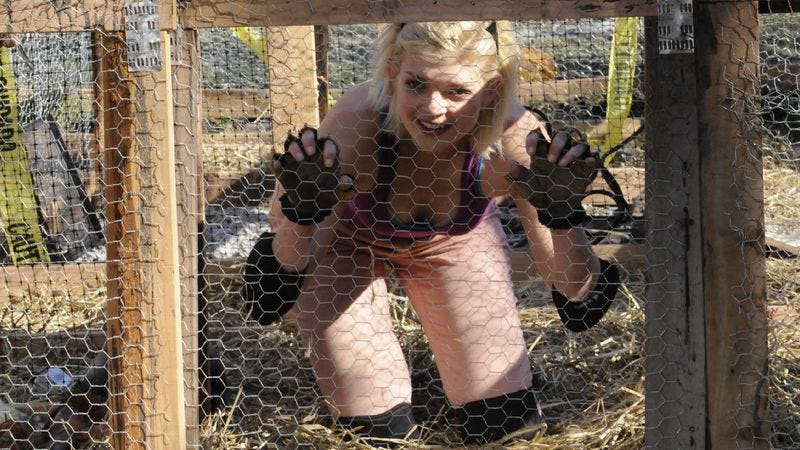 Here's what's up in the world of TV for Friday, July 13, and Saturday, July 14. All times are Eastern.
TOP PICK
Can You Survive A Horror Movie? (Chiller, 9 p.m., Friday): It's an odd time to debut this special, as a large chunk of its target audience—and the people who would answer the titular question with an unqualified "yes"—are occupied with the 2012 San Diego Comic-Con. Can You Survive A Horror Movie? affords the chance for a little mental cosplay for the geeks not currently camped out in San Diego—like our own Dennis Perkins—pitting their wits against zombies, vampires, and a premature burial on the site of Friday The 13th's Camp Crystal Lake. Avoid having sex, don't say "What was that?," and we'll see you at the end of the movie.
---
REGULAR COVERAGE
Twenty Twelve (BBC America, midnight): The Olympic Deliverance Commission puts its heads together in order to save the 2012 summer games—a foregone conclusion, seeing as six episodes of Twenty Twelve remain to air. But for Erik Adams, it's not about "if" the ODC gets there, but "how."
---
TV CLUB CLASSIC
Babylon 5 (11 a.m.): Labor negotiations! In! Spaaaaaaaaaaaaaaaaaaaaaaaace! You can't scare Rowan Kaiser, he's sticking to the space union—he's sticking to the space union 'til the day he dies.
Chappelle's Show (3 p.m.): The second season of Chappelle's Show continued the potent social commentary of the series' first season while amplifying the catchphrase-ready appeal that eventually prompted Dave Chappelle to pull the plug on his show. Yes, yes, "Samuel Jackson—it's good muthafuckin' beer"—but what's the deeper meaning of all that yelling? Ryan McGee has some ideas.
Animaniacs (11 a.m.): Despite the Warners' humorously literal protestations, "Garage Sale Of The Century" involves neither the sale of a garage, nor does it revolve around a character peddling 100 years out of his car hole. Genevieve Koski heard of a yard sale down the street that might interest Yakko, Wakko, and Dot, though.
The X-Files/Millennium (1 p.m.): While Frank Black deals with bodies recovered at a construction site, Mulder and Scully deal with two ghosts of Christmas past, played by Ed Asner and Lily Tomlin. When Zack Handlen awakes on Saturday morning, he'll send a street urchin to buy the biggest turkey in the market
Pulling (3 p.m.): Margaret Eby digs into the second season of Pulling, uncovering six fresh half-hours of awkwardness and embarrassment for Donna and friends. A word of advice: Avoid physical contact with all kitchen surfaces for a few days after watching the première.
---
WHAT ELSE IS ON?
Comic Store Heroes (National Geographic Channel, 8 p.m., Friday): Once again—isn't everyone who really wants to watch this in San Diego right now? Including the subjects, the staff at New York City's Midtown Comics?
John Leguizamo's Tales From A Ghetto Klown (PBS, 9 p.m., Friday): A biographical portrait of the actor and playwright, framed by a solo performance in his native Colombia. Hopefully it incorporates footage from our favorite one-man Leguizamo show: the opening sequence from The Pest.
Dane Cook: Vicious Circle (Comedy Central, 10 p.m., Friday): Comedy Central would like to distract from the firestorm currently surrounding its most popular star by diverting your attention to a comedian who made inflammatory remarks a few months ago. Hey, is that Carlos Mencia stealing some jokes over there? [Daniel Tosh-shaped door opens up, Tosh slips away, unnoticed.]
Evil, I (Investigation Discovery, 10 p.m., Friday): True-crime series gets into the mind of the true criminal—but in this installment, is the culprit the party responsible for a 23-year-old's disappearance, or is it her vengeful mother?
True Bloodthirst (Syfy, 9 p.m., Saturday): Don't be confused, because it's not Sunday, and it's not HBO—it's shitty TV. Humans and vampires join forces to battle human-sized vampire bats—which, if we're being honest, is more reasonable than the average True Blood premise.
Dark Matters: Twisted But True (Science, 10 p.m., Saturday): Dramatic reenactment fans, rejoice! John Noble returns to narrate this scientific variation on Unsolved Mysteries, beginning with a tale that could become our new favorite fake Quirk Books title: Lindbergh: American Nazi?.
The Firm (NBC, 10 p.m., Saturday): Burrowing beneath a made-for-TV movie based on an American Girl doll, the television adaptation of John Grisham's airs its series finale and awaits the sweet release of cancellation. But will we find out what's wrong with this firm?
Matt Braunger: Shovel Fighter (Comedy Central, 11 p.m., Saturday): The stand-up comedian, Up All Night co-star, and accidental inventor of the Lonely Man Dinner gets his first hour-long chance to spread his amiable style of absurdist comedy and non sequitur.
I Shot Jesse James (TCM, 8 p.m., Friday): Now that's how you title a Western about the coward Robert Ford, the assassin of the outlaw Jesse James. Because how else would you title that story?
God Bless Ozzy Osbourne (Showtime, 9 p.m., Friday): Which is ironic, because of all those years the Ozzman was portrayed as the ant-sniffing, bat-biting Prince of Darkness, before time, drugs, and children rendered him America's favorite heavy-metal granddad.
Xanadu (Flix, 8 p.m., Saturday): More like Xana-don't? No, fuck that: Xanadu it, because where else are you going to see Gene Kelly rollerskating to the strains of Electric Light Orchestra?
Hobo With A Shotgun (TCM, 10 p.m., Saturday): Inspired by a contest-winning fake trailer, Rutger Hauer dispenses justice one shell at a time, cleaning up the streets (while making a bloody mess) in this faux-grindhouse splatter-show.
PBA Bowling: Geico Team Shootout (ESPN 2, 8 p.m., Friday): In a combination competition/infomercial, pro bowlers represent for bowling manufacturers to prove who who can best utilize the best-made balls. When we go bowling, we usually just pick the ball that fits our fingers.
MLB Baseball: White Sox at Royals (WGN, 7 p.m., Saturday): Its All-Star Game hosting duties completed, Kauffman Stadium returns to the land of reality, where its home team is struggling is on a three-game slide and hosting the first-place White Sox.
---
IN CASE YOU MISSED IT
Polyamory: Married And Dating: It never worked for any of Tobias Fünke's patients (or Mr. and Mrs. Fünke themselves), but open marriage hasn't driven apart the subjects of Showtime's new reality show. "Let the great experiment begin!" says Sonia Saraiya.