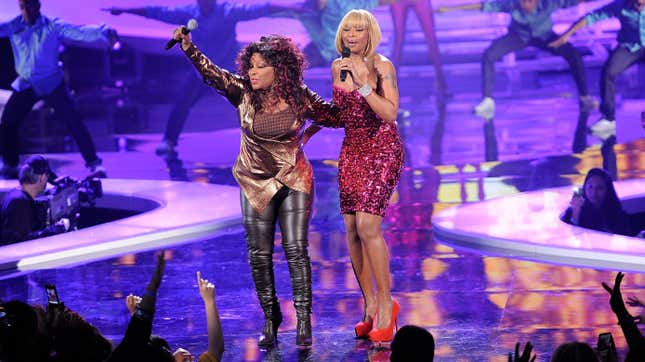 When Chaka Khan sang "I'm Every Woman," she apparently didn't mean these women, whose talent—at least in the context of Rolling Stone's "200 Greatest Singers Of All Time" list—she does not hold in high regard. "I refuse to be in a space where I look at my fellow artists and they're pitting us against each other," said the legendary vocalist (ranked #29 on that list). Even so, she busted through the doors of that space and got comfortable there quite quickly in a new conversation with Los Angeles Magazine's podcast The Originals.
"American Idol" contender Sara Beth calls it quits
While she had positive things to say about #1 pick Aretha Franklin ("As she fucking should be. Thank you. There's justice somewhere") and #8 pick Beyoncé ("I don't have anything to say about Beyoncé. She's a great singer, okay?"), the rest of her rivals didn't fare as well. There's Joan Baez at #189: "Let's be honest, the bitch cannot sing. Now, she was a good writer." And Adele at #22: "OK, I quit." Mariah Carey, at #5, was completely dismissed: "That must be payola or some shit like that." But the worst was saved for her longtime rival, Mary J. Blige, who came in at #25 on the list—and the people who wrote it.
"These bitches are blind as a motherfucking bat! They need hearing aids," Chaka said, in a blistering and somewhat offensive diatribe. "They don't have hearing aids? They have no eyes. They have no ears. They must have a—these babies, you know what? These must be the children of Helen Keller!'"
Khan has long had beef with Blige over the latter's cover of "Sweet Thing," though the pair supposedly mended fences in 2007 when they released the duet "Disrespectful." However, Khan clearly hasn't let go of the "Sweet Thing" thing. "I told Mary J. Blige she fucked it up," she said on The Originals. "Number one, her vocals were flat, and I asked her I said: 'What time did you—what time of day was it or night, what were you doing when you decided to cover 'Sweet Thing' and where were you at when you covered it?'"
When Blige said she was up late and had recorded it early in the morning, "I said, 'Girl you don't sing nothing at eight in the motherfucking morning," Khan recalled. "Especially if you have to get up to sing it. If you'd been up all night, smoking crack or something, I don't know, it might have been a whole different thing. But you don't get up at eight in the morning to sing, girl."
Apparently this isn't the hallmark of a feud, because "she and I have that kind of relationship we can talk," Khan claims. "I love her. She loves me. We don't have a problem. Now the press would love to making it a motherfucking problem." Maybe she's right, but doesn't it signify something of a problem to proclaim that music journalists ranking Mary J. Blige at #25 need hearing aids? In any case, Khan says she doesn't really care about anyone's little list: "These people don't quantify or validate me in any way."