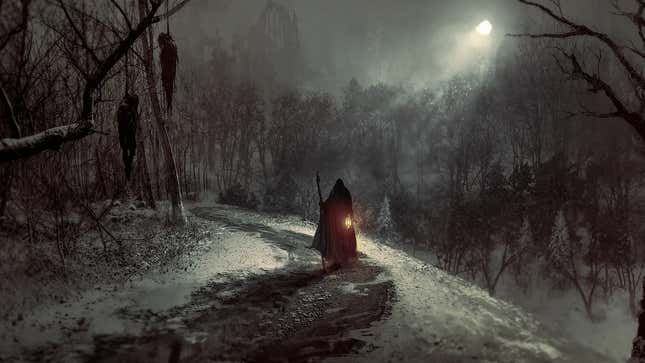 Every Friday, A.V. Club staffers kick off our weekly open thread for the discussion of gaming plans and recent gaming glories, but of course, the real action is down in the comments, where we invite you to answer our eternal question: What Are You Playing This Weekend?
Young Mazino talks "Beef," needle drops, and karaoke
---
In the spirit of Blizzard's long-running Diablo series, let's do a little damning (and specifically, via faint praise). We can start with this: Diablo IV, after about six hours of play, looks to be a significantly more thoughtful game than Diablo III.

Which is to say that, during two weekends with the game's recent beta, I not only found myself actually thinking about where I was putting my skill points in my character's build—across runs through the first 20 or so levels with Rogue and Druid, two of the game's classes—but even found myself occasionally surprised or impressed by its story. That is, obviously, an extremely low bar to clear for a modern video game with a budget this massive, but since Diablo III, well, didn't, lo these many years ago, it still feels significant to point it out.
And, sure: After a while, a playthrough of Diablo IV (at least in the early parts covered by the beta) begins to spread out into the same grey streak of sludge that Diablo III did. It's the nature of the beast: kill things, collect loot, numbers go up, etc. (It goes down a lot smoother when playing with friends, mind you, i.e., the only really good way to play these games.)

But at least it happened slower, and with more rewards that were not just a slightly shinier stick popping out of some poor dead goat guy. Which were, in fact, actual, interesting mutations to its story or play. I was genuinely shocked at how the former hooked me, with an opening that subverts expectations and managed to be genuinely creepy, in a series where "horror" is usually just another name on the difficulty selection menu. The game's depictions of fundamentalist towns barely holding out against the darkness is especially interesting; much has been made already of the bit where you confess a "sin" in the game's opening hours, but I found myself genuinely thinking about what my character might do. Role-playing! In a Diablo game!
Meanwhile, the game's skill trees make for a far more enticing treasure box than the various hordes of gold and hats dotting the landscape of Sanctuary this time around. Each new tier of skills, unlocked every few levels, doesn't just add more power to your character's skillset—allowing Druids to pounce as werewolves or summon lightning to smite enemies—but more toys to play with. "How does this fit in with my current tactics?" I found myself thinking, repeatedly, even taking advantage of the game's generous early skill respec-ing to experiment with different arrangements of skills. Whereas Diablo III's skills could often boil down to picking a slightly different visual for what your basic attack looked like, here in IV I found myself genuinely weighing pros and cons and trying to think tactically. In a Diablo game!
We'll see how long the streak can hold, once Diablo IV hits stores on June 6. In the meantime, though, it's the first time that "Blizzard" "pleasant," and "surprise" have ended up in the same sentence in a good long while.