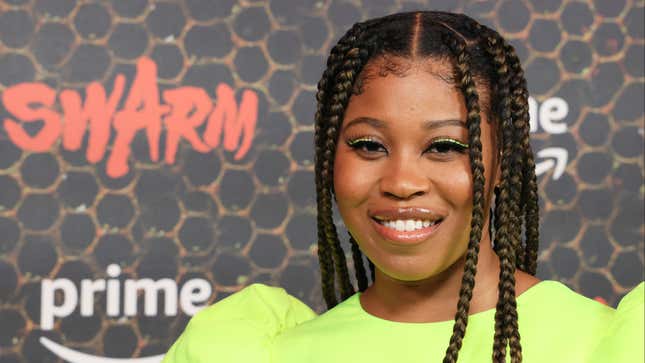 The only thing harder for Dre, the loyal stan at the center of Donald Glover and Janine Nabers' Prime Videos series Swarm, than making friends is keeping them. In pursuit of her devotion towards clear Beyoncé stand-in Ni'Jah (and a little bit of vengeance as well), Dre has a tendency to hurt, even kill, the people who come closest to her.
Kenny Loggins on "Playing With The Boys" and "Danger Zone"
Luckily, that's not a problem she and her portrayer, Dominique Fishback, share. Fishback stopped into The A.V. Club's New York office on Tuesday to talk all things Swarm—and to entertain our questions about what it feels like to be hypnotized by Billie Eilish.
"Billie is like… she's out of this world," Fishback shares of working with the artist, who shines in a pivotal role near the series' midway point. "That was her first time acting and she just knew exactly what to do. She cares so much about the craft and it was easy to play alongside her."

Per Fishback, Eilish wasn't the only scene partner that became a dear friend during filming. One of Fishback's favorite things about the series format— which finds Dre in new situations surrounded by new characters each episode— was the different people it brought into her life (more than a few of them more than familiar with standom).
"I'm very fortunate that each episode gave me somebody that's new to my life but forever in my life," Fishback says. "Chloe [Bailey, who plays Dre's sister/best friend Marissa] is my sister, Billie is just amazing, I love her so much, and Paris [Jackson] as well, and Kiersey Clemons… I'm gifted by the people that I got to meet."
Will Dre's adventures bring her into even more unlucky people's lives... perhaps with additional episodes? According to Fishback, that's a question with a pretty clear answer.
"No," Fisback says with a smile when asked about the odds of more Swarm in the future. "Not for me."
All eight episodes of Swarm are now available for streaming on Prime Video.